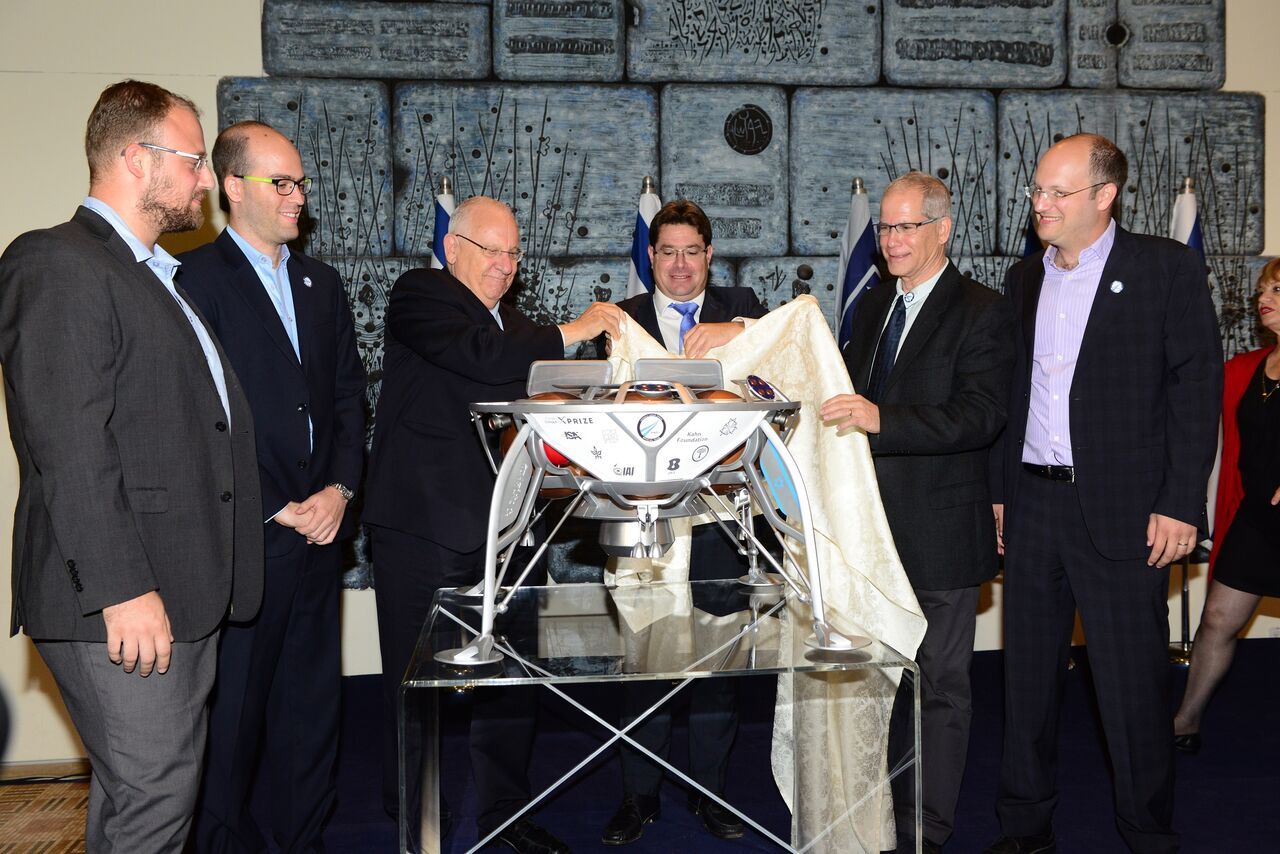 The Israeli nonprofit SpaceIL announced Wednesday that it has secured a verified launch contract for what it hopes will be the first private—and first Israeli—mission to achieve a soft landing on the moon.
SpaceIL, the first of the 16 teams participating in the Google Lunar XPRIZE competition to reach the contract milestone, held a press conference in Jerusalem to share the news, with Israeli President Reuven Rivlin and XPRIZE President Bob Weiss in attendance.
The Google Lunar XPRIZE challenge asks teams to land a rover on the surface of the moon, travel 500 meters and send back high-definition videos and images by December 31, 2017. The mission must derive at least 90 percent of its funding from private sources.
The first team to do so would win a grand prize of $20 million and the second would earn $5 million. In order to stay in the running, teams have to produce a verified launch contract by the end of 2016. The goal, ultimately, is "to incentivize space entrepreneurs to create a new era of affordable access to the Moon and beyond."
"We are proud to officially confirm receipt and verification of SpaceIL's launch contract, positioning them as the first and only Google Lunar XPRIZE team to demonstrate this important achievement, thus far," Weiss is quoted as saying in an XPRIZE press release. He continued:
The magnitude of this achievement cannot be overstated, representing an unprecedented and monumental commitment for a privately-funded organization, and kicks off an exciting phase of the competition in which the other 15 teams now have until the end of 2016 to produce their own verified launch contracts. It gives all of us at XPRIZE and Google the great pride to say, 'the new space race is on!'
So far, history has only seen the United States, the former Soviet Union and China achieve successful soft landings on the lunar surface. If SpaceIL prevails, it could become the first private mission to accomplish the same.
The nonprofit said it will work with Spaceflight Industries to send its spacecraft to the moon on a SpaceX Falcon 9 launcher during the second half of 2017.
"We are thrilled to finally secure our launch agreement," SpaceIL CEO Eran Privman is quoted as saying. "This takes us one huge step closer to realize our vision of recreating an 'Apollo effect' in Israel: to inspire a new generation to pursue Science, Engineering, Technology, and Math (STEM)."