In First Public Event Since the Election, Trump Participates in Arlington Veterans Day Ceremony
In his first public event since the election, President Donald Trump visited Arlington National Cemetery for Veterans Day alongside his wife, first lady Melania Trump.
Trump used the morning to criticize "suppression" polls and Al Schmidt, a Philadelphia Commissioner, and highlight alleged ballot tampering. He also posted his Veterans Day proclamation on Twitter and as is customary for the president, Trump and Vice President Mike Pence joined other officials at Arlington for a ceremony to observe Veterans Day.
The president's participation in the wreath-laying ceremony marked the first time Trump left the White House for a public event since Election Day on November 3. By Wednesday morning, former Vice President Joe Biden had 290 electoral votes and about 5 million more votes than Trump and was already working with his transition team in preparation to take over the office, though the president has yet to concede the election.
Going into November 3, Trump railed against expanded mail-in voting because he considered it a hindrance to a fair election and a move to stop him from being re-elected. After the tide began to turn in Biden's favor as mail-in ballots were added to the count, the president re-upped accusations that Democrats were attempting to steal the election away from him.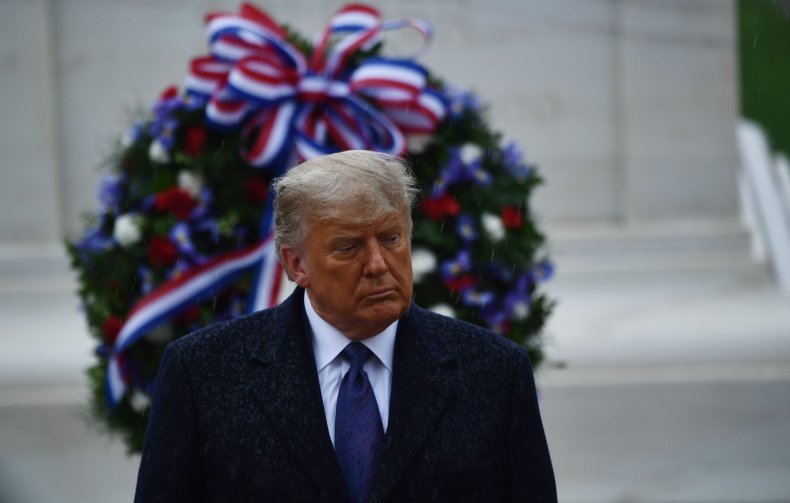 The Trump campaign has unsuccessfully pursued legal measures in several swing states and is pushing for a recount in Georgia. The state has yet to be called, but with 99 percent of votes reported, Biden is ahead by .3 percent, according to the Associated Press.
"WE WILL WIN!" Trump posted on Twitter on Tuesday morning.
About 150 miles from Arlington, Biden and his wife, Dr. Jill Biden, commemorated Veterans Day with a visit to the Korean War Memorial Park in Philadelphia, where they placed a wreath. Biden's son, Beau Biden, served in the Delaware Army National Guard, was deployed to Iraq and was awarded the Bronze Star.
During Trump's visit to Arlington, the president didn't offer comments to reporters about the elections, maintaining a silence he's kept up since Thursday. Two days after the election, Trump addressed reporters from the White House briefing room, saying he would "easily win" the election if only legal votes were counted. He likened polling to "election interference" and said they were designed to "keep our voters at home."
On Sunday, Trump ventured to his golf club in Sterling, Virginia, where he was met by both supporters and critics, but his public schedule has remained empty. Judd Deere, a spokesperson for the White House, told NPR Trump was working behind the scenes fighting "hard for a free and fair election while at the same time carrying out all of his duties to put America first."
"He's also working to advance meaningful economic stimulus, engaging members of Congress on a government funding proposal, and ensuring state and local governments have what they need to respond to the ongoing pandemic," Deere said.
When asked by Newsweek to confirm Wednesday's event was the first public one on Trump's schedule since election day, Deere responded that the White House considers the president's press briefing to be a public event.