Watch: Saudi Woman Becomes First in Country to Receive Official Driver's License
Saudi Arabia has officially begun issuing driver's licenses to women in the kingdom who hold valid international driving ones.
"The general directorate of traffic today started replacing international driving licenses recognized in the kingdom with Saudi licenses," the Saudi Press Agency announced Monday.
Local media shared the video showing the historic moment the first woman received her official Saudi driving license. The clip quickly garnered attention on social media, with many Saudis expressing their congratulations and support.
"Thousands of congratulations to the daughters of the homeland, being issued the first license in Saudi Arabia," Saudi Twitter user Saudalzmanan wrote, sharing the clip.
Although the decision was announced in September, the kingdom, which was the only country in the world to still prohibit women from driving, has been preparing for months to end the ban. Women will legally be able to use their new driver's licenses starting June 24.
"All the requirements for women in the kingdom to start driving have been established," Director General of the General Department of Traffic Mohammed al-Bassami said in May, Al Arabiya reported.
Al-Bassami said women 18 years of age and older will be able to apply for a driver's license. Driving schools for women have already been set up in the kingdom. Women with foreign driver's licenses are able to apply through a different process.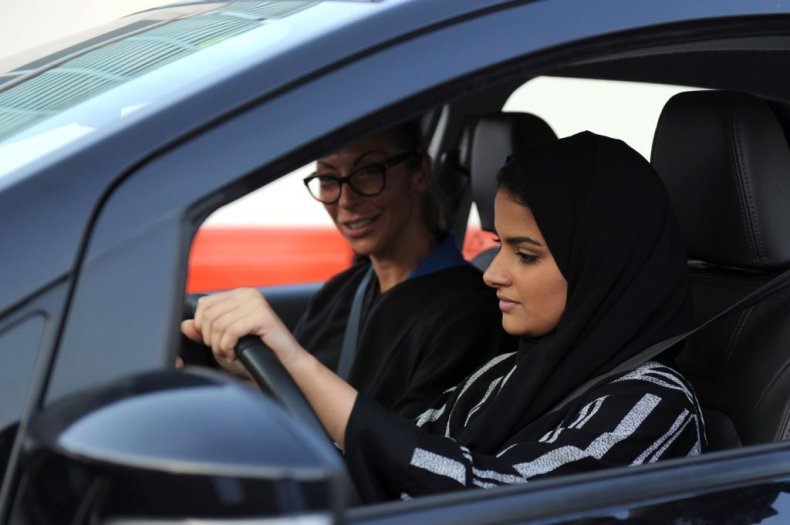 The driving decision comes as the kingdom works to reform its oppressive policies toward women. Last year, Riyadh granted women the right to attend public events, such as concerts and sporting competitions, alongside men. Under the leadership of King Salman bin Abdulaziz Al Saud, the kingdom has pushed forward an agenda that aims to remove many of the traditional restrictions on women's participation in society.
At the same time, rights groups have criticized the king and Saudi authorities following the recent detention of several prominent women's rights activists. Loujain al-Hathloul, a 28-year-old social-media figure; Aziza Al-Yousef, a 60-year-old mother of five; and Eman Al-Nafjan, a university professor and popular blogger, were arrested last month. Al-Hathloul and Al-Nafjan were previously arrested for violating Saudi Arabia's ban on women drivers. Two male activists, Dr. Mohammed Alrabiah and Dr. Ibrahim Al-Mdmyegh, were also detained.
The United Nations High Commission for Human Rights also expressed concern last week over the activists' detention.
"If, as it appears, their detention is related solely to their work as human rights defenders and activists on women's issues, they should be released immediately," U.N. human rights spokeswoman Liz Throssell said, Reuters reported.