Viral Video Offers First Sighting of Rare White Dolphin in a Year
The Clearwater Marine Aquarium, a marine animal hospital, shared a now-viral video that showed the first sighting in about a year of Cherub, a rare white dolphin.
According to the video's caption, a Florida native spotted the bottlenose dolphin swimming through a canal located in Clearwater, Florida.
"It's been over a year since we've received reported sightings of this beauty," the caption stated. "This dolphin was born with normal coloration and has gotten lighter and lighter since birth."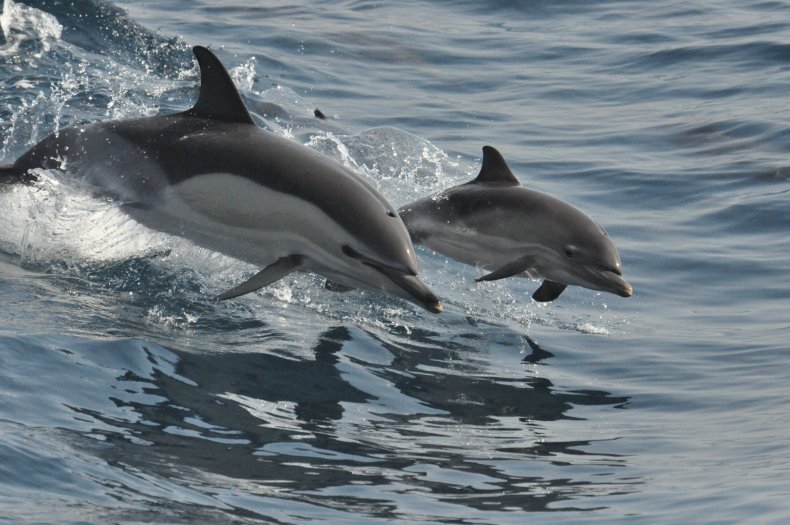 According to the Florida Fish and Wildlife Conservation Commission, several dolphin species live in Florida coastal waters, though the most common is the bottlenose dolphin.
The bottlenose dolphin is typically a blueish-gray color on top, while their stomachs and sides are a lighter color.
Inshore dolphins travel in groups of about 10, but offshore dolphins travel in larger groups consisting of 10 to 100 of the marine mammals.
"Cherub seemed to be doing well and was traveling with three other dolphins," the Clearwater Marine Aquarium's caption continued. "This is a great sign, as young dolphins rely on their mothers and other dolphins to learn necessary survival skills"
The animal hospital urged anyone who sees Cherub in the future to call their hotline.
"With continued reported sightings of this animal, we can keep a record of Cherub's health and growth," the agency noted.
Per information sent to Newsweek from Hannah Rogers, a rescue biologist at Clearwater Marine Aquarium, hypopigmented animals are rare.
Cherub is the only animal with hypopigmented in the area that the organization is aware of, but they cannot be sure it is the only one that exists.
Rogers also said it is difficult to determine how far Cherub has traveled with the other dolphins because it has been about a year before there was another sighting.
Because Cherub and its mother are known to Clearwater Marine Aquarium, that may be a reason to suggest they are part of the local coastal stock.
To be absolutely sure of which population they belong to would require genetic testing.
In the video clip, Cherub is seen swimming gracefully through the water. A flash of white breaks through the surface as Cherub lifts its head for just a moment before diving back under the water.
At the time of publication, the video was viewed more than 165,000 times.
Viewers were captivated by the video.
"Such a beauty," one viewer commented. "What a blessing. Such a treat to have the privilege to see him."
Wrote another, "That is just amazing. Cherub sounds pretty happy."
Another Florida native spotted Cherub about a year ago and recorded the sighting before sharing it on Facebook.
After Caitlin Mackey posted the video, the Clearwater Marine Aquarium posted a photo of Cherub, explaining that the dolphin is known to them.
Although Cherub has a healed injury that resulted in the partial loss of a fluke, which the animal hospital theorized was due to a shark bite, they were in otherwise "good condition."
While it was an exciting sighting, the Clearwater Marine Aquarium also urged safety when viewing marine life. It stated that boaters should keep at least 50 yards away from dolphins
Another rare dolphin sighting made its way onto the internet, showing a pod of dolphins swimming in the area of Flushing Bay in Queens, New York, in December.
One video showed a dolphin that appeared to have been protecting divers from a shark that swam by.
Though the shark did not seem to pose a threat to the divers, the dolphin circled them and was vocalizing.
Updated 05/06/2022, 3:32 p.m. ET: This story has been updated with comments from Clearwater Marine Aquarium rescue biologist Hannah Rogers and additional information.