Egypt's Strongman Looks to Seize on Trump's Early Human Rights Apathy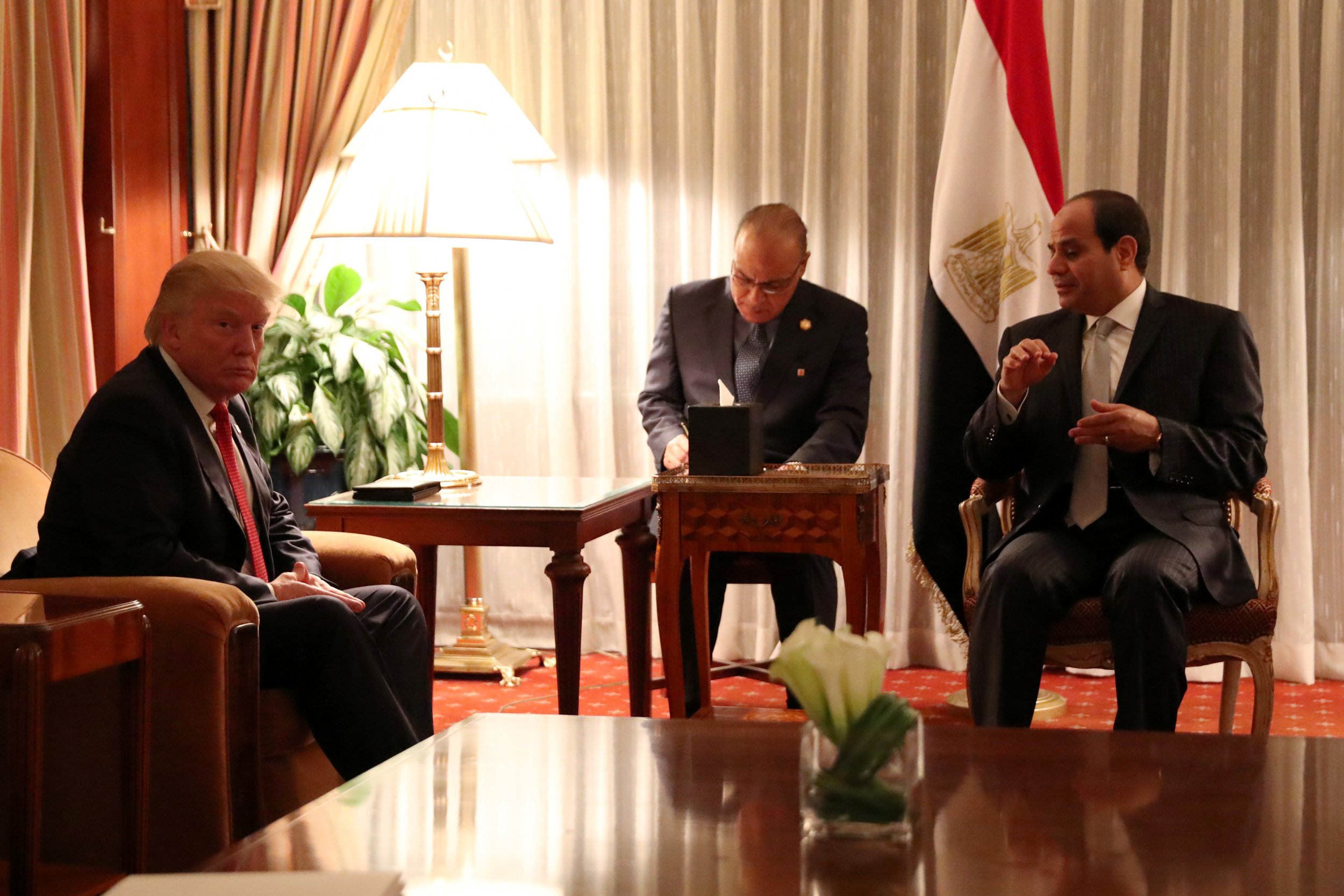 As Egypt swung from Islamist to military rule in a bloody coup two years into the Arab Spring, the Obama administration gave its major ally something that would hurt more than a military aid freeze: the cold shoulder.
That is set to change on Monday when President Donald Trump hosts his Egyptian counterpart Abdel Fattah el-Sissi, a military strongman and the leader tasked with bringing stability to the North African country, at the White House. It will be the first visit by an Egyptian president to Washington since 2009. In reviving a relationship that cooled under President Obama, the pair are set to discuss security and economic cooperation, the Muslim Brotherhood and, privately, human rights.
"[Trump] wants to use President Sissi's visit to reboot the bilateral relationship and build on the strong connection the two presidents established when they first met in New York last September," a senior White House official told reporters in a telephone briefing on Friday.
Granting legitimacy?
Activists are decrying the U.S.'s new embrace of Sissi, and experts say Trump, in hosting the Egyptian leader, is handing him the legitimacy he craves after the coup.
Obama refused to host Sissi at the White House, and suspended military funding for 17 months, after he rose to power on the back of the July 2013 ousting of Mohamed Morsi, Egypt's only democratically elected leader. The only time the pair exchanged pleasantries on U.S. soil was a September 2014 meeting on the sidelines of the U.N. General Assembly in New York.
Trump, unlike his predecessor, has instead warmed to the leader of the second-biggest recipient of U.S. military aid ($1.3 billion a year). The pair met on the sidelines of the U.N. General Assembly in September and, while he also met with Hillary Clinton, Sissi appeared to have hedged his bets in the contest. Trump promised him a state visit if he won the election, and expressed his fondness for Sissi's battle against radical Islam. Sissi, in turn, was the first world leader, let alone Arab, to call and congratulate Trump when he subsequently won the election in November.
Trump would proceed to laud Sissi for wrestling the country back from the Muslim Brotherhood, Egypt's oldest and largest Islamist group, which Morsi led to power after Egyptian dictator Hosni Mubarak's removal in the 2011 revolution. "He took control of Egypt. And he really took control of it," he said in a September interview with Fox on the campaign trail. Trump may see some of Sissi's strongman tendencies in himself. Trump has pledged to destroy the Islamic State militant group (ISIS) as Sissi has done in the restive Sinai Peninsula and in his crackdown on the Muslim Brotherhood, whose supporters have launched attacks against Egyptian authorities.
Security issues will therefore be central to Monday's meeting between the pair, the White House official said, a focus Trump appears to be replicating across the region. The official added that Trump supports Sissi's bid for "reform and moderation of Islamic discourse" in Egypt and the president would be interested to hear Sissi's thoughts on the Muslim Brotherhood as it has "concerns about various activities that the Muslim Brotherhood has conducted in the region." His administration is debating whether to label the group as an extremist organization.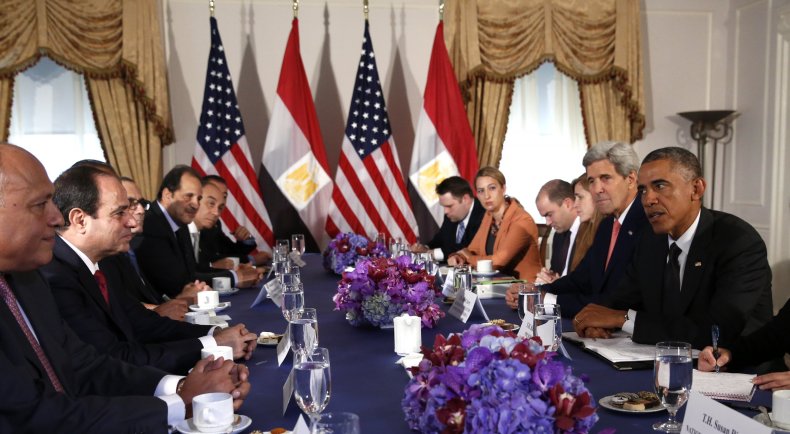 From June 2012, Morsi led the Muslim Brotherhood, or al-Ikhwan al-Muslimeen, for just over a year in power. The movement's leader ascended to the Egyptian presidency after winning parliamentary elections. But discontent spread as Egyptians became frustrated with a poor economy and lack of governance. Mass protests laid the foundations for the military coup that would end his tenure in 2013. The military coup led to the arrest, killing and exile of thousands of the movement's members. Egypt subsequently classified the Muslim Brotherhood as an extremist organization, removing it from mainstream Egyptian politics in December 2013.
The months following the coup that would bring Sissi to power were peppered with reports of police brutality, arbitrary detentions, torture, disappearances and death sentences. The worst of the Sissi regime's crimes would be the public massacre of at least 817 protesters holding sit-down protests in Cairo's Rabaa al-Adawiya Square and al-Nahda Square.
Emerging Trump Doctrine
But while Obama sought to speak human rights with key Middle Eastern allies—such as Egypt, Israel and Bahrain—the Trump doctrine, in the few months that it has taken shape, is heading down a very different path.
Bahrain is set to receive 19 U.S. fighter jets as Trump's State Department announced on Wednesday a lift on an Obama precondition for the deal: improving human rights in the tiny Gulf state. Trump has also loosened airstrike restrictions in Somalia, presided over a failed Yemen raid that killed more than two dozen civilians and airstrikes in Mosul and Raqqa that have left scores dead. His team said on Thursday that it is no longer interested in seeing Syrian President Bashar al-Assad, a leader the U.N. has accused of chemical weapons attacks, removed from power.
It is against this backdrop that Trump is content with hosting one of North Africa's most brutal authoritarians, one who presided over Egypt's military intelligence before rising to become head of the army and, ultimately, the country's leader.
After Trump's victory, Sissi saw a "potential ally in an administration that would care less about democratization, about human rights" in comparison to Obama, says Issandr El Amrani, head of the North Africa Project at the International Crisis Group.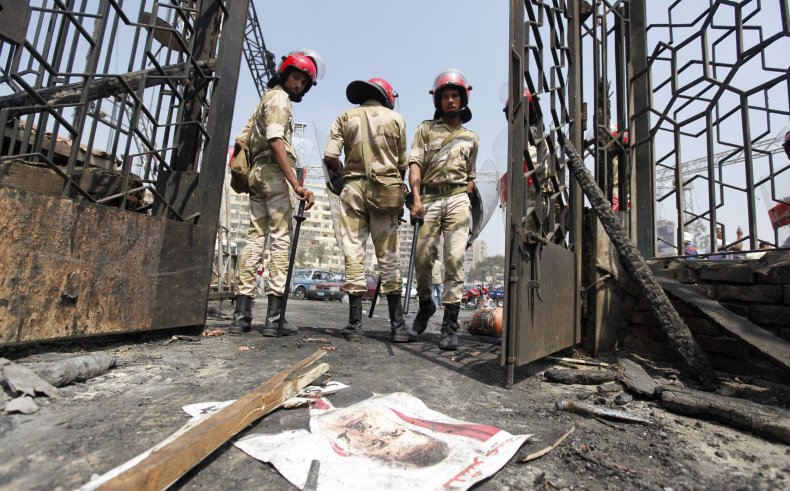 Read more: Why Trump and el-Sissi's romance might not last in Egypt
While the U.S. has called out human rights abuses of other countries publicly, the White House official said the issue of Egypt's crackdown on dissent would only be handled behind closed doors. "Our approach is to handle these types of sensitive issues in a private, more discreet way. We believe it's the most effective way to advance those issues to a favorable outcome," he said.
Sissi is therefore looking to capitalize on this lull in concern for human rights on Monday, experts say, in hope of currying favor on topics ranging from the Muslim Brotherhood to increased military assistance.
"The Egyptians are really betting on Trump turning the page from what the Obama administration had done: restrictions on certain armed deliveries and more of a distance on the question of political Islam," adds El Amrani.
In his bid to receive U.S. support against the Muslim Brotherhood Sissi may look to appeal to Trump's war on terrorism and radical Islamism, conflating both to achieve results, says Hugh Lovatt, Middle East and North Africa policy fellow at the European Council on Foreign Relations.
"Sissi has been very involved in an internal crackdown on the Muslim Brotherhood, so I think he will inscribe that in this more broader narrative in the war against terrorism and against radical Islam that Trump seems to favor," Lovatt says.
Former U.S. officials have lamented that Egypt is an ally that presents more problems than solutions, one with a wrecked economy, poor human rights record and an extremist insurgency that threatens the country's stability. For Trump, Egypt offers an opportunity for him to show that he has a good relationship with Arab leaders—at a time when he is being accused of anti-Muslim bias—better security cooperation, and a potential role in quarterbacking a future regional Israeli-Palestinian peace initiative.
Overlooking Fascism
But rights groups and activists have criticized the ease with which Sissi obtained a state visit in Washington. Amnesty International, in an email statement to Newsweek, called on the president to use the visit to pressure the Egyptian leader on his human rights record.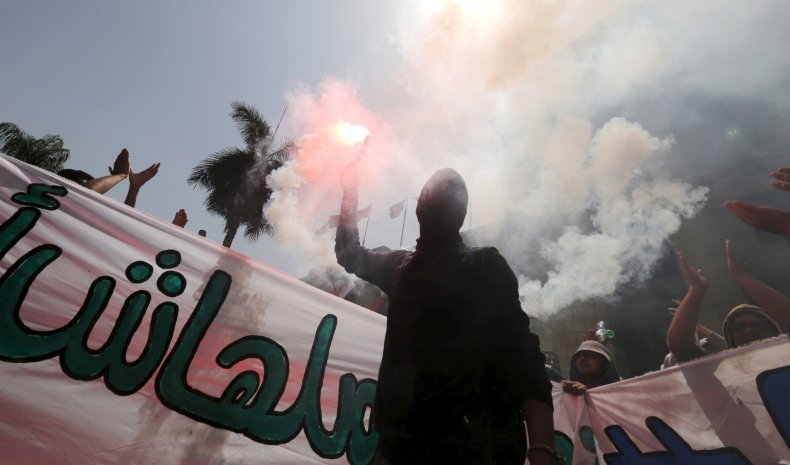 "President Trump must make clear in Monday's meeting that the nature and extent of US relations with Egypt will depend on Egyptian authorities taking concrete actions to bring an end to such severe violations to human rights," Najia Bounaim, deputy regional director for campaigns at Amnesty International's Tunis Office, wrote.
Mona Eltahawy, an Egyptian author and critic of Sissi who his military intelligence detained in 2011 when he presided over the force, points to previous U.S. support for Mubarak, released from a military hospital last week after six years in detention, as a sign that Trump is simply continuing longheld U.S. policy. But, in the eyes of activists, where there may have been a flicker of hope with Obama, that has completely vanished with the entrance of Trump.
"The Trump administration is willing to overlook human rights violations and fascism, basically, for the sake of its own interests," Eltahawy says, speaking by phone from Cairo. "Sissi must be ecstatic, this is his dream, it is going to give him the legitimacy that he does not deserve. The overall message: it's back to the usual between the U.S. administration and the Egyptian regime."
So, Monday's meeting will mark the beginning of Trump's "reboot" with Sissi. But for Egyptians, Washington's warmth to former dictator Mubarak—ousted after mass protests in Egypt's 2011 revolution—and now the military strongman, is propping up a regime that deprives them of democracy and justice. Thousands of political prisoners, alongside Morsi, remain languishing in Egyptian prisons.
"We, as Egyptians, have learnt that justice is a very elusive thing," says Eltahawy. "And successive U.S. administrations, now including Trump, have helped to make justice elusive for us."