Rainbow LGBT Pride Flag Will Fly Permanently at Stonewall National Monument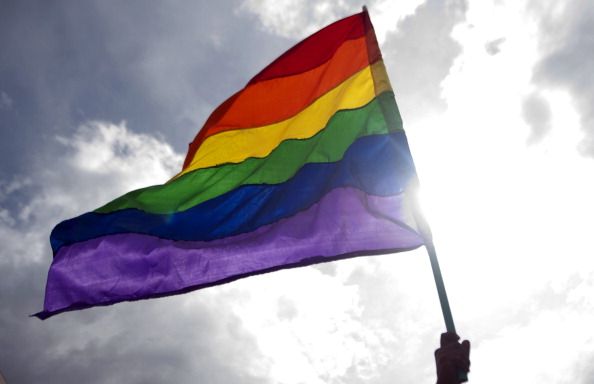 Updated | It's a rainbow-colored triumph whose meaning is compounded by the shadow President Donald Trump's administration has cast over LGBT rights. A rainbow flag will soon fly permanently near the Stonewall National Monument in Manhattan, activists announced on Thursday.
"It is a victory for our community to have these symbolic colors flying majestically over our Stonewall, designated as a National Monument by President Obama, even as our LGBTQ brothers and sisters are under attack by the current regime in power," Michael Petrelis, the LGBT and AIDS activist who initiated the effort, said in a statement. The rainbow flag will replace the New York State flag on the nautical flagpole outside Stonewall, says Ken Kidd, a friend of Petrelis's and a long-time New York City activist who is helping plan the unveiling ceremony.
The flag will officially go up at noon October 11, which is both National Coming Out Day and the 30th anniversary of the March on Washington for LGBT Rights. On that day in 1987, hundreds of thousands of people gathered to call for an end to discrimination and more federal funding for AIDS research and treatment. The NAMES Project AIDS Memorial Quilt was unfurled and displayed for the first time on the National Mall with 1,920 panels covering a space larger than a football field to commemorate those who had died.
Jeremy Barnum, a spokesman for the National Park Service (NPS), later confirmed to Newsweek that the group had submitted an application for a permit for the event, but added that "the flagpole is not on federal property nor is it managed by the National Park Service."
Scott Gorenstein, a publicist for the group, told Newsweek that they have been working with NPS on the event since late summer. "They told us they owned the land," he wrote in an email. "Following your article they were informed yesterday that they do not own the land and that the city does so," he added. "They are sorting out the details now regarding ownership. We were assured that this will not affect the upcoming event on October 11 and that the rainbow flag will still fly permanently."
The Stonewall Inn, a bar located in the Greenwich Village neighborhood, was the site of protests that started on June 28, 1969, that are credited with sparking the modern LGBT rights movement. Then-President Barack Obama designated the bar a national monument on June 24, 2016. "Stonewall will be our first national monument to tell the story of the struggle for LGBT rights," said Obama, who had recognized June as Pride Month for several years.
But a lot can change in a year. Obama's successor broke with tradition and failed to acknowledge Pride Month in 2017.
The rainbow flag will be "flying on this national monument during a time when we have a president who is not particularly kind or loving to the LGBT community," Kidd says.
The first decision Trump made when he snagged the Republican nomination, Kidd says, was to name a "high-profile anti-LGBT" politician as his pick for vice president, citing Mike Pence's track record in Indiana. That record includes vehement opposition to same-sex marriage and alleged support for gay conversion therapy. He's not the only one. "If you look categorically at all of the appointments that 45 has made, who he has chosen to lead agencies in his Cabinet," Kidd says, "one thing they all consistently have in common is an anti-LGBT agenda." Trump himself has instructed the Pentagon to move forward with a ban on transgender individuals in the military, and his Justice Department filed an amicus brief in support of so-called "religious exemptions" that would allow businesses to discriminate against LGBT Americans.
"Stonewall is the site where Americans who had been oppressed, who had been told by their governments they were second class, finally said enough is enough," Kidd says. "That was a spark that caused a wildfire that gave great inspiration not only to their contemporaries but to the next generations," he adds. "Our rainbow colors flying in tandem with the stars and stripes is a source of inspiration, a recognition of equality, a recognition of a struggle for equality that is not over by any stretch of imagination."
This story has been updated to include comments from the National Park Service and a response from a publicist for the group of activists about confusion over ownership of the exact land on which the flagpole stands, which came to light after Thursday's announcement.