Unexpected winter weather in Portland, Oregon, closed schools, downed trees and left residents without electricity as the state's largest city saw its first April snowfall in recorded history.
Residents of Portland woke up to a blanket of snow Monday morning after cold air and wet weather caused unseasonally frigid overnight conditions. Portland saw its first ever snowfall documented in April since the National Weather Service (NWS) began keeping records in 1940. The snow follows other unusual weather events the Pacific Northwest has seen over the last year.
The NWS's Portland office recorded an inch of snow at Portland International Airport early Monday morning. The service issued a winter storm warning for surrounding areas and western Oregon that could see total snow accumulations of 8 to 16 inches. Mt. Hood was expected to see snow accumulations as high as 12 to 24 inches.
Portland Public Schools, the state's largest school district, closed for the day in response to power outages and slippery road conditions brought by the wintry weather. Other districts in northern Oregon and southwest Washington closed or had a delayed start.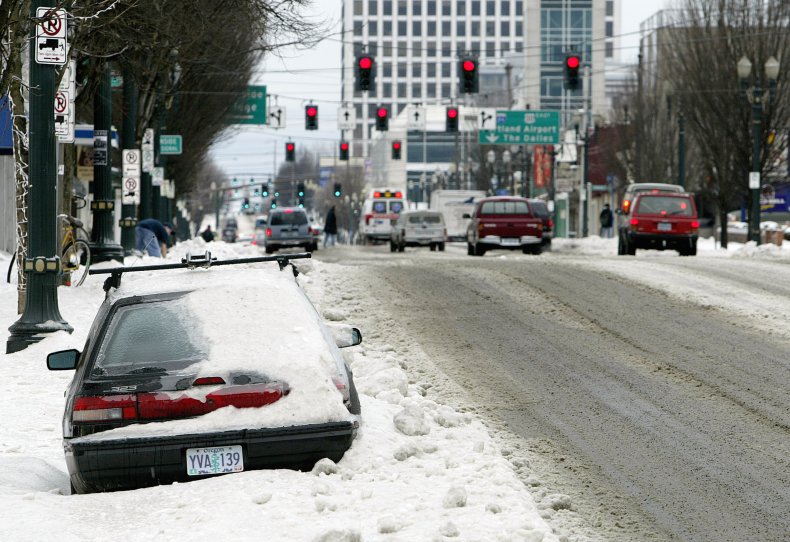 Portland General Electric spokeswoman Andrea Platt told Newsweek in an email that since the outset of the winter storm, a total of about 77,000 customers have experienced power outages. The utility's website on Monday shows outages in Portland as well as nearby Salem and surrounding areas.
"We've since restored power to about 43,000 and crews will continue to work through the night to restore remaining customers as quickly as safety allows," Platt said.
The snow canceled garbage services, delayed permit inspections services and caused the city to delay opening offices until 10 a.m. local time after downed trees blocked roads and highways in addition to slowing bus service. Over a dozen roads remained closed due to obstructions as of Monday afternoon. City officials also sounded the alarm over the danger the unexpected cold weather posed to its large homeless population.
More than 400 trees fell across Portland, taking down power lines and blocking major routes in the city's hilly west, the Portland Bureau of Transportation told Newsweek in an email. Some routes will remain closed for multiple days, according to the bureau.
"As you safely navigate this snowy world, you'll likely encounter some downed trees and large branches," Portland city Commissioner Carmen Rubio said on Twitter, advising residents that crews would be working to clear trees.
Portland had seen over an inch of snow as of Monday afternoon, according to the NWS. But some areas east of Portland, including Hood River and Washougal, saw over 10 inches.
The snow caught some residents by surprise after just a week earlier Portland saw temperatures of 77 degrees.
In June of 2021, Portland recorded 116 degree temperatures after an extreme heatwave swept the typically cool Pacific Northwest over the summer. Later in August, Portland saw an usually hot 103 degrees, hotter than temperatures seen in Phoenix, Arizona.
Newsweek has reached out to the city of Portland for comment.
Update 4/11/22, 11:10 p.m. ET: This story has been updated with additional information and background.