First-Time Metal Detectorist Finds Ancient Stolen Treasure Worth Thousands
As many hobbyists know, finding something of high value with a metal detector is a remarkable occasion. However, one lucky amateur treasure-hunter recently made a stunning discovery when he found a trove of ancient relics on his first attempt.
According to the West Mercia Police Department, Charles Cartwright was trying out his new metal detector in Polfields Coppice, a field in Worcestershire, England. There, he found the buried treasure, which included jewelry from the Roman and Viking ages and artifacts from Ancient Egypt, the Bronze Age, and Medieval times.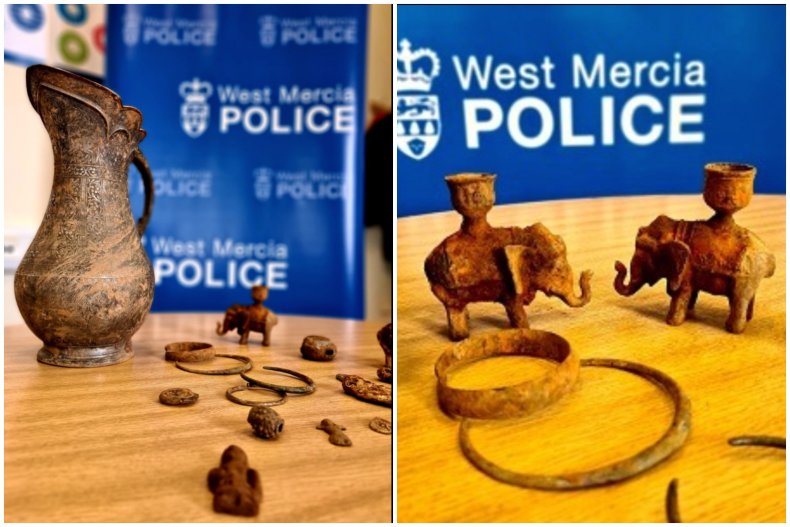 BBC News added that the total number of items found by Cartwright totaled almost 300, and that it was their placement—inside of an Aldi shopping bag—that initially made him think that something "[wasn't] quite right."
"I put my spade in about a quarter of a foot and I heard it tinkle on something metal," he told the news outlet. "I moved it to [one] side and I saw a large silver jug, so I uncovered that, lifted it...out and it weighed a hell of a lot because it was full of water."
"Inside the jug was an Aldi plastic bag and inside that was the other 271 items."
Cartwright told the landowner and the coroner's office about his haul, according to the West Mercia Police, and it was soon discovered that the items had been stolen and buried at that site four years prior. The artifacts had been burgled from the home of their rightful owner, located about 45 minutes away by car, and are worth upwards of 5,500 British pounds (nearly $7,800).
"I have so many questions in relation to these items and can't wait to speak to the owner," Cartwright said in the release from the West Mercia Police. "I can't believe this is my first time out with the metal detector, to find such an amazing find is just incredible."
"You always hear stories like this," he added, "but you never get to be a part of one. So, it is exciting to be part of such a happy conclusion."
Meanwhile, the rightful owner was shocked that the items had been suddenly found.
"I really don't know what to say," the owner, whose name was not released, said in the police department's release. "I am so pleased to get these items back, we had resigned ourselves that we wouldn't get them back as they had been gone that long, you just don't even think about them being returned anymore."
Now that the stolen goods have been reunited with their rightful owners, police said they will continue the investigation into the theft. Said Detective Constable Tom Court: "We will continue to investigate who took these items and buried them. We are exceptionally pleased to be able to return the items to the rightful owner and once again thank Charles for finding and reporting them promptly."