First Trailer Released for Aaron Sorkin's Steve Jobs Film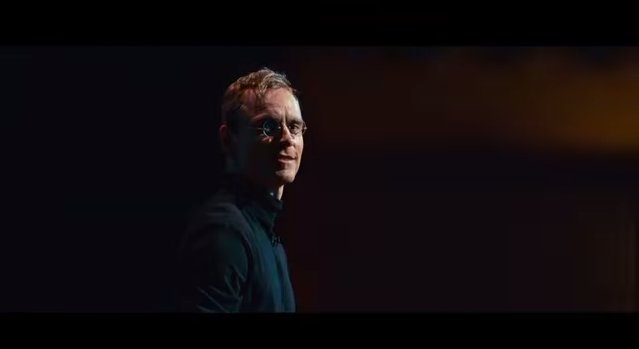 "You cannot write code, you are not an engineer. What do you do?" implores one voice as the camera focuses on the back of a man's head, silhouetted against a theater of empty seats.
Another voice, that of Michael Fassbender portraying the late Apple CEO Steve Jobs, replies: "The musicians play the instruments. I play the orchestra. I sat in a garage and I invented the future. Because artists lead and hacks ask for a show of hands."
The first official trailer for Steve Jobs, a film written by Aaron Sorkin and directed by Danny Boyle, was released Sunday night. Jobs died at age 56 in 2011 from complications of pancreatic cancer. The film is scheduled to be released on October 9, just days after the four-year anniversary of his death.
The roughly one-minute-long trailer gives viewers a glimpse of the cast that will star in the movie alongside Fassbender, including Kate Winslet as Joanna Hoffman, former marketing chief of Macintosh, Seth Rogen as Apple co-founder Steve Wozniak and Jeff Daniels as former Apple CEO John Sculley.
The movie has hit its fair share of hitches along the way, with Leonardo DiCaprio and Christian Bale both stepping out of the role of Jobs before Fassbender stepped in, director David Fincher leaving and the entire project moving from Sony to Universal.
The script, based on Walter Isaacson's 2011 biography of Jobs, puts viewers "backstage at three iconic product launches ... ending in 1998 with the unveiling of the iMac," according to the film's website. It "takes us behind the scenes of the digital revolution to paint an intimate portrait of the brilliant man at its epicenter."
Steve Jobs will premiere just over two years after Jobs, another film about the late Apple CEO that starred Ashton Kutcher in the title role. That attempt to depict Jobs' story received less-than-stellar reviews and currently has a rating of 27 percent on Rotten Tomatoes.
"To be honest with you, one of the hesitations I had in taking on the movie was that this was a little like writing about The Beatles. That there are so many people out there who know so much about him and who revere him, that I just saw a minefield of disappointment," Sorkin told Fortune early in the script-writing process. But, he added: "You should think of it as a painting, not a photograph."