First Trump Rally After Coronavirus Restrictions Scheduled for June 19 in Oklahoma
President Donald Trump told reporters on Wednesday that his campaign would begin holding in-person rallies again in June.
Large scale political rallies were placed on pause in March due to the threat of coronavirus spreading through large crowds. As many states have begun their reopening processes, the Trump campaign has indicated a desire to start holding rallies again, although some states have seen a spike in the number of positive coronavirus cases since relaxing coronavirus mitigation protocols.
Trump said his first rally would take place in Tulsa, Oklahoma on June 19. Trump named three other states as sites for upcoming rallies—North Carolina, Arizona and Florida.
"They've done a great job with COVID, as you know, in the state of Oklahoma," Trump said.
Tulsa Mayor G.T. Bynum said in a Wednesday statement to Newsweek that his office was in the process of confirming the details regarding President Trump's upcoming rally. "Tulsans have managed one of the first successful reopenings in the nation," Bynum said, "so we can only guess that may be the reason President Trump selected Tulsa as a rally site."
Bynum also said the city will encourage event organizers to "have enhanced considerations for attendees" in accordance with the state's coronavirus response plan.
Trump campaign manager Brad Parscale said Monday that Trump was ready to begin holding rallies again sometime in June, but did not specify places or dates.
"Americans are ready to get back to action and so is President Trump," read a statement sent to Newsweek by Parscale. "The Great American Comeback is real and the rallies will be tremendous. You'll again see the kinds of crowds and enthusiasm that Sleepy Joe Biden can only dream of."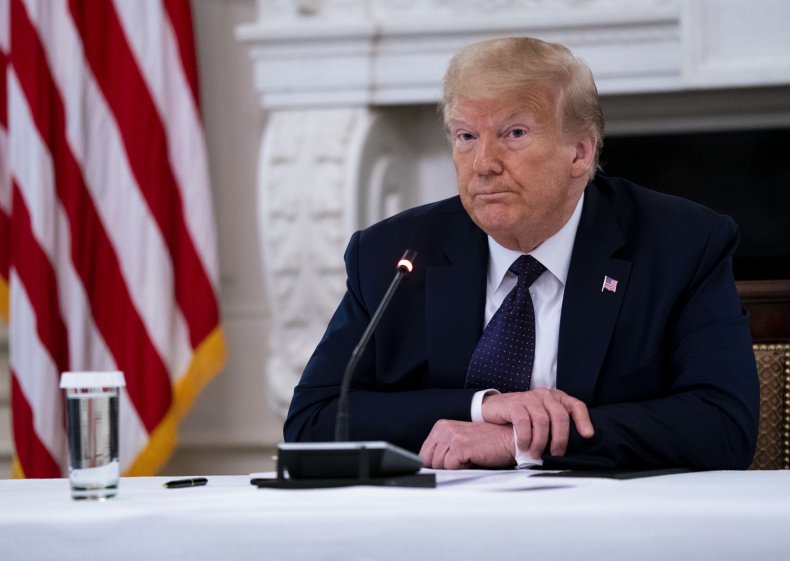 Fears of the virus spreading caused North Carolina Governor Roy Cooper to tell the GOP that he did not feel comfortable holding the Republican National Convention in his state this August.
Although Trump is expected to hold a rally in North Carolina, he said had "no choice" but to relocate the RNC from its original location at the Spectrum Center in Charlotte, North Carolina because of Governor Cooper's concerns about the coronavirus.
In a May letter, Cooper said holding a full-scale convention in the state during August was "very unlikely," adding that he was not willing to risk the "health and safety of North Carolinians" in order to host the event.
"The governor's a little backward there," Trump said of Cooper, "a little bit behind," adding that Cooper "didn't want to give an inch."
RNC Chairwoman Ronna McDaniel said Wednesday that Jacksonville, Florida could be the future home of the convention, but that decision had not been confirmed.
"While no final decision has been made by the RNC we understand Jacksonville is a front runner," tweeted Florida GOP Chairman Joe Gruters on Wednesday. "This certainly has been generating a lot of attention and excitement. We continue to believe that Florida would be the best place for the convention."
City officials in Charlotte, however, said in a Wednesday statement that they had not been "officially informed of the RNC's intent to relocate the convention." The city seeks to meet with RNC organizers to discuss their "unilateral decision to relocate a substantial portion of the convention to Jacksonville."
Trump became an official resident of Palm Beach, Florida after filing a declaration of domicile with the Palm Beach County Circuit Court in September 2019, eschewing his New York residency. Trump explained the move in an October tweet, saying he had been "treated very badly by the political leaders of both the city and state."
Updated 11:52 p.m. EST 06/10/2020: This story has been updated to include a statement from Tulsa, Oklahoma Mayor G.T. Bynum.