First U.S. Case of Coronavirus From China Identified in Seattle, Washington
After spreading to Thailand, South Korea and Japan, a novel coronavirus that originated in Wuhan, China, has been discovered in the United States.
A Centers for Disease Control and Prevention (CDC) spokesman told Reuters on Tuesday that a person, who traveled to Seattle from China, was diagnosed with the virus. It's the first known case of the virus in America and comes as the World Health Organization (WHO) is preparing to meet to decide if the outbreak constitutes an international emergency.
The virus, known as 2019-nCoV, is a strain that hasn't previously been identified in humans, according to WHO, and causes a type of pneumonia. An analysis of the virus' genetic code showed it was most similar to severe acute respiratory syndrome (SARS), according to BBC. Symptoms include fever, cough and difficulty breathing.
According to this Associated Press, about 300 cases have been reported and many of those infected have a link to a seafood and animal market in Wuhan. Initially believed to spread from animals to people because of the connection to the market, cases of people contracting the virus without being exposed to the market now indicate to the CDC that it can also spread through human contact.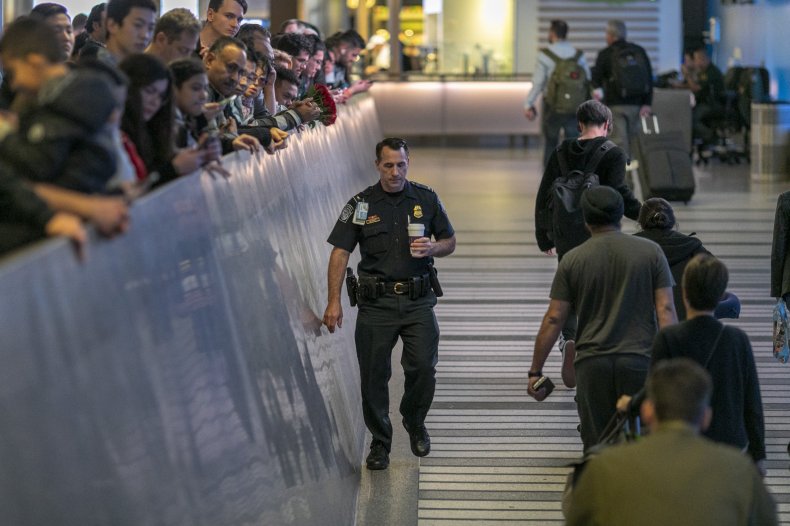 Newsweek reached out to the CDC but did not receive a response in time for publication.
Outside of China, cases have been reported in Japan, South Korea and Thailand and on Friday, the CDC announced the risk to the American public was low. However, in an act of "proactive preparedness," the CDC and the Department of Homeland Security's Customs and Border Protection would implement additional health screenings at three major U.S. airports.
Screenings were designated for passengers who traveled to San Francisco International Airport, John F. Kennedy International Airport in New York or Los Angeles International Airport, by way of direct or connecting flights from Wuhan. Passengers would have their temperature taken and be asked to fill out a symptom questionnaire.
On Wednesday, 16 WHO members and five advisors will meet for an emergency committee to determine if 2019-nCoV constitutes a public health emergency and what recommendations should be made to manage the outbreak.
Officials are still learning new information about the characteristics of the current virus strain and since coronaviruses vary in their nature, there isn't a specific cure. Individual symptoms can be treated, though, and Dr. Maria Van Kerkhove at WHO advised people to take action to prevent infection. She recommended washing hands with soap and water, sneezing into elbows and ensuring all meat is properly cooked before consumption.