Fish are The Latest Victims of Europe's Summer Heat
Animals are now falling victim to Europe's scorching heat wave.
In Switzerland, 2,240 pounds of dead fish have been pulled out of the Rhine River due to rising temperatures in the water.
When temperatures are above 73.4 F, fish begin to go through severe stress, a statement from the Swiss Fishing Federation said. The entity went on to say that when the water temperature is "at 77 [degrees] Fahrenheit, especially for long periods, [and] it is a death sentence."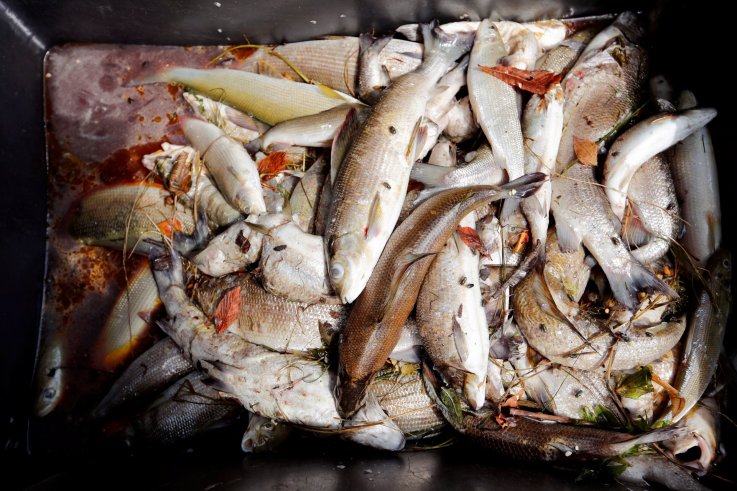 This is especially true for the grayling, a species of fish that has been most affected by the rising temperatures, the BBC reported. Because of the temperatures, oxygen levels in the water are falling, causing fish to suffocate and die.
"We are extremely worried," the head of the Swiss Fishing Federation, Philipp Sicher said last month. "Indicators show that tragedy is near."
A similar event has already happened in Germany, where nearly 11,000 pounds of dead fish were removed from the ponds in the city of Hamburg last month. At the time, temperatures in some parts of Germany were reaching 102 degrees Fahrenheit.
The heat has even affected animals near the Arctic Circle. In early August, motorists in Norway were warned to watch out for reindeer that may be in tunnels trying to get away from the extreme heat.
"The animals retreat to colder places, both reindeer and sheep find refuge in tunnels and shaded areas to cool down," Tore Lysberg from the Norwegian Public Roads Association told Agence France-Presse.
In the Swiss city of Zurich, authorities encouraged dog owners to buy shoes to protect their paws from the sweltering asphalt. "When a dog walks on hot asphalt, he can burn his feet – just like a human walking barefoot," Zurich Police Spokesperson, Michael Walker told Switzerland's public broadcaster, SRF.
High water temperatures affected beachgoers when over 50 beaches were closed to the public in Poland because of toxic algae that began to grow in water that was topping 73.4 F. The bacteria in the algae can cause those with poor immune systems to fall gravely ill. German officials said that an elderly man who had a chronic illness died after being infected by the bacteria at the end of July.
Water from rivers is used to cool nuclear power plants, and the scorching temperatures forced three power plants in France to shut down four nuclear reactors early this month.
Fish are The Latest Victims of Europe's Summer Heat | World