Fisherman Accidentally Catches Great White Shark off Rhode Island Beach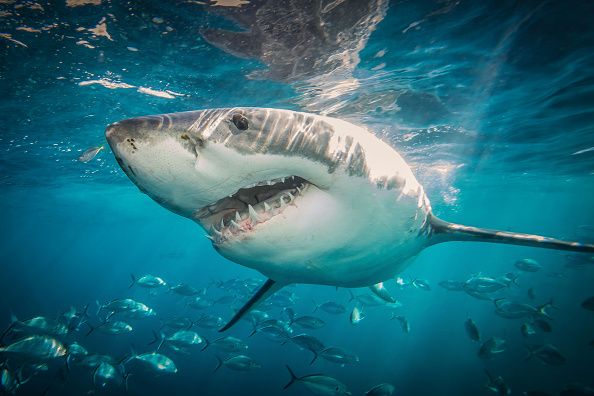 A fisherman was startled when he lifted a net off the coast of Rhode Island and found a live great white shark.
Videos and photos of the incident, shared in a Facebook post on Sunday by fisherman Michael Lorello, show the animal thrashing about on a boat. The shark was dropped in the middle of a pile of fish, exposing its teeth just before the crew attempted to toss it back into the Atlantic.
"He is still alive. Plenty of life in him," a person can be heard saying in the video.
Lorello had caught the fish Sunday morning three-quarters of a mile from Misquamicut Beach, the Associated Press reported. The shark was on the boat for less than 10 minutes before it was quickly released back into the water.
Lorello said he thinks the creature was about 400 to 500 pounds.
By Tuesday afternoon, the Facebook post had been shared 2,900 times. One of the two videos posted had received more than a million views.
While Lorello estimated that the shark was just 6 feet long, great whites can grow to exceed 20 feet in length. Most are an average of 15 feet, according to National Geographic.
These sharks live on a variety of prey, from small fish, such as halibut, to large seals and dolphins. They have 300 teeth that help them rip their prey into mouth-sized chunks, which are then swallowed whole, according to The World Wide Fund for Nature.
Great white sharks can weigh up to 5,000 pounds. They are the largest predatory fish on the planet.
As a top predator in the ocean, the biggest threat to their survival is from humans. Nets placed along shorelines and illegal poaching are ongoing threats to the creatures, according to the Smithsonian.