Fishing Group Wants World's Largest Sea Turtle off Endangered Species List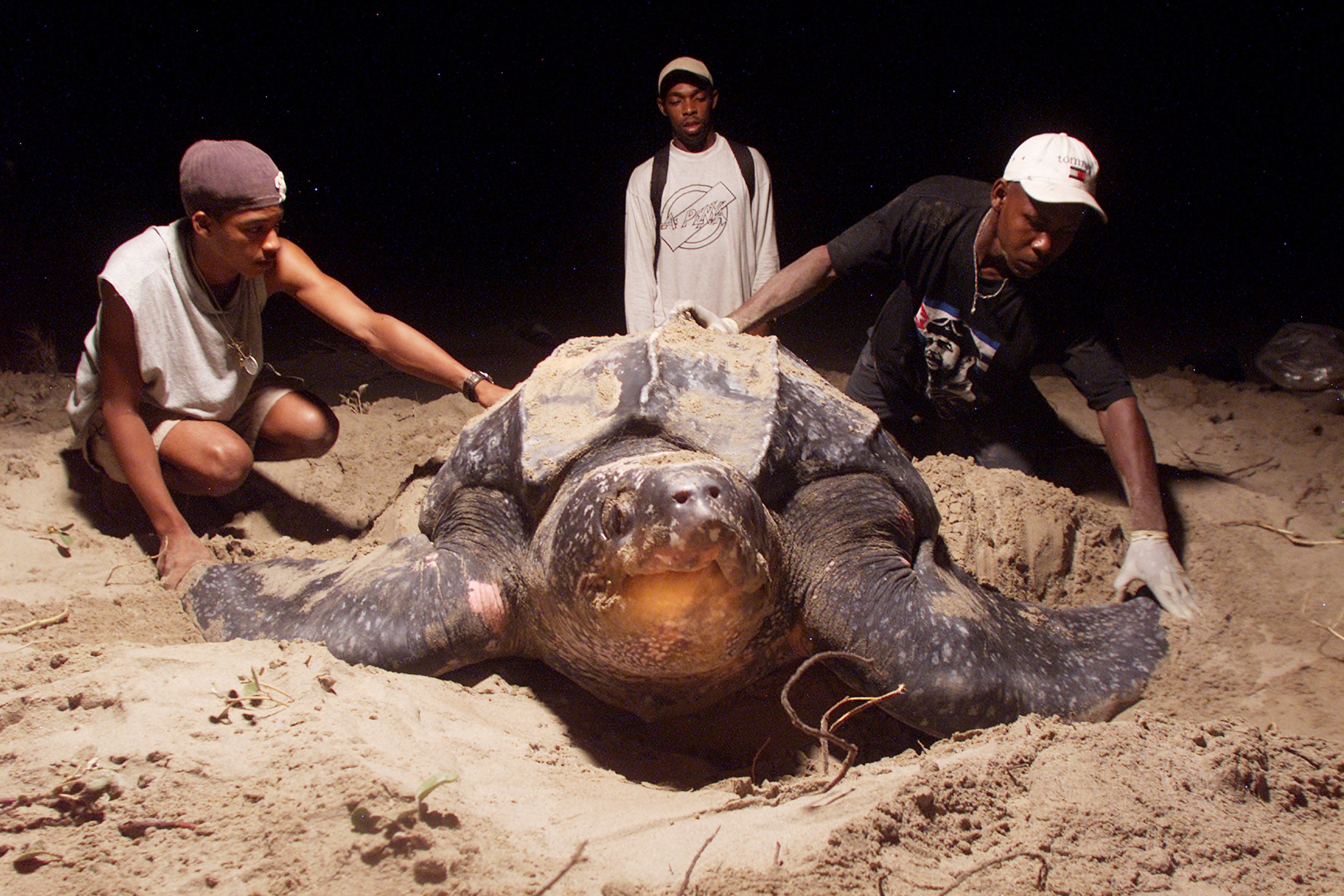 Leatherback sea turtles have a storied history of clashing with people who fish, but because they are an endangered species, they have several legal protections. However, a New Jersey group of fishermen want the leatherbacks off the endangered species list and their protections scaled back, AP reports.
The New Jersey-based Blue Water Fishermen's Association sent a petition to the National Oceanic and Atmospheric Administration (NOAA) to ask them to re-evaluate the Northwestern Atlantic's population of leatherback sea turtles. That population, they argue, may not be endangered at all, so they shouldn't have protections. But that argument is at odds with how NOAA determines what species are endangered. Specifically, the agency looks at global numbers, not regional populations.
NOAA designated the leatherback sea turtle as an endangered species in 1970, and since then they've enjoyed legal protections that come with that label. For example, trawl fisheries must modify their nets in order to minimize the chances of accidentally catching sea turtles. They also limit the times, areas, and ways that people can fish in order to protect the leatherbacks.
The Fishermen's Association argues that these protections are based on outdated assessments of leatherback populations, and NOAA should move their listing to "vulnerable" instead of "endangered." The International Union for the Conservation of Nature already did so in 2013.
But NOAA Fisheries, an arm of NOAA that is responsible for marine stewardship, notes that fishing operations are a major leading cause of decline in both Atlantic and Pacific leatherback sea turtles. People harvesting legal species of fish sometimes accidentally catch and kill or injure sea turtles. Leatherbacks can become caught in fishing gear used to catch legal marine animals or that has been discarded into the water.
However, leatherbacks also face other threats, such as garbage, which they eat, and people, who intentionally kill them and their eggs to eat, according to NOAA.
NOAA has found that the Fishermen's Association has enough "substantial scientific and commercial information" to warrant a re-evaluation of whether the leatherback sea turtle populations needs continued protection. They now have eight months to make a decision about their protection, AP reported.