'Age Is Just a Number': 90-Year-Old Grandma Shares Her Fitness Journey
At the start of every year, most of us make some new resolutions, pledging to work on and become a better version of ourselves, but many of us don't even get past January without waving a white flag.
A recurring resolution for Americans is exercising more, followed by losing weight, especially those extra few pounds gained over the holidays, but studies show that out of all the people who commit to their resolutions, only about 46 percent manage to accomplish them.
If you're looking for inspiration to work on your goals this year, take a lesson from Edna, a fit grandma of 21 grandchildren, who at 90 years old, won't skip a training session, and is as agile as a teenager.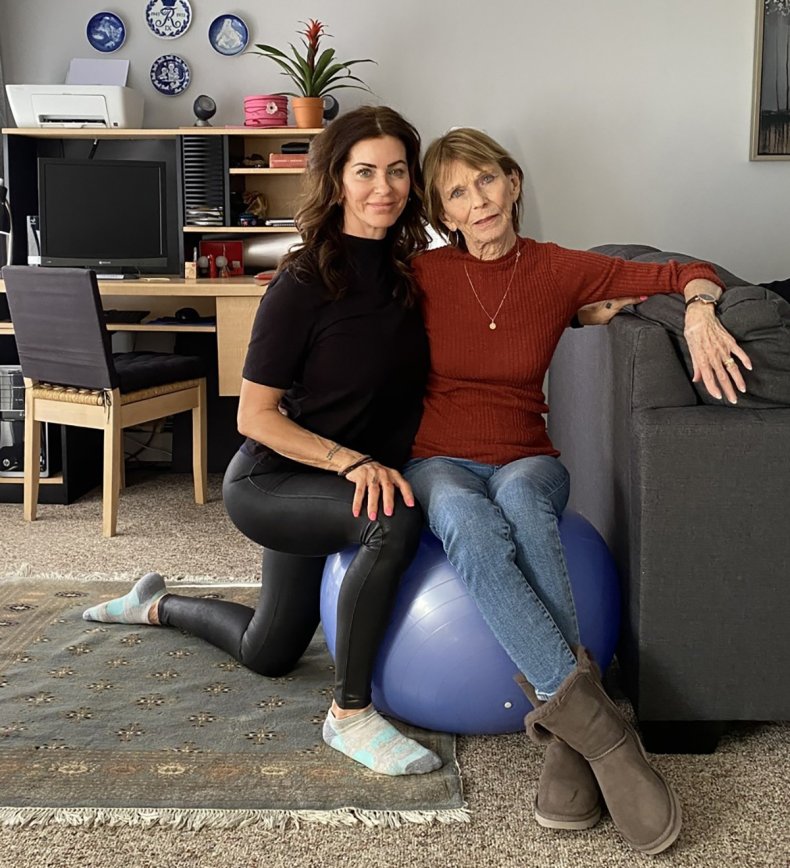 'I Workout Every Day, I am 90, Have 5 Children, and 21 Grandchildren — I Have To Be Active!'
Edna May Giordano a retired hospital employee from Kelowna, Canada, recently went viral on TikTok when her daughter Dalyce, posted an inspirational video of her fitness routine despite her advanced age, now viewed almost half a million times.
Giordano is no ordinary grandma, she has been consistently training for over 30 years, and carries an active lifestyle that keeps her body and mind healthy.
"A simple dumbbell and cardio" routine is what she follows every day, and when the weather is nice, she spends her days outdoors, tending to her vegetable garden and taking care of her planters and flower beds.
She began exercising after retiring from her job as a hospital employee, and given the great results she's achieved, she hasn't stopped a day. Giordano insists she doesn't have a "secret" to her impressive routine and says she exercises because she loves how it feels afterward, and mostly because "if you don't use it, you will lose it."
She told Newsweek: "I am 90 years old and have five children, 21 grandchildren, and three great-grandchildren, so you can see I had to be active, also much of the time I worked outside the home. When I retired in 1997 I felt the need for physical exercise and knew, 'if you don't use it you lose it.' I tried exercising at home but soon found out I was not motivated. Since then I go to the gym, do what I am capable of, always try to do better, only competing with myself, and believe me I am at the lower end of the totem pole, but that is OK."
But, as with everyone else, some days are harder than others for the fit grandma, and when motivation feels low she reminds herself why she's doing this.
"When I get up on a cold and frosty morning I really need to push myself to get going, but have a great sense of satisfaction knowing it allows me to continue to live a life unrestricted, a small price to pay."
How Much Exercise Do Elderly People Need A Week?
A study published in the National Library of Medicine found that physical activity, defined as "any bodily movement produced by skeletal muscles that result in energy expenditure," protects from noncommunicable diseases such as cardiovascular disease, stroke, diabetes, and some types of cancer.
It is also associated with improved mental health, delay in the onset of dementia, and improved quality of life and well-being.
The exercise recommendations from the World Health Organization (WHO) include both aerobic exercise and strength exercise as well as balance exercises which help reduce the risk of falls.
And, even when older adults cannot follow the guidelines because of pre-existing conditions, they are advised to be as active as their ability and conditions allow. The recommended amount of physical activity, which is about 150 minutes per week, is in addition to daily activities like self-care, cooking, and shopping.
Krystal Quagliara, an ACE-certified personal trainer, told Newsweek that a regular exercise habit is important at any age, but it can actually be life-saving for older people: "The risk of falling can threaten one's ability to remain independent. Movements to increase balance and mobility can reduce your risk of fall injuries."
According to Quagliara, leg strength is important for daily activities such as walking and climbing stairs, sitting and standing, and maneuvering in and out of the bathtub, while upper body strength is important for minimizing the risk of back pain and injuries when lifting household items like laundry or groceries.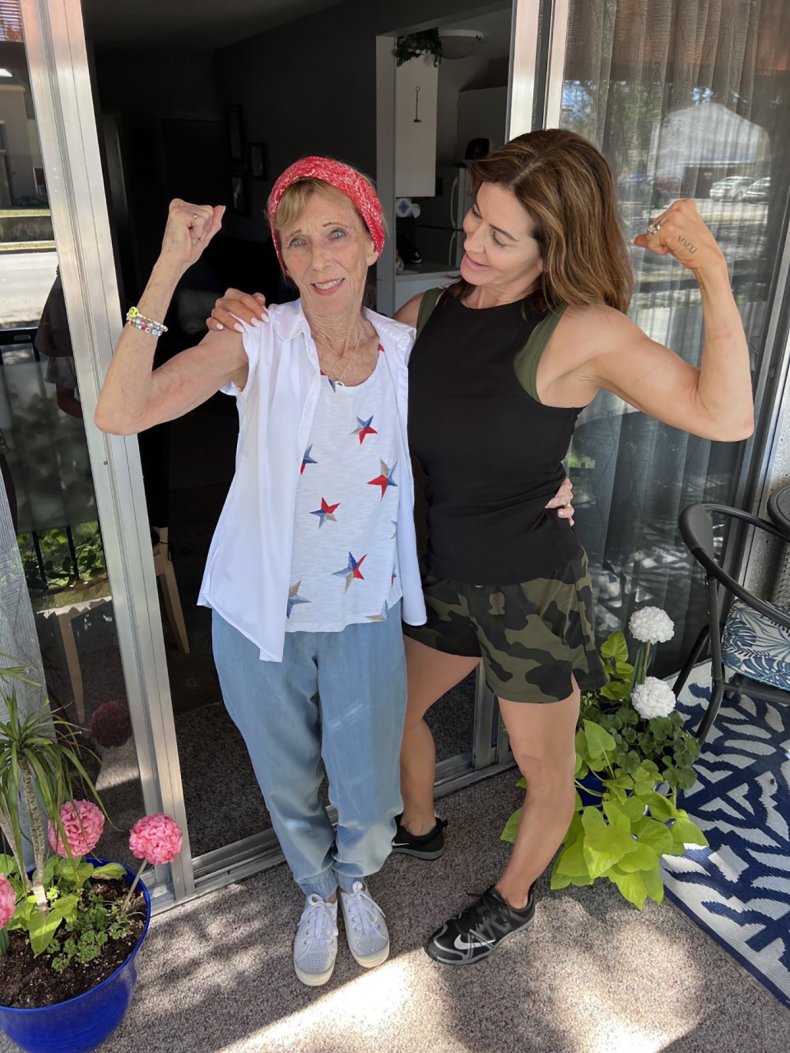 'Age Is Just a Number'
For Giordano "age is just a number," and she believes that the number of years you've been alive does not have to limit what you can do or achieve.
The most important thing for her is having her independence and even though she knows aging is inevitable she says "it should not limit what we can achieve or how we can feel."
Giordano's daughter, Dalyce Mary Radtke, who is also a fit mom of seven children and a certified fitness instructor and personal trainer, told Newsweek that her mom has always made taking care of herself a priority and that she generally takes pride in her appearance.
"She chooses outfits that make her feel good not what society typically assumes 'grandmas' should wear, and she's not afraid to wear trendy clothing, even at her age," she said.
"Age is a mindset, if you 'act your age,' you risk getting old. The number of years you've been alive does not have to limit what you can do or achieve, and if you create consistent habits that fuel your days with common sense food choices and portions, consistent movement, especially in activities you enjoy, your age will define nothing more than the linear time of your journey," said Giordano.
How To Start Exercise As A Senior
According to Quagliara regular exercise is about establishing a consistent habit, and you can start with a five-minute walk and then build up to more time: "I recommend my clients walk to the end of their block and back home, continue to do that for several days or weeks until you feel ready to go further, then walk an extra block and back, and so on."
"Bodyweight exercises such as chair-assisted squats, lunges, wall pushups, and chair dips are a great way to start."
She suggests practicing the moves without weights first to insure proper form, and then gradually increasing your weights as you go.
How To Stay Motivated When Exercising
Quagliara's top tip to stay motivated is to set realistic goals and track them, writing down your workout in a journal or using a tracking app, so you look back and celebrate your progress.
She explained that if you are new to exercise, it may be difficult to establish a habit of doing it seven days a week right away, so you may want to start by setting a two days per week goal, and then increase the amount of exercise as you gain confidence.
"Working with a personal trainer or attending weekly classes can help you stay motivated when starting a new exercise habit. You'll meet others who are on a similar path to better health. When you couple exercise with something else you enjoy, like socializing and community, it becomes easier to stick with it," she said, adding that a walk in the park, a round of golf, or dancing can be excellent ways to get physical activity while you are enjoying yourself.
If you have a similar story, or personal dilemma, let us know via life@newsweek.com. We can ask experts for advice on relationships, family, friends, money and work and your story could be featured on Newsweek's "What Should I Do? section.