Five '90 Day Fiancé' Stars Battle In Heated Instagram Fight Over Larissa's Arrest
Season 6 of 90 Day Fiancé may be even more dramatic off screen. Three stars of the current season contributed to a heated Instagram exchange on Wednesday all surrounding Larissa Dos Santos Lima's Saturday arrest.
Larissa was arrested Saturday for domestic battery. Larissa and fiancé Colt Johnson have released individual statements without revealing large details on the fight. The police report acquired by In Touch states Colt had scratch marks on his eyebrow and red marks on his stomach, though both Colt and Larissa claimed the fight was not physical.
After her arrest, Larissa seemed to make light of the situation by posting a photo of herself leaning on a display cop car on Tuesday. She noted the photo was a throwback to her visit to Madame Tussauds.
Fernanda Flores was the first 90 Day Fiancé star to comment on the photo. She seemed to think the post was inappropriate. "How can you make fun. A lot of people were genuinely concerned about you," Fernanda posted on the image, which was reposted by 90DayFiance_ on Instagram.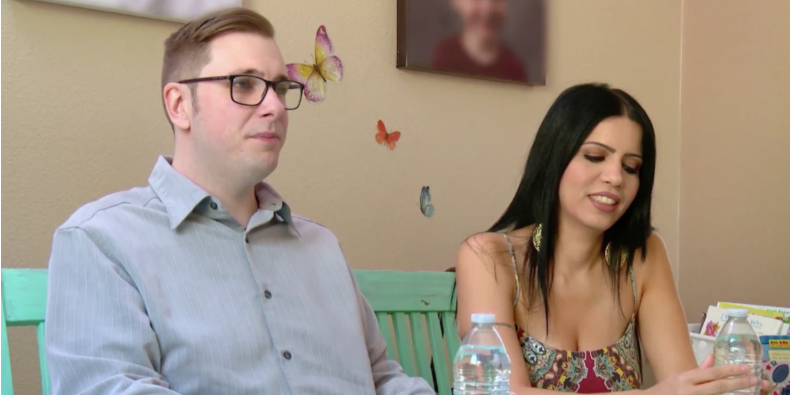 Larissa commented back with a personal jab at Fernanda. "The only way you can stay relevant and try to convince people you're not boring is to insert yourself in my affairs," she commented back.
Fernanda shot back with a slam at Larissa's arrest, saying, "When you make your affairs public and appear to be threatened people worry. Don't confuse boring with class. I don't need to be arrested for attention." She added a kiss emoji at the end.
Colt came to Larissa's aid in the fight against Fernanda. "Humm, didn't I see you throw water in a paid actress's face and almost assault her in a painfully obvious staged and fraud scene at a nightclub last week?" His commented noted Sunday's episode of 90 Day Fiancé, in which Fernanda and fiancé Jonathan fought at a club after a woman started to dance with him when Fernanda went to the bathroom.
Larissa took more shots and called Fernanda jealous. Jonathan stepped in to defend Fernanda with a joke about the situation not being for Colt. Larissa asked how the couple feels now that she is more successful, and Jonathan asked what she meant. "What success...two days in jail and your new couch?" he wrote.
The next reality star to commend was David Toborowsky. David alleged he'd been blocked by Larissa. "She blocked me," he said. "Great, now she can focus on important issues like health care reform and catnip."
Larissa responded to David's comment on the 90DayFiance_ post. "Go find a job. 90 Day Fiancé is not forever, grandfather," she wrote.