Five Abandoned Bentley Mulsanne Grand Limousines by Mulliner Listed for Sale in the UAE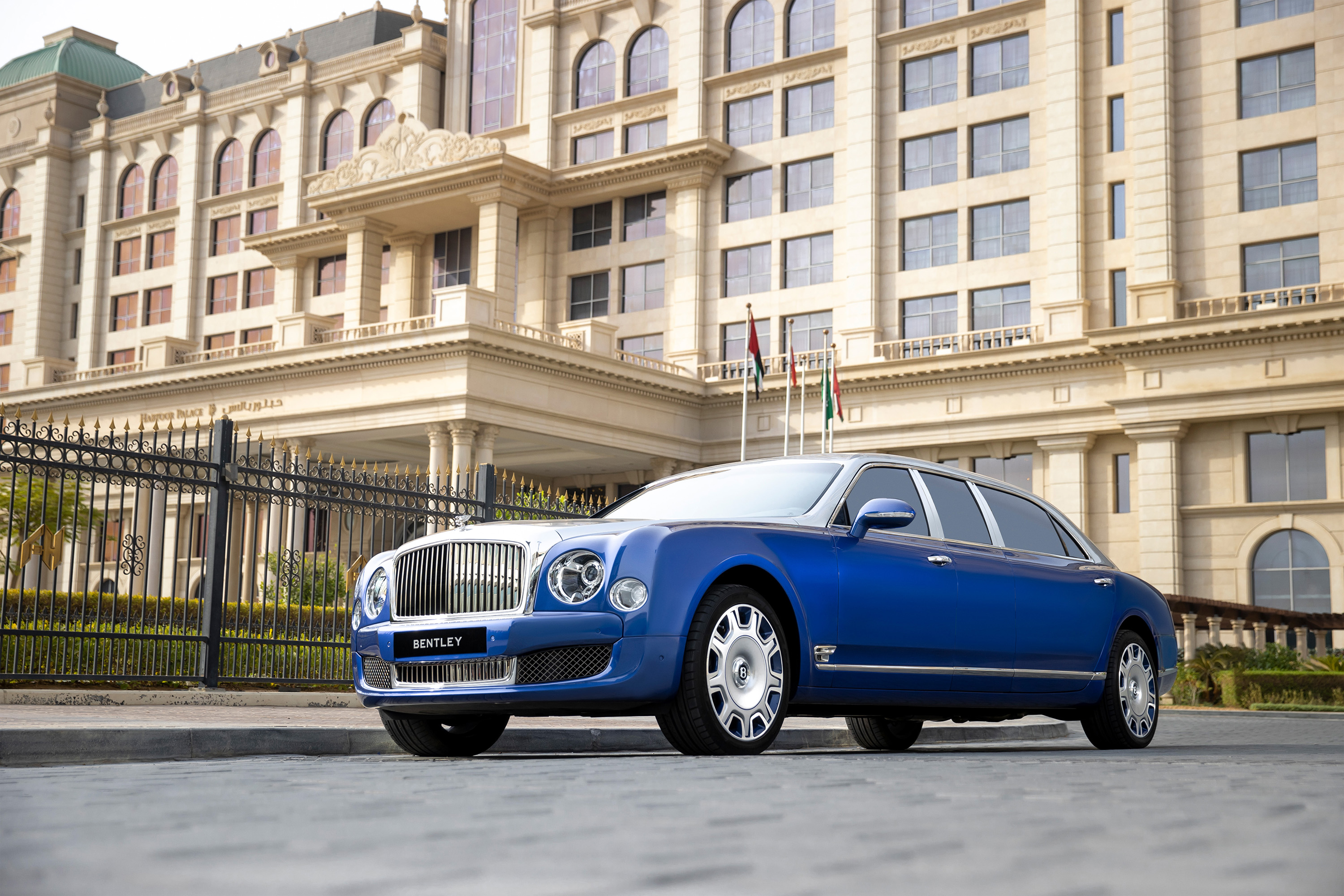 Five Bentley Mulsanne Grand Limousines were built in 2015 by Mulliner, the customization arm of the heralded British automaker. Seven years after they were delivered, the cars, which never used or registered, are available for purchase.
Each of the stretched models were originally shipped to the United Arab Emirates (UAE). Bentley Emirates recently acquired the ability to sell the five models. Shipping from the UAE to any global location is possible.
The five cars are identical in dimension but have unique styling. They have a 1,000 mm addition to the traditional body of the Mulsanne and a raised roof accommodating an additional 79 mm of headroom at the rear.
Each car seats four in the back and two up front. The four rear seats are grouped two-and-two, positioned to allow occupants to face each other.
Passengers have access to veneered folding picnic tables that allow them to work on the go. iPad docking and charging stations allow travelers to remain plugged in to the world around them while on the go.
Each vehicle comes with a bottle cooler with crystal flutes between the front facing seats. A beverage cabinet with bespoke crystal tumblers is between the rear facing seats.
Bentley Mulliner designed a custom heating, ventilation and air conditioning system for the model to allow two discreet climate zones with each of the four passengers able to control their own micro-climates.
Communication between the driver and passengers occurs via intercom with an electrochromic glass divider allowing privacy.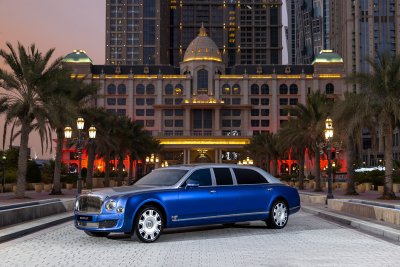 Color schemes include: Silver Frost over Moroccan Blue exterior paint, paired with an Imperial Blue and Linen interior completed by Burr Walnut veneer; Damson over Black Crystal paintwork, complemented by Damson and Twine leathers and Dark Stained Burr Walnut veneer; Onyx over Candy Red exterior, with a Hotspur and Camel interior finished with Olive Ash veneer; Rubino Red over Light Gazelle bodywork, with an interior in Fireglow and Twine leather paired with Burr Walnut veneer; and a single tone Black Sapphire exterior, with an Imperial Blue and Camel interior contrasted by Dark Stained Burr Walnut veneer.
Power comes courtesy of the car's 505-brake horsepower twin-turbo V8 that allows drivers to get off the line in a hurry thanks to 752 pound-feet of torque. The models ride on 21-inch wheels that have been treated to match the car's paintwork.
Each wears a bespoke Flying B bonnet mascot that is engraved with the words 'Coachbuilt by Mulliner'.
The Mulsanne was retired from the Bentley lineup earlier this year with no direct replacement show. Mulliner recently celebrated its 1000th bespoke commission since its own dedicated design team was formed in 2014.
Model pricing has not been revealed.