All You Need to Know About 'Five Bedrooms' Season 2 on Peacock
Five single Australians shack up to buy themselves a house in the Peacock comedy drama Five Bedrooms.
Season 2 is available to watch on the streaming service Thursday and fans will be tuning in to see which characters are returning and who's joining the cast for the new episodes.
Without further ado, here's everything you need to know about Season 2 of Five Bedrooms, now streaming on Peacock.
Where Season 2 of Five Bedrooms picks up
The five housemates are once again house-hunting after losing their communal home at an auction at the end of Season 1. After initial cohabitating teething problems, the one-of-a-kind family believe they prevailed as a unique collective.
Season 2 will see the five continue to endure the challenges of a new home, a DIY renovation, an injury, two pregnancies, an ex-husband, a workplace bullying complaint and an unexpected tragedy where love will be lost and found.
Roommates Ben and Heather agree to give it a go together as a legitimate couple, Liz and Harry agree to re-awaken their respective love lives and Melanie begins to plan how to raise her baby in the unconventional living arrangement.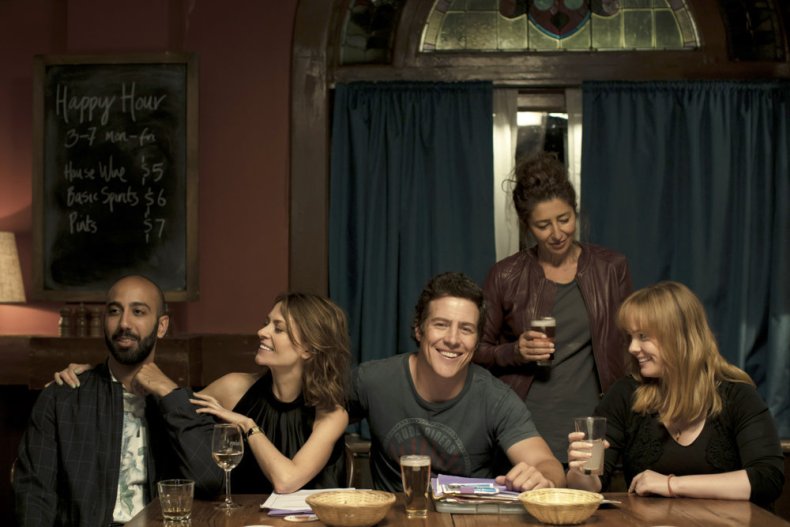 Who stars in Five Bedrooms on Peacock?
All of the core cast members return for the second installment of the Aussie dramedy.
The five housemates who signed up for their "little social experiment," Kat Stewart (Liz Wendell), Stephen Peacocke (Ben Chigwell), Doris Younane (Heather Doyle), Katie Robertson (Ainsley Elling) and Roy Joseph (Harry Sethi) all return. Hugh Sheridan is back as Lachlan Best, and Kate Jenkinson as Melanie Best.
Actor Rodger Corser joins the cast as Stuart, Liz's ex-husband.
The bulk of the episodes are once again written by co-creators Christine Bartlett and Michael Lucas, with Peter Templeman, Shirley Barrett and Fadia Abboud splitting directing duties between them.
The future of Five Bedrooms
Five Bedrooms fans can binge their way through all of Season 2 now as all the new episodes have dropped at once.
Just like with Season 1, the second season is made up of eight episodes in total.
The episode titles for Season 2 are: "Thirty Open Houses," "Two Mothers," Nine Feet," "Five Wishes," Two Warning," "Twenty-Seven Weeks," "Three Messages," and the season finale is called "One Way."
Fans of the show can rest assured there's more to come from the Five Bedrooms cast as they've already started filming Season 3, according to TV Tonight. Creator and writer Lucas said: "We are so ridiculously invested in these five characters, we simply can't stop imagining funny, fraught, tragic, joyful situations to put them in. So, we are beyond delighted that we've been given a third season to run wild with them again."