Five Children Found in Makeshift Crate on Pickup Truck in California With No Water or Ventilation, Authorities Say
Five children were found in a makeshift wooden crate on a pickup truck with no water or ventilation in California, where temperatures had reached 100 degrees.
Deputies had responded to a call reporting that several small children were riding in a small crate on the bed of the truck along Interstate 40 on Tuesday, the San Bernardino County Sheriff's Office said in a news release.
Authorities found and stopped the truck at Bailey Avenue and J Street in the city of Needles, a town on the California-Arizona border. The children, aged between one and 13, were located inside the box affixed to the bed of the truck at around 2 p.m.
The sheriff's office said the children had no restraints as they rode in the box as well as "no ventilation, water or air conditioning" while the temperature outside at the time was around 100 degrees.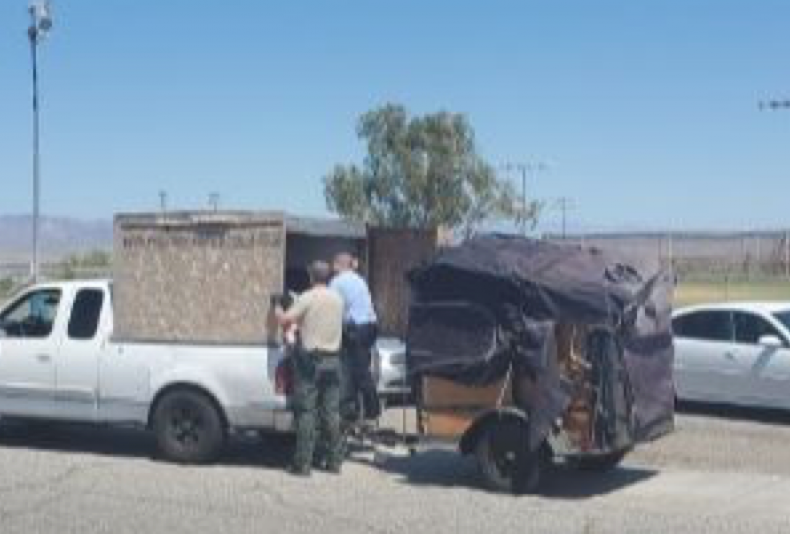 Illegal narcotics, drug paraphernalia and a shotgun were also located in the vehicle, the sheriff's office said.
Three Sacramento residents, Kenneth Standridge, 40, Zona Brasier, 39, and Aushajuan Hardy, 41, were booked into Colorado River Station jail on child endangerment charges.
Standridge is also facing a charge of being a felon in possession of a firearm and driving under the influence. His bail was set a $75,000. Brasier is being held on $150,000 bail.
Hardy was found to be on Post Release Community Supervision and was wanted on a no bail felony warrant out of Sacramento, the sheriff's office said. He is being held without bail pending a court hearing.
The children were released into the care of San Bernardino County Children and Family Services, the sheriff's office said in an update on Twitter. The sheriff's office has been contacted for additional comment.
The children's connection to the Standridge, Brasier and Hardy wasn't immediately known. It also wasn't clear where the truck had traveled from or was going to in the midst of the coronavirus pandemic.
A stay-at-home order has been in effect across California since March when the state became the first to lock down in a bid to slow the spread of COVID-19, the disease caused by the novel coronavirus.
On Tuesday, Gov. Gavin Newsom said some businesses, restaurants and shopping malls could soon open in counties that meet the standards for testing and have seen a drop in cases.
California has more than 71,000 confirmed cases of COVID-19 and 2,934 deaths, according to the latest figures from the state's department of health.
Anyone with information about the incident was urged to contact San Bernardino County Sheriff's Department at 760-326-9200.
This infographic, provided by Statista, shows the spread of COVID-19 across the U.S. as of May 14.