'Five Days at Memorial': What Happened to Dr. Anna Pou and Where is She Now?
Apple TV+'s new show Five Days at Memorial explores the events that took place over the course of five days at Memorial Medical Center in New Orleans during Hurricane Katrina in 2005.
Five Days at Memorial is based on Sheri Fink's non-fiction book about the event, which saw the hospital left without power or water, little food and temperatures rising to 100 degrees after the storm caused the levees to break, flooding the city.
The bodies of 45 patients were found in the chapel of Memorial Medical Center after the storm had passed. They had died while waiting for evacuation from the hospital, with some allegations being made that there were patients who were administered lethal doses of morphine or other pain medication.
Fink's book explores the circumstances that led to these deaths, and the Apple TV+ show recreates this with Vera Farmiga portraying real-life doctor Anna Pou.
What Happened to Dr. Anna Pou and Where is She Now?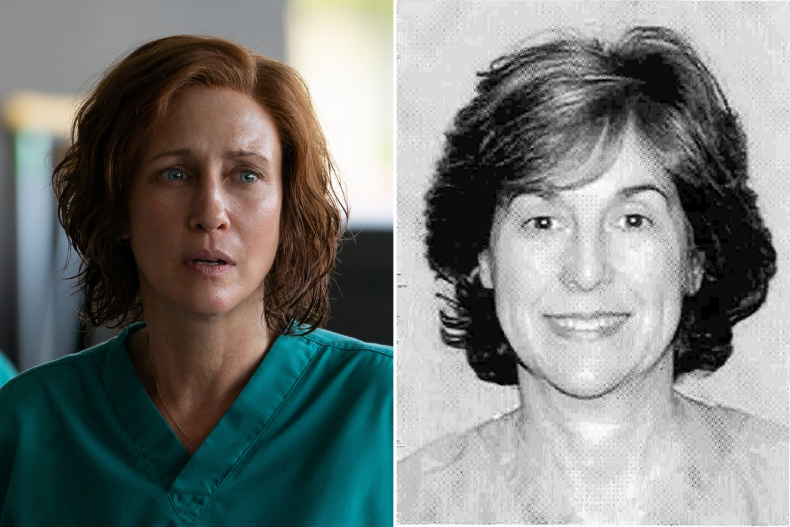 In July 2006, almost a year after Hurricane Katrina, Pou was arrested along with two Memorial Medical Center nurses, Cheri Landry and Lori Budo, for second-degree murder in connection with the deaths of four patients in the LifeCare unit.
They were accused of injecting these critically ill patients with a lethal combination of morphine or midazolam, or both. Pou denied the allegations.
Then-Attorney General Charles Foti announced the arrests publicly, alleging that at least four LifeCare patients at Memorial Medical Center had been "killed by lethal injection."
In a press conference, according to a report from the Guardian, Foti said: "We feel that they abused their rights as medical professionals. We're talking about people that pretended that maybe they were God."
According to a report from The New York Times in 2007, Pou's lawyer Richard Simmons said at the time: "This was a doctor who was at all times concerned with her patients."
Coroner Frank Minyard concluded that the cause of most of the deaths in Memorial Medical Center was indeterminate. Per author Fink, Minyard said he believed Pou, Landry and Budo had not killed intentionally.
The charges against nurses Landry and Budo were dropped after they agreed to give testimony for the prosecution, The New York Times reported in 2007.
A grand jury refused to indict Pou for murder and the charges against her were expunged in July 2007.
After this verdict, Pou helped write and pass three laws in Louisiana that give immunity to healthcare professionals from most civil lawsuits for their work in disasters, such as Hurricane Katrina, though not in cases of wilful misconduct, per Fink's 2009 report on the events at Memorial Hospital in the New York Times Magazine.
In an interview with Newsweek in August 2007, Pou said of administering injections to nine patients in the LifeCare unit: "The intention was to help the patients that were having pain and sedate the patients who were anxious. That was it.
"Reverse triage meant the sickest would be the last to be triaged. We didn't know how much longer they would be there. I take care of patients with cancer, so if I was a murderer, it would really be an interesting combination, very incongruous."
When asked if she considered how the injections may have hastened the patients' deaths, she said: "I guess the thought crossed my mind. Any time you give medicine it crosses your mind. There's always a risk of hastening death. There is a risk with every single thing we do in medicine. Every time you give antibiotics there's a risk."
And when she was asked if this factored into her decisions while at Memorial Medical Center, Pou added: "Basically what we're trying to do is help the patients. Let me tell you—God strike me dead—what we were trying to do was help the patients.
"Everything was done with their best interest in mind. First and foremost. Any medicines given were for comfort. If in doing so it hastened their deaths, then that's what happened. But, this was not, 'I'm going to go to the seventh floor and murder some people.' We're here to help patients."
Pou returned to practicing medicine in February 2007, and the otolaryngology surgeon is still working as a head and neck cancer specialist. She has also gone on to lecture on medicine and ethics, and she has given advice on disaster preparedness.
The medical professional was not involved with the making of the series, with actor Farmiga telling Newsweek that she based her interpretation of Pou on what was written about her and the events at Memorial Hospital, in Fink's book.
The first three episodes of Five Days at Memorial is out on Apple TV+ now, and the show will continue to air weekly on the streaming platform.