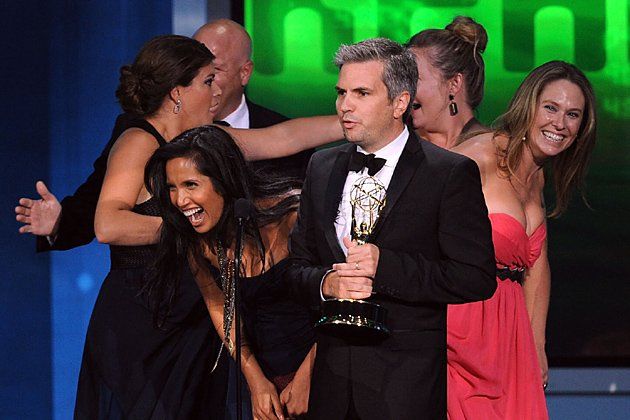 With so many buzzy new series and first-time nominees, there were bound to be some shakeups during this year's Primetime Emmys. But in what categories they would occur was still a moving target, with prognosticators puzzling over whether voters would revert to old habits or reward television's newest hopefuls. Naturally, the answer was a little of both, and though it wasn't exactly a surprise, one of the biggest awards of the night, Best Comedy Series, was a departure as Modern Family toppled 30 Rock after a three-year run. But there were some genuine shocks throughout the night, and these were the five most jaw-dropping:
1.Top Chef wins Outstanding Reality Competition Program
After an astonishing seven straight wins, The Amazing Race finally had its streak broken by Bravo's foodie frenzy,Top Chef. The show's producers looked genuinely stunned—and who could blame them—as they took the stage to accept their Emmy. Executive producer Dan Cutforth was forced to accept on behalf of himself and his partner, Jane Lipsitz, who for the first time skipped the ceremony on the night they finally received the honor.
2. Aaron Paul wins Outstanding Supporting Actor in a Drama Series
In one of the toughest categories of the night, underdog Aaron Paul won the Emmy for his bravura performance as Jesse Pinkman in Breaking Bad—and on his birthday no less. As deserving as Paul was, his win was anything but assured given competition from Lost's Michael Emerson and Terry O'Quinn (who looked pretty stunned by the result himself), plus John Slattery from the ever-formidable Mad Men.
3. The Daily Show with Jon Stewart wins Outstanding Variety, Music or Comedy Series
OK, so this wasn't a shock per se, unless you're one of the Team Coco loyalists who were hoping to see the knife twisted in NBC's back. The nomination of Conan O'Brien's short-lived Tonight Show was one of the biggest eyebrow raisers, and after TBS launched a campaign on his behalf in NBC's stead, there was speculation that Emmy voters wouldn't be able to resist smacking down NBC. But instead of a spite vote, the voters went for Jon Stewart's politically pointed variety show yet again.
4. Archie Panjabi wins Outstanding Supporting Actress in a Drama Series
In yet another impressively populated and tricky-to-call category, Archie Panjabi won out for her steely portrayal of private investigator Kalinda Sharma on The Good Wife. It's possible that the two nominees from Mad Men, Elisabeth Moss and Christina Hendricks, split voters fond of that show. But even if that's the case, there's no other explanation for her victory over costar and previous Emmy winner Christine Baranski than that the voters thought she absolutely deserved it.
5. Bryan Cranston wins Outstanding Actor in a Drama Series
We probably shouldn't be surprised that our Emmy Roundtable guest Bryan Cranston pulled off the hat trick, but his character on Breaking Bad, Walter White, went to such dark places in the third season, it was possible that the voters might have been turned off by the bleakness. It was also conceivable that voters who wanted to honor Lost in its final season (but didn't want to reward said season's unevenness with Outstanding Drama Series) might toss an acting award to Matthew Fox instead. No such luck.