Five Gun Control Bills Congress Could Pass Right Now In Wake Of Florida Shooting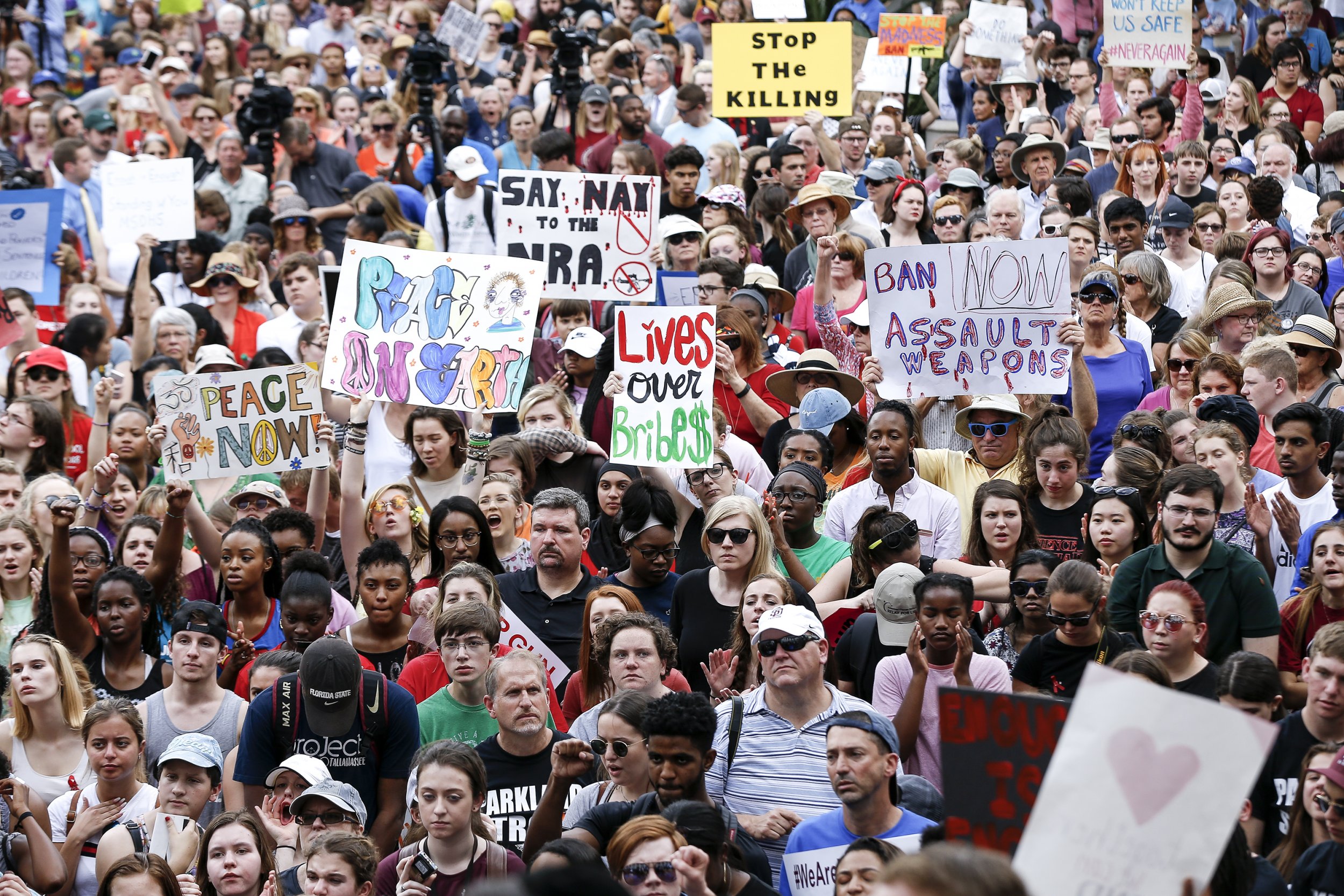 Will this time be different?
As lawmakers debate the best way to prevent another school shooting like the one that claimed 17 lives in Parkland, Fla., last week, dozens of federal gun control bills present potential solutions—but most of them have been stalled in Congress since the country's last mass shooting, or even the one before it.
Here are five pieces of legislation lawmakers can take action on right now:
1. H.R. 4268: Gun Safety: Not Sorry Act of 2017
The legislation, first introduced by Representative Sheila Jackson Lee (D-Texas) in November, would place a seven-day waiting period on the purchase of a "semiautomatic firearm, a silencer, armor piercing ammunition, or a large capacity ammunition magazine."
Currently, 10 states plus Washington D.C. have laws requiring some kind of waiting period for prospective gun owners, even if a background check has been completed and comes back clean. Research hasn't been able to definitively conclude whether waiting periods reduce gun violence, but they could help close what's known as the "Charleston Loophole," a gap in the law that allows a gun dealer to sell a firearm to a customer after three business days have passed, even if a background check hasn't been completed. The loophole created the conditions under which Dylann Roof purchased the weapon he used to kill nine people at a Charleston church in 2016.
On Tuesday, the Supreme Court rejected a challenge to California's 10-day waiting period, upholding the Ninth Circuit's decision that the measure was constitutional.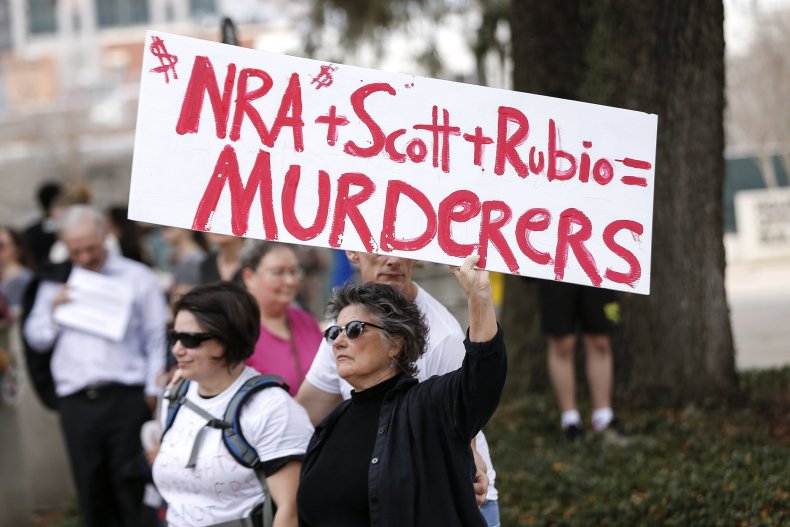 2. S. 2009: Background Check Expansion Act
Senator Chris Murphy (D-Conn.), who has been outspoken on gun control since the Sandy Hook Elementary School shooting in 2012, introduced the Background Check Expansion Act in October, in the weeks following the Las Vegas shooting.
The legislation would amend a section of federal law to require a background check for every gun sale, otherwise known as "universal background checks."
Federal law requires all licensed gun sellers to conduct background checks, but the law doesn't apply to unlicensed gun sellers, who might sell their firearms at gun shows or online. This loophole allowed some 42 percent of the country's gun owners to purchase their "most recent firearm" without first undergoing a background check, according to Giffords Law Center.
Universal background checks have long been at the center of gun control debates, and in the aftermath of this most recent school shooting, Democrats say it's at the top of their agenda.
"Our No. 1 priority is going to be universal background checks, which is supported by about 80 percent of the American people, and closing the gun show loophole and all the other ways that people get around the background checks," Senate Minority Leader Chuck Schumer told reporters this week.
3. S. 1916 Automatic Gunfire Prevention Act
Calls to ban bump stocks—a device that enables semi-automatic weapons to operate like automatic ones—grew louder after the Las Vegas shooter used a dozen of them to commit the country's deadliest mass shooting to date. This bill by Senator Dianne Feinstein (D-Calif.), proposed just three days after the shooting, would place a federal ban on the devices.
President Donald Trump said he supported such a ban in a Thursday tweet, but has directed the Department of Justice to resolve the issue through regulation by the Bureau of Alcohol, Tobacco, Firearms and Explosives, not legislation.
The federal bureau has the power to regulate the devices without the help of Congress. House Speaker Paul Ryan favors the regulation route.
4. S. 2135: Fix NICS Act of 2017
The bipartisan bill calls for a fix to the National Instant Criminal Background Check System in hopes of keeping guns out of the hands of domestic abusers.
The legislation, which was introduced by Senator John Cornyn (R-Texas) and Murphy in November, would create a new "Domestic Abuse and Violence Prevention Initiative," report federal agencies that fail to enter anyone who should be prohibited from firearm purchase into the system and "establish new measures to verify the accuracy of existing records already uploaded into the system."
White House press secretary Sarah Huckabee Sanders said Trump had spoken to Cornyn about his proposed legislation and that "while discussions are ongoing and revisions are being considered, the president is supportive of efforts to improve the federal background check system."
The president's support doesn't mean the bill will pass, however: Just last year, congressional Republicans voted to roll back Obama-era legislation that required the Social Security Administration to enter information about individuals with mental illness into the system.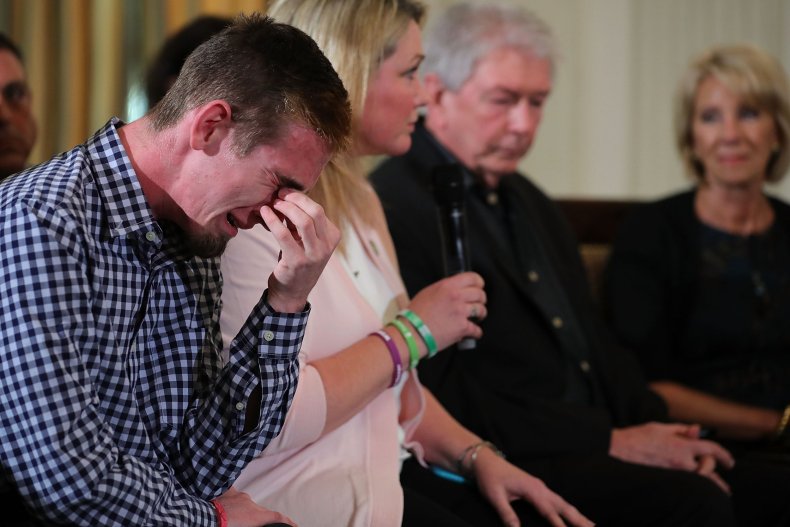 5. H.R. 4290
In November, Representative Mike Quigly (D-Ill.) introduced a bill that would require the Department of Justice to investigate the link between a history of domestic violence and mass shootings.
Before he killed 17 students, Florida shooter Nikolas Cruz reportedly abused his ex-girlfriend and had been suspended for getting into a fight with her new boyfriend, in addition to reportedly stalking and threatening two other female students. Other mass shooters have this abusive behavior in common with Cruz: Pulse shooter Omar Mateen reportedly physically abused his wife; Las Vegas shooter Stephen Paddock was said to berate his girlfriend in public; Sutherland Springs shooter Devin Patrick Kelley had been convicted on two charges of domestic assault before he killed more than two dozen people in a Texas church in November.
Domestic abusers committed 54 percent of all mass shootings between 2009 and 2016, according to research from Everytown for Gun Safety.
"Studies on the link between domestic violence at the early stages and mass shootings may help us prevent individuals from carrying out these horrific crimes in the future," Quigley said.