Two NY Cops Among Five Injured in Brooklyn Shootings Unrelated to Protests
At least five individuals, including two New York Police Department officers, were reportedly shot in Brooklyn on Tuesday during an incident not related to ongoing protests.
The shootings happened around 9 p.m. Tuesday near Rochester Avenue and Bergen Street, according to ABC7 in New York.
A spokesperson for the Office of the Deputy Commissioner, Public Information said in a Tuesday statement to Newsweek, "Confirmed police involved shooting unrelated to protests/looting." The firearm used by the shooter was recovered.
NYPD Chief Terence Monahan tweeted about the incident Tuesday.
"Currently in Brooklyn at the scene of a police-involved shooting," Monahan wrote. "When officers arrived at Rochester Avenue & Bergen Street, they observed a male shot. They then engaged an armed man and discharged their weapons, striking the man. An illegal gun was recovered at the scene."
More information is expected to be released by the NYPD regarding the incident.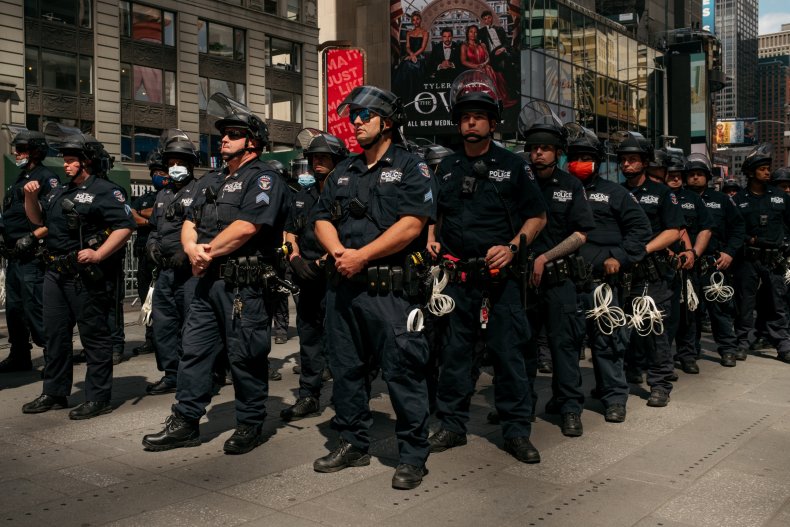 Non-essential workers in New York City were expected to be off the street by 8 p.m., according to a week-long curfew enacted by both New York Governor Andrew Cuomo and New York City Mayor Bill de Blasio. Some protesters, however, ignored the curfew and were reported to be gathered outside Brooklyn's Barclays Center.
Police also turned away demonstrators attempting to cross over the Manhattan Bridge from Brooklyn.
Although NYPD officers were informed Tuesday that their regular days off were canceled in the foreseeable future, New York Police Commissioner Dermot Shea tweeted that residents should not worry.
"Whether you're a mother working to raise a family or a store owner victimized by looting," Shea wrote on Tuesday, "I want all the people we serve to know the NYPD will always be there to protect you, & to make sure criminals never run NYC. You can have faith that we'll swiftly control this situation."
Despite assurances from police officials, Governor Cuomo criticized the efforts of the NYPD during Monday night's protests, which saw the ransacking of multiple businesses including the flagship Macy's department store in Manhattan.
"I am disappointed and outraged by what happened in New York City, that looting and criminal activity hurt everyone in the communities of the protests," Cuomo said Tuesday. "The police in New York City were not effective in their job last night. Period."
New York City Mayor Bill de Blasio said during a Tuesday radio interview that Cuomo's comments "dishonored the men and women of the NYPD in an absolute inappropriate way for any elected official who blames the NYPD while they were out there fighting on the streets to protect people, and I think that's disgraceful." Mayor de Blasio also said he thinks Cuomo owes the members of the NYPD an apology.
Freddi Goldstein, a spokeswoman for Mayor de Blasio, said Tuesday in a statement, "It would be nice if our officers knew they had the respect of their Governor."