Five Children Killed on Their Way to Disney World in Fiery Crash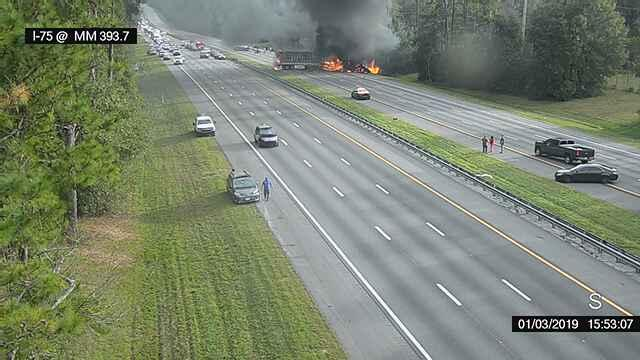 While on their way to the "Happiest Place on Earth," seven people, including two adults and five children, met their untimely deaths when they were killed in a fiery car crash in Florida.
Florida Highway Patrol (FHP) Lieutenant Patrick Riordan told KSDK that the children killed in the crash on Interstate 75 west of Gainesville, Florida, ranged in age from eight years old to teenagers. At the time of the crash, the victims, along with three or four others, were riding in a passenger van that was traveling from Louisiana to Disney World.
Florida Highway Patrol told ABC News that a semi-truck was traveling north on the interstate when it collided with a car. Both cars crashed through the guardrail, crossed the center median and drifted onto the southbound lanes.
After crossing over into the southbound lanes, the semi-truck hit the van and another semi-truck that were traveling southbound on the interstate. Some people who were riding in the van were ejected when the vehicle flipped.
"If I had stepped on the brake when I heard the noise, undoubtedly, I would have been in that accident," Vinnie DeVita, who was driving south at the time of the accident, told Click Orland.
During the crash, fifty gallons of diesel fuel spilled, causing both semi-trucks to catch on fire. Along with the seven passengers in the van, two men who were driving the semi-trucks were also killed. An additional six to eight people were injured.
Following the accident on Thursday, all northbound and southbound lanes near the scene of the crash of I-75 were closed, prompting heavy traffic. Northbound lanes were reopened hours later, although traffic was still seeing the effects of the crash on Friday.
As of Friday morning, only one southbound lane was open and traffic was moving at a "snail's pace" according to the Alachua County, Florida, Fire Rescue. The Alachua County Sheriff's Department and the FHP were still working the scene and sifting through the accident.
The cause of the crash has yet to be determined and ABC News reported that the National Transportation Safety Board will not be able to launch its investigation until after the partial government shutdown ends. Investigators are among those federal workers who are furloughed and therefore cannot conduct an investigation.
The government was partially shut down before Christmas when Democrats and Republicans were unable to reach an agreement on spending. A main point of contention in negotiations was President Donald Trump's border wall. On Thursday, Democrats in the House of Representatives approved a spending package to reopen the government, although it does not include the border wall.