Five Killed at Megachurch Plagued by Leadership Feud, Money Disputes
Five people have been killed during a hostage situation at a South African megachurch that has been plagued with leadership disputes since the church leader's death.
Police were called to International Pentecostal Holiness Church (IPHC) in Zuurbekom, a town about 11 miles from Johannesburg, at approximately 3:00 a.m. local time. Four people had been shot and burned to death in cars; an additional victim, a security guard, was shot while responding to the incident, police believe. Investigators are looking into whether the four burned in their cars were part of the same group that stormed the church.
Brigadier Vish Naidoo, a police spokesperson, said that the group that stormed the church told those inside "they were coming to take over the premises."
At least 40 have been arrested and more than 34 guns have been seized by police. Six of the arrested people were taken to the hospital for undisclosed injuries. Police rescued a yet unknown number of hostages, reported to be men, women and children.
"The crime scene is still being processed and the figures of arrests and firearms seized may fluctuate as the Special Task Force, Tactical Response Team and Visible Policing members continue to comb the compound. These Units have also rescued men, women and children who are said to be living in the compound and were being held hostage," National Commissioner of Police General Khehla John Sitole said in a statement.
Police remain at the IPHS to protect the hundreds of people living on church premises, according to the BBC.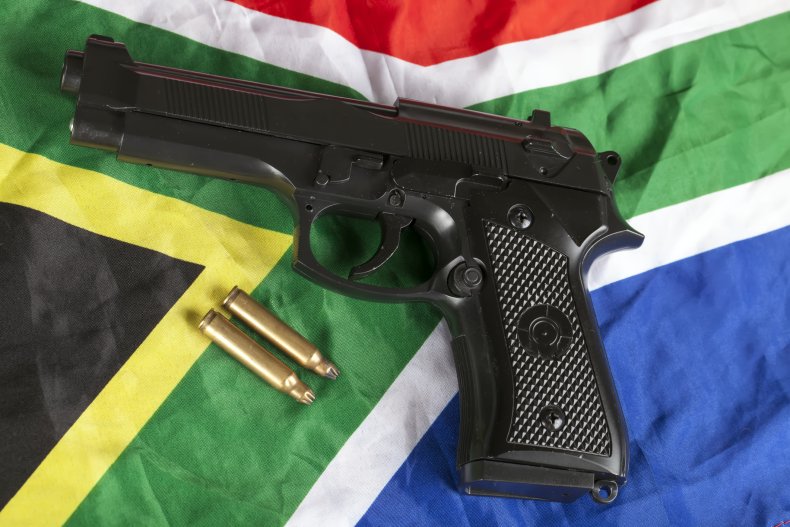 The IPHS is one of the largest churches in South Africa. However, when its leader, Glayton Modise, died February 9, 2016, the church has been beset by scandal and violence. In August 2016, elders were robbed of 1.3 million Rand (about $77,500), and one church member was killed in the robbery.
In late 2017, 115 million Rand (about $6.9 million) was allegedly embezzled from the church's bank account, according to the Soweto Sunday World. Church elders said Modise's daughter Jeanette Khumalo had access to the accounts despite not being a member of the church in good standing. In response to the allegations, Khumalo said that Modise's second wife, Pearl Tafu, had robbed the church's cash vault.
A shoot out between factions battling for control of the church happened in November 2018, during which three people were wounded.
The IPHS was founded by Modise's father, Reverend Frederick Samuel Modise in 1962. Glayton Modise took over the church when his father died in 1998, and under his leadership, the church experienced drastic growth. The church is estimated to have 3 million members across South Africa.