Five Minutes with Donald Trump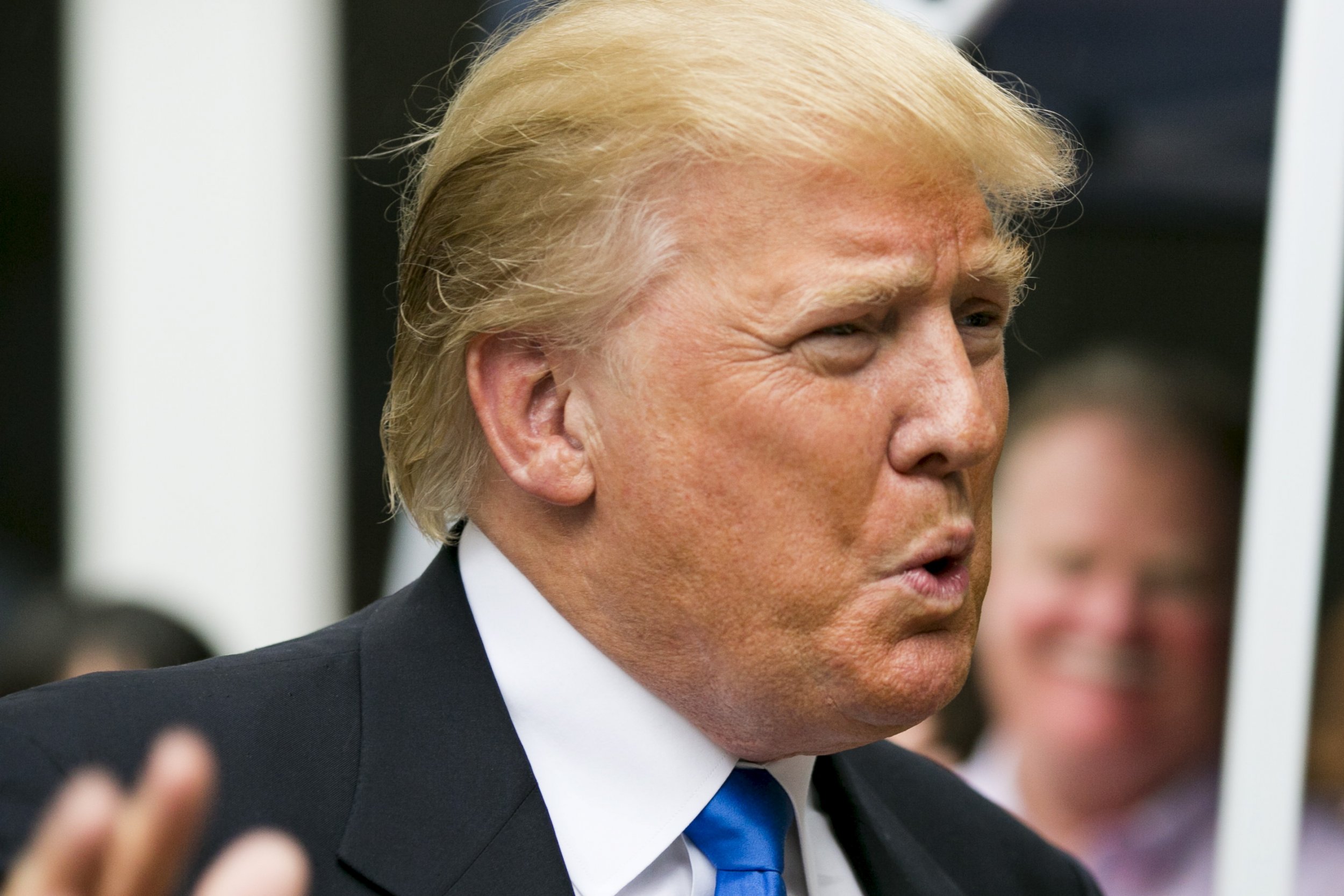 A year ago if you played word association with the name "Donald Trump" you might reply "billionaire" or "luxury" or "hair." Now it's more likely "WTF," which is either three words or an acronym depending on how you look at it.
In his speech announcing his presidential campaign on June 16, Trump said Mexico was sending criminals and rapists to America. Generally, candidates keep sex crimes out of their speeches. But Trump would not let it go. On Thursday, in an interview with CNN's Don Lemon, Trump asked: "Who's doing the raping?"(I haven't been through the Millard Fillmore papers, but I'm pretty sure that was a first for a presidential candidate although I'm equally sure this someone at sometime has said this on basic cable.
Since he announced his candidacy, Trump has touted his business credentials and even his grades at Wharton. But now corporate executives are shunning him because of his incendiary comments. Univision cut ties to Trump and his beauty pageants. NBCUniversal dumped the The Apprentice—although to be fair, as if in a high-school breakup, Trump says he dumped them first. Then, this week, Macy's announced it won't sell his clothing line and Serta said it wouldn't offer his mattresses. Both are huge blows to Americans who dress and sleep like the Donald.
A couple of weeks ago, I wrote that Trump was a real threat in the Republican presidential race —not because of ugly canards about Mexicans, but because he's tough on trade, tough on immigration and against cutting entitlements—positions that can get him traction in today's Republican Party. Since then he's moved into second place in the presidential race, behind Jeb Bush who he's dissed for being weak on immigration, supporting the common core curriculum and his casual Friday look. "He can't even put on a tie and jacket and he's running for president?"
I put in for an interview with the 69-year-old. (He's actually the second oldest candidate on the GOP side which could explain the "get off my lawn" tenor of his remarks.) He got back to me after the article appeared. Our brief chat reinforced a few things. He's not letting go of the Mexico thing, he's impossibly vague and he's an imperfect messenger, but a strong candidate.
"So if you want to raise tariffs on Chinese goods," I asked, "How're you going to get Congress to go along? They have to approve it. Is it doable?"
"Absolutely, it's doable," Trump said. "You have to get people in a room and get it done. You have to work it. You have to work it."
That was as specific as he got.
"You've made the point that you won against China," I asked.
"Yeah, I've had great success with business deals."
"But what's the key to getting concessions?"
"You have to be smart, tough and they have to respect you. And you can never give up with them…They're very good business people."
"What was the toughest showdown with them," I asked. "Getting [your casino] into Macau?"
"Well, I can't say because there were numerous deals with China. But I had great success with their top, top people."
I asked Trump about unions, and this is another area where I think he actually can distinguish himself—and not in the ethnic slur kind of way. The Republican candidates attack unions about as often as they invoke the American Dream. (Trump, with characteristic bluntness, has said "the American Dream is dead" although he's also implied he's our national defibrillator.) But the billionaire had good things to say about unions which is another reason I think he'll have luck with the working-class voters who have migrated to the GOP.
"I have great relationships with unions," he said. "New York is mostly unionized."
Trump also reiterated his commitment to save entitlements: "I don't want to cut Social Security and Medicare unlike the other candidates. People have devoted their lives and a commitment was made to them and all of sudden they're going to get cut."
I asked if he was surprised by the reaction to his rape-and-Mexican-immigrants comment? And he was.
"All I'm saying is that I want strong borders," he insisted. Of course, every candidate says that without conjuring an image of a Mexican federales handing out bus tickets, dispatching rapists to El Norte.
Before he hung up, he asked if Newsweek doing well. I said it was.
"It's a great magazine," he quipped. "I was on two covers, at least one."