Five of the Most Controversial SNL Hosts Ever, Ahead of Elon Musk's Debut
Saturday Night Live drew an immediate backlash after it was announced that Elon Musk would host the show next month.
Musk, the CEO of Tesla and Space X, will make his debut hosting the NBC's long-running late-night sketch show on May 8, SNL's official Twitter account announced on Saturday.
The decision quickly led many to criticize show creator Lorne Michaels for giving a platform to a billionaire who has sparked outrage over his views on the coronavirus pandemic over the past year.
Over the course of 46 seasons, SNL has invited actors, comedians, athletes, musicians, politicians to take a shot at hosting the show.
Below, Newsweek looks back at some of the most controversial hosts to grace the SNL stage:
Donald Trump
Trump first hosted SNL in 2004, a few months after The Apprentice debuted on NBC.
But the now-former president's hosting gig in November 2015, while he was the Republican candidate for the presidential nomination, that sparked an outcry.
The episode reportedly gave the show its biggest ratings in years, but the experience was far from fun for some cast members.
Taran Killam, a former SNL cast member who impersonated Trump on the show, told NPR in 2017: "It was rough. It was not enjoyable at the time and something that only grows more embarrassing and shameful as time goes on."
He also recalled the protesters who could be heard chanting outside NBC's studio during the episode's table read.
"I am embarrassed, upon reflection, just because of how everyone was right," he added.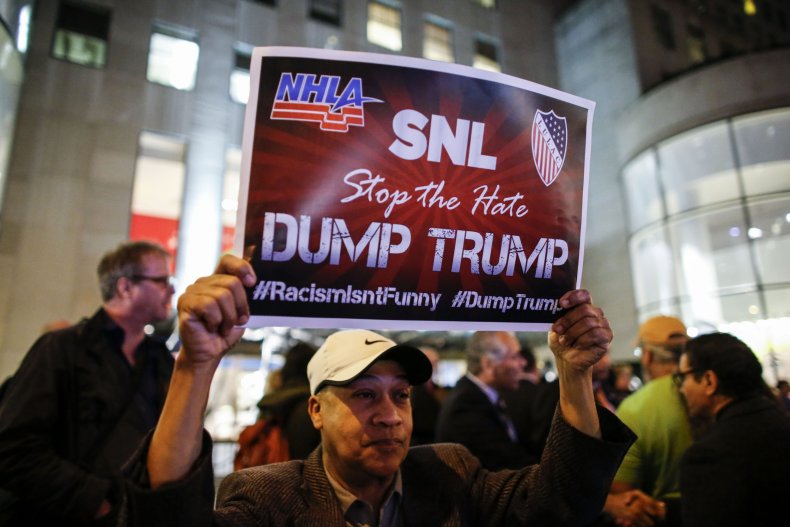 Lance Armstrong
Armstrong's stint hosting SNL is one that aged poorly, to say the least.
After announcing he was retiring from cycling (the first time), Armstrong hosted the show on October 29, 2005.
At the time, rumors of his steroid abuse were swirling—and Armstrong made light of the cheating allegations in his monologue. "The last time I did something too good, the French started testing my urine every fifteen minutes," he joked moments after arriving on stage.
He was stripped of his Tour de France titles after an investigation by the U.S. Anti-Doping Agency concluded in 2012 that he had used performance-enhancing drugs throughout his career.
Adrien Brody
Brody hosted SNL on May 10 in 2003, a few months after he became the youngest actor to win the Academy Award for Best Actor for his role in The Pianist.
But he was reportedly banned from the show for life after he wore a faux dreadlock wig and put on a Jamaican accent to improvise the introduction for the episode's musical guest, Jamaican reggae artist Sean Paul.
"I've heard that, but I don't know," Brody told HuffPost in 2012 about whether he was banned from the show.
He added that he had a "great time" hosting the show and would return if asked.
Larry David
The comedian was once a writer on SNL and later made several cameos as Sen. Bernie Sanders during the 2016 election season.
But he courted controversy when he hosted the show on November 2017 and made jokes, including one about his dating options in a concentration camp, that many found offensive.
The Anti-Defamation League's CEO Jonathan Greenblatt said at the time that David's monologue was "offensive, insensitive & unfunny all at same time."
Martin Lawrence
The actor was reportedly barred from NBC over the opening monologue he delivered while hosting the show in February 1994.
According to a 1994 report in the Los Angeles Times, Lawrence's monologue—which included tips for women on feminine hygiene—attracted almost 200 complaints from viewers on the East Coast.
Asked if he was still banned from SNL in an interview on The Breakfast Club last year, Lawrence replied: "I don't give a damn."
He added: "I'm not banned from SNL. They banned me from NBC at the time for a minute. But then they realized the way it went down wasn't what they thought and then they sent me an apology letter."