Five Points Festival Brings Designer Toys, Indie Comics, Craft Beer & More to Brooklyn
The Five Points Festival returns to Brooklyn EXPO Center June 1 and 2. Attendees will be surrounded by some of the best designer toys, street art, blind boxes and more at this out-of-this-world marketplace.
Unlike a traditional comic con, Five Points puts the emphasis on independent artists, giving patrons the opportunity to purchase bizarre pins, prints, and of course, toys! There's also a slew of craft beer and food trucks on-site.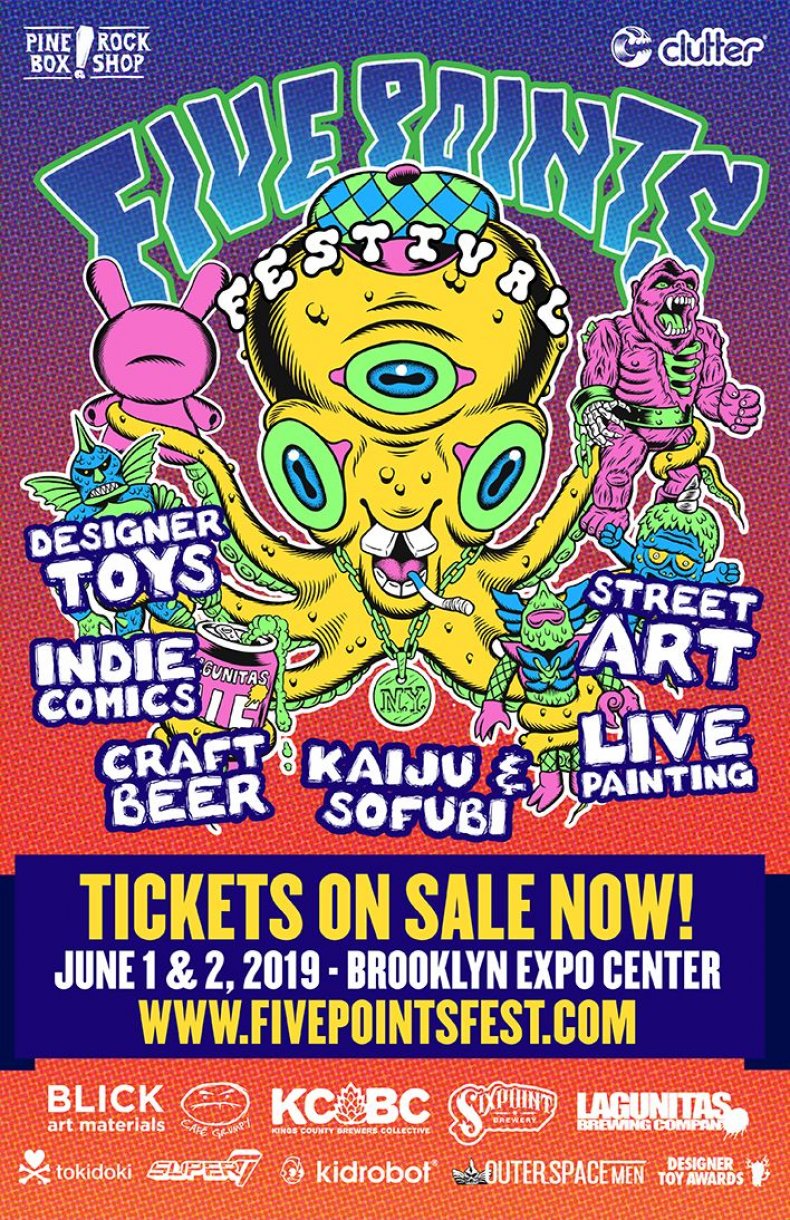 Beyond the 200+ various artists and vendors, the event will also feature live painting throughout the day, with multiple artists going head-to-head to create one-of-a-kind paintings that will go on display throughout the weekend. Artists from Japan, the U.K., South America and more international destinations will be participating this year
You will need a ticket to attend Five Points Festival, and it may be best to purchase in advance here, as they will be more expensive at the door. Tickets can be purchased for daily, weekend or VIP entry. Purchasing the VIP ticket will snag you an exclusive figure, as well as early access to the show floor each day. To kick-start the weekend, a VIP pass will also grant you entry to the Designer Toy Awards on Saturday night, June 1.
Now in its ninth year, the Designer Toy Awards celebrates the best of the industry's artists and designers. Finalists are selected and nominated in each category by the DTA Board, but fans and collectors themselves will vote to determine the winners. Presented by Clutter since 2011, The DTAs give designer toy makers from all over the world their chance to gain accolades and artistic recognition. Past winners have included the likes of Frank Kozik, Todd MacFarlane and Ron English, just to name a few.
Sponsored in part by Lagunitas, the Five Points Festival will also feature a wide variety of craft beers this weekend. Once your thirst cravings are quenched, you will definitely want to hit up the variety of food trucks also on display, ranging from BBQ at Korilla to massive tacos at Mattitaco and mini donuts from Glazed & Confused.
The Five Points Festival aims to be the antithesis to the average, mundane convention. It's about bringing together the best in indie artists, from toys to pins and even plush. Come celebrate these talented teams and individuals to help support this strong and growing community.