Five Reasons Why Tesla Will Never Make Money, According to Tesla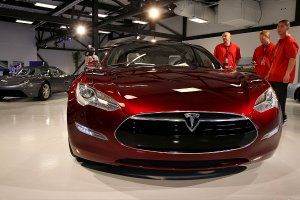 The SEC filing for Tesla Motors, Inc.'s public offering reads like a laundry list of how and why the company will never make money. Tesla announced Tuesday that it would publicly sell 10 million shares for $14 to $16 a piece on June 29. The "risk factors" section alone clocks in at 42 pages. Among the highlights:
Although Tesla's sporty, two-door $100,000 electric cars can accelerate to 60 miles per hour in 3.9 seconds, the company has only sold 1,063 of them. The much-anticipated, family-friendly sedan model will not even be in production until 2012.
So far, the company has suffered net losses every quarter since it introduced its first electric car to the market in 2008. In the first three months of 2010, Tesla lost $29.5 million.
Tesla is heavily dependent on government funding and with that money comes caveats. To secure a $465 million loan from the Department of Energy, Tesla agreed to spend $33 million developing its electric car sedan called a Model S—in addition to covering any cost overruns. Tesla also had to agree to put 50 percent of its net revenues from the sedan into funding manufacturing facilities and a power train model. In other words, any profits Tesla makes will have to go toward projects already spoken for.
Its founder Elon Musk—a brand name internet entrepreneur and the brains behind PayPal—is both the public face of the company as well as its Achilles heel. Musk brings the glamour and connections to the venture—not to mention the gossip. (He's divorcing a sci-fi novelist and living with a model! He has five kids! He's a workaholic who's running out of money!) But, he's also enabled the money-losing company by pumping his own cash into the venture. Now that the owner's personal bank account is starting to run low, the company is going public and will now try to generate revenue...?
Finally, does anyone know if consumers will actually buy electric cars for six-figures? As the SEC filing says, even Tesla doesn't know the answer to that question yet.