Five States Have Declared State of Emergencies as Storm Rages Through U.S.
A severe winter storm is making its way across the central and northeast U.S., prompting emergency declarations in five states.
Officials in Arkansas, Illinois, Kentucky, Missouri and Oklahoma have all declared statewide emergencies to boost resources and activate first responders as what has been dubbed "Winter Storm Landon" continues to rage through the nation.
"This is going to be an epic event," Kentucky Emergency Management Director Michael Dossett said in a news conference on Wednesday, warning residents the storm will be "life-threatening."
People in these states have been encouraged to stay off the roads and make sure they have enough food and water.
"I encourage everyone to do what you can to stay safe: listen to local authorities to stay up to date with the latest conditions in your community and make sure your household has essentials," Illinois Governor J.B. Pritzker said earlier this week.
The National Weather Service (NWS) on Thursday reported that widespread heavy snow, sleet and freezing rain is forecast from Texas to New England.
A damaging ice storm is already forming from eastern Arkansas to western Kentucky. The NWS warned that more than a half-inch of ice could accumulate by Friday morning. The ice storm is likely to cause power outages, tree damage and "dangerous" travel conditions.
Heavy snow is expected over the southern Rockies and through the northeast U.S. by Saturday. Some areas in the South could even see flash flooding as a result of the storm.
Some cities—including Lansing, Michigan, and Hannibal, Missouri—have already received more than a foot of snow.
Andrew Orrison, an NWS meteorologist, told Newsweek that "hundreds and hundreds of miles of real estate are being impacted by these hazards for today."
"It's upwards of 50 million people that are under a winter storm warning right now," Orrison said.
As of Thursday afternoon, major power outages had been reported in Texas, Tennessee and Arkansas. More than 84,000 customers in Tennessee, 74,000 in Texas, and 24,000 in Arkansas were without electricity, according to the tracker PowerOutage.Us.
Winter Storm Landon is also grounding thousands of flights. At least 5,640 cancellations were reported Thursday and approximately 3,500 were delayed, according to the tracking website FlightAware.
"Travel is going to be difficult, if not more likely impossible, just given how much snow and or ice will be occurring across these areas," Orrison said.
He added: "If you do have to get out and about, certainly plan on there being extra time to get to your destination. And also it's certainly not a bad idea to go ahead and potentially pack an emergency kit for yourself."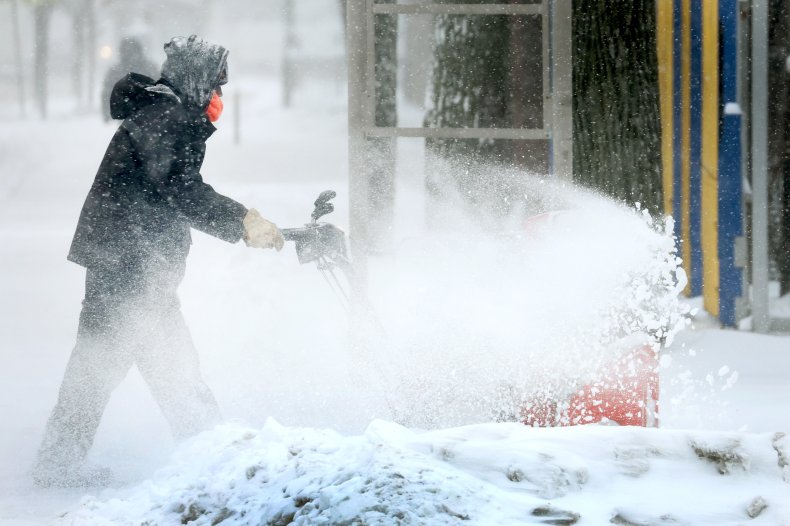 Arkansas Governor Asa Hutchinson said in the emergency proclamation that the storm is causing "dangers, hardships, and suffering" throughout his state. He has also signed off on an executive order that will allocate $250,000 to help Arkansas recover from any losses and damage.
Indiana Governor Eric Holcomb said in a news briefing Wednesday that this was the first weather event requiring a statewide response during his leadership. But Holcomb stopped short of issuing a state of emergency.
"There were discussions, but I think we have it covered," Holcomb said at the time.