Five States Set New Coronavirus Case Records as U.S. Tops 100,000 Cases in One Day for First Time
Five states—Indiana, Minnesota, Wisconsin, Michigan and Maine—have hit single-day records for coronavirus cases, while the U.S. had more than 100,000 new cases in the past 24 hours, its highest single-day total on record.
According to the COVID Tracking Project, the U.S. has recorded 103,087 new cases, bringing the total to 9,424,893 since the start of the pandemic. Michigan saw more than 4,000 new cases for the first time and Indiana was not too far behind, with 3,756. Wisconsin's Department of Health Services reported a record-breaking 5,935 new cases in the past 24 hours.
Minnesota reported 3,844 new cases on Wednesday, surpassing its previous single-day record, hit on Tuesday, following a trending spike in cases. Maine saw 151 new cases, its largest increase since the start of the pandemic.
In addition, the seven-day rolling average of new infections spiked more than 45 percent in Connecticut, Iowa, Maine, Michigan, Minnesota, Nebraska and North Dakota, according to The Washington Post.
While grim records were set across the country, states reported that 52,000 people were hospitalized with the virus, the highest amount recorded since August. Missouri, Oklahoma, Iowa, Indiana, Nebraska, North Dakota and New Mexico reported record-high hospitalizations this week, and hospitals in Iowa and Missouri warned that bed capacity could soon reach its limit.
Hospitals in Utah were treating 382 patients with COVID-19 on Wednesday—a record for the state—and some hospitals in Nebraska have had to limit elective surgeries and bring in nurses from other states. The head of the Arkansas Hospital Association said at a Tuesday press briefing that the state is facing a critical shortage of health care workers.
Coronavirus data shows that hospitalizations have risen to about 1,000 people per day, with numbers increasing faster in November than they did in October. The record-breaking numbers come as the U.S. sees its third surge as winter approaches, spiking at an alarming rate across the country and particularly in the Midwest and Great Plains.
In June, Dr. Anthony Fauci, director of the National Institute of Allergy and Infectious Diseases, told a Senate panel that the U.S. could reach 100,000 daily cases, after expressing concern about rising new cases during the summer.
"Clearly, we are not in total control right now," Fauci said, adding that "we're going in the wrong direction" with new cases.
"It is going to be very disturbing, I will guarantee you that, because when you have an outbreak in one part of the country, even though in other parts of the country they're doing well, they are vulnerable," he said.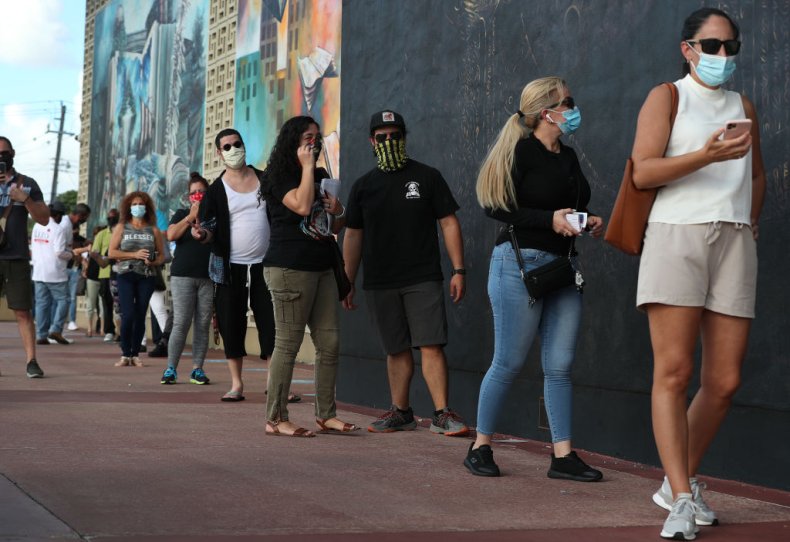 Record spikes in cases continued as President Donald Trump and Joe Biden campaigned for the presidency. While states like Ohio, Pennsylvania and Minnesota set single-day records on Election Day and 85,507 new cases were reported on Tuesday in the U.S., the coronavirus outbreak wasn't the primary issue for some voters as they cast their ballots, according to polling.
Exit polls conducted by Edison Research for the National Election Pool show that voters were deeply divided on whether containing the coronavirus or rebuilding the economy was the biggest issue confronting the nation. The opinions fell along partisan lines, with those who viewed the pandemic as the more pressing issue more likely to vote for Biden, while those who prioritized the economy were more likely to support Trump.
As infection rates and hospitalization numbers increase during the winter months, the death toll will continue rising as well. U.S. deaths from the virus currently total 225,831, according to the COVID Tracking Project.