Five Swing States See at Least 50% of Requested Mail-in Ballots Returned With Days to Election
With 11 days to go until the election, at least half of voters who requested mail-in ballots in five battleground states have cast their vote, and so far Democrats seem more eager than Republicans to make their voices heard—at least via mail.
In North Carolina, Pennsylvania and Florida—three states where President Donald Trump is trailing in the polls—Democrats have a higher return rate for mail-in ballots than Republicans, according to the United States Elections Project. The highest return rate for Republicans in all three states is 56.4 percent in Florida, where so far in-person voting is higher among Republicans than Democrats, signaling there will be a tough fight for the state.
Trump trails former Vice President Joe Biden by only 1.5 percentage points in Florida, where 57.1 percent of requested ballots have been returned, but the president remains confident that he can once again win the state. He told attendees of his Ocala rally on October 16 that there will be a "red wave the likes of which they've never seen before" and encouraged people to take their friends, family, co-workers and even their boss to vote.
"This is the most important election in our history. This is more important than four years ago," Trump said.
If we assume Biden takes the states likely to go blue and Trump takes ones likely to go red, Florida could be decisive for a second Trump term. Losing the state could put Biden just 29 electoral votes away from a victory.
"Trump has to carry Florida," John Geer, a professor of political science at Vanderbilt University, previously told Newsweek. "I don't see the path forward in the [Electoral College] without Florida."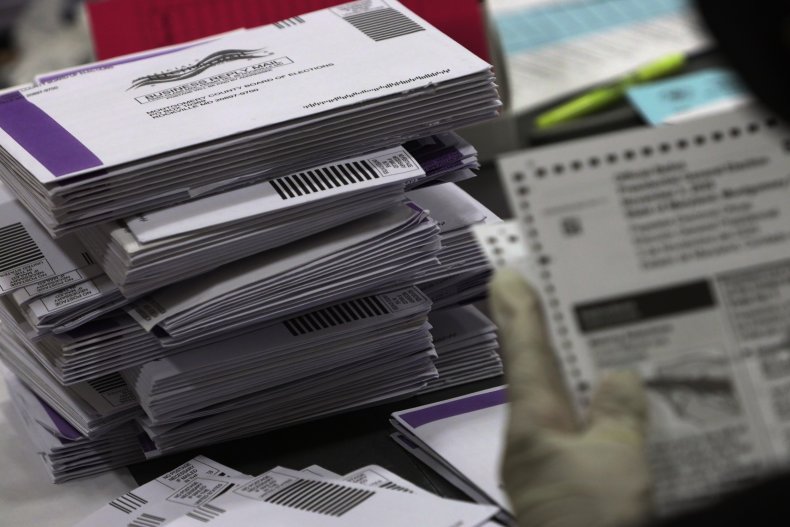 So far, more than 4.7 million people have cast ballots in Florida, according to the U.S. Elections Project. Of those votes, 2.1 million belonged to registered Democrats and about 1.7 were from registered Republicans. People with no party affiliation have cast about 921,000 votes.
Another close race is shaping up in North Carolina, where Biden also has a 1.5-point lead. Of the total mail-in ballots requested, 51.2 percent have been returned, including 351,192 from registered Democrats and 139,481 from registered Republicans. Democrats, who lead Republicans in returned mail-in ballots by about 3 percentage points, have also cast more ballots in person.
Trump won North Carolina in 2016 by about 4 percentage points, and during an October 15 rally in Greenville, he stressed the need for people to go out and vote. Biden also campaigned in North Carolina last week and said it was Americans' duty to vote.
When it comes to mail-in ballots, Pennsylvania Democrats have been much more responsive than Republicans. With a return rate that's 15 percentage points higher than that for Republicans, Democrats have cast 736,233 more mail-in ballots. Of the total ballots requested, about 50 percent have been returned.
Pennsylvania was a notable topic during Thursday's presidential debate, and Trump hit Biden for his stance on banning fracking and Governor Tom Wolf for shutting down "so tight" that the state is "dying." Trump also criticized Biden for touting his Scranton, Pennsylvania, roots, given that the former vice president moved to Delaware before he was a teenager.
Biden has a 5-point lead over Trump in Pennsylvania, a state that has voted for the victorious presidential candidate every year since 1976, with the exception of 2000 and 2004.
Trump is also trailing by about 5 points or more in Michigan and Wisconsin. The two states have seen a high voter turnout ahead of Election Day, and more than 60 percent of their requested ballots have been returned.
So far, more than 36.2 million people have cast mail-in ballots nationally, accounting for about 42 percent of the total ballots requested, according to the U.S. Elections Project.