5 Takeaways From Trump's Axios Interview
President Donald Trump celebrated his administration's handling of the coronavirus pandemic and claimed to have never known the late Democratic Representative John Lewis in a wide-ranging interview released by Axios on Monday night.
Over the course of the explosive 37-minute interview aired by HBO, the president dismissed criticisms of his response to the COVID-19 outbreak, and sought to shift blame onto governors as he said U.S. coronavirus deaths were "lower than the world."
The president also offered well wishes to Ghislaine Maxwell amid her trial on sex trafficking charges, and questioned the nature of pedophile Jeffrey Epstein's death in a New York jail last year.
Here are five key highlights from Axios on HBO's interview with the president:
"I don't know John Lewis"
Speaking to Axios on HBO about the Democratic representative John Lewis, Trump claimed not to know Lewis before taking umbrage with the civil rights icon's decision not to attend his inauguration.
"How do you think history will remember John Lewis?" Axios host Jonathan Swan asked the president.
"I don't know. I really don't know. I don't know John Lewis," Trump replied. "He chose not to come to my inauguration. I never met John Lewis, actually, I don't believe."
Asked if he found the late congressman impressive, Trump said he could not say "one way or the other," adding that he found "a lot of people" to be either impressive or not impressive.
"He was a person that devoted a lot of energy and a lot of heart to civil rights," Trump later said. "But there were many others also."
U.S. coronavirus deaths "lower than the world"
Earlier in the show, the president said U.S. coronavirus deaths were "lower than the world" as a proportion of cases after he was quizzed on the U.S.'s handling of the pandemic.
"I'm talking about deaths as a proportion of the population," Swan told Trump. "That's where the U.S. is really bad."
Trump told the Axios reporter that he couldn't measure coronavirus deaths as a share of the population, arguing that COVID-19 deaths had to be measured as a proportion of cases.
"You can take the number of cases and look we're last, meaning we're first," the president later said, holding up a bar chart.
At the time of writing, Johns Hopkins University's COVID-19 tracker reports that the U.S. has recorded more than 155,000 coronavirus deaths and over 4.7 million cases of the disease.
According to Our World in Data figures, America has one of the highest death rates per million people in the world, with 467 deaths per million reported as of Monday.
Trump on coronavirus deaths: 'It is what it is'
The president also tried to claim that the U.S. had the novel coronavirus "under control," but was confronted with the fact that thousands of Americans were still dying on a daily basis as a result of the disease.
"They are dying, that's true. It is what it is," Trump told Axios. "But that doesn't mean we aren't doing everything that we can. It's under control as much as you can control it."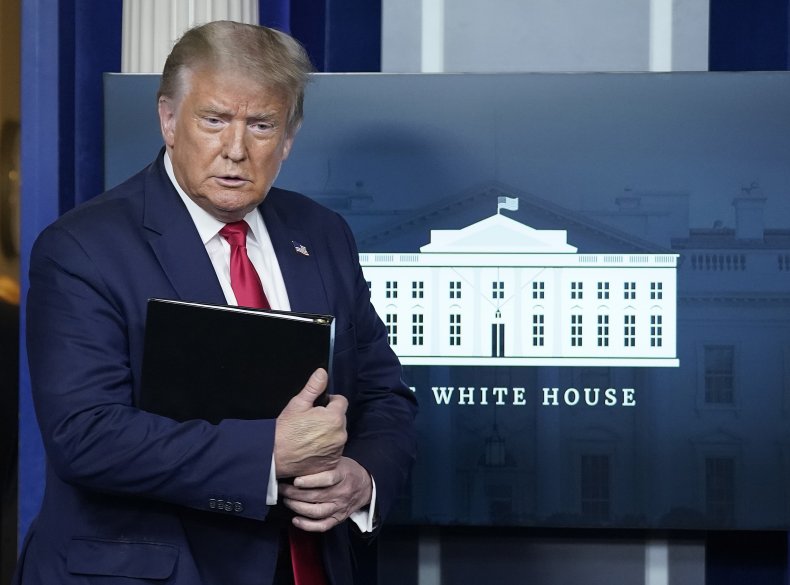 He went on to claim that his administration had given governors "everything they needed," before suggesting some had failed to do much with the federal support on offer.
"I could tell you now who the great ones are, and who the not so great ones are," the president said.
Russia bounty file "never reached" Trump's desk
Trump came under pressure in June after it was reported that U.S. intelligence had informed the president in 2019 that Russia had offered Taliban forces bounties for killing U.S. troops.
White House Press Secretary Kayleigh McEnany told reporters in July that Trump had not been made aware of the Russian bounty program before The New York Times story broke.
Speaking about the file with Axios, Trump claimed: "It never reached my desk. You know why? Intelligence, they didn't think it was real... if it reached my desk, I would have done something about it."
Asked if he read his intelligence briefs, the president said he read "a lot" and comprehended reports "extraordinarily well."
Trump wishes Maxwell well, again
The president doubled down on his well wishes to Ghislaine Maxwell, and raised questions about the nature of pedophile Jeffrey Epstein's death in jail last year.
Maxwell is standing trial after FBI officials arrested her on child sex trafficking charges on July 2. Her lawyers lost an attempt to block the unsealing of several documents last week.
Asked why he would wish Maxwell well, Trump told Axios: "Her friend or boyfriend was either killed or committed suicide in jail. She's now in jail. Yeah I'd wish her well. I'd wish you well, I'd wish a lot of people well. Good luck. Let them prove somebody was guilty."
The president then went on to speculate about the nature of Epstein's death.
"Her boyfriend died in jail, and people are still trying to figure out how did it happen? Was it suicide? Was he killed? And I do wish her [Maxwell] well. I'm not looking for anything bad for her."