Five Takeaways From Trump's 'Fox & Friends' Interview
President Donald Trump gave a rare interview to Fox & Friends that aired on Thursday, covering a large range of topics from immigration and the economy to the NFL, North Korea and the FBI's use of an anonymous informant.
Here are five key takeaways from the president's interview:
Trump still won't be signing an immigration bill without border wall provisions.
"We're doing a lot of work on security—generally speaking—security and border security," he said, adding that border crossings were down over 40 percent.
"So people come across, but we're going to get the rest. I think there's a lot of pressure on the Democrats to get it approved, frankly, and also to change the immigration laws to toughen them up a lot," he continued.
"Unless it improves a wall, and I mean a wall, a real wall, and unless it improves very strong border security, there'll be no approvals from me, because I have to either approve it or not," he added.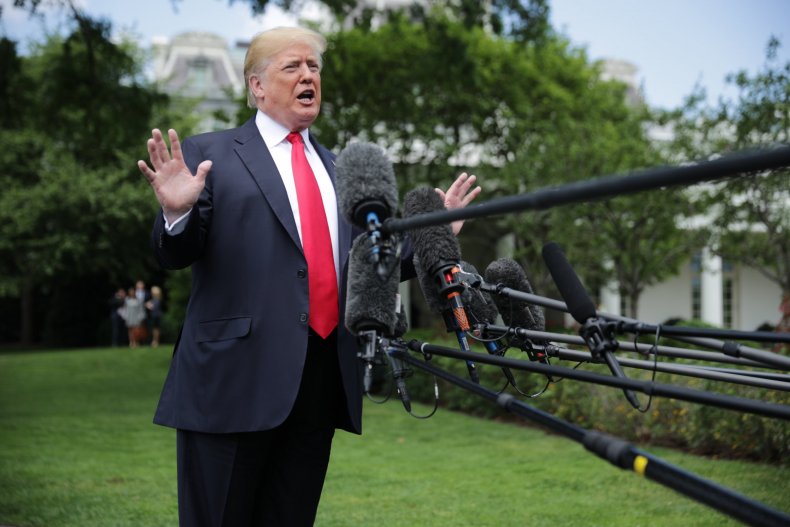 The president touted the economy as being "probably the best economy" the U.S. has ever had.
Discussing why people might want to cross the border into the U.S., the president said the country's economy was among the factors that made it an attractive place.
"Don't forget, we have a great economy," Trump said. "Probably the best economy the country's ever had, so people come across."
The feud with former FBI Director James Comey is in no way over.
Reeling from revelations that the FBI used an informant to gather information on the Trump campaign in 2016—and convinced that the bureau planted a "mole" within his campaign team, despite a lack of evidence to suggest so—Trump indicated his feelings for Comey remained as raw as ever.
"I would actually say, How is he going to explain to his grandchildren all of the lies, the deceit, all of the problems he has caused this country?" Trump said of Comey. "I've done a great service for this country by getting rid of…by firing him."
Trump's comments came following remarks by Comey defending the use of informants. "Facts matter," Comey tweeted Wednesday. "The FBI's use of Confidential Human Sources (the actual term) is tightly regulated and essential to protecting the country. Attacks on the FBI and lying about its work will do lasting damage to our country. How will Republicans explain this to their grandchildren?"
He doesn't seem to regret calling MS-13 gang members animals.
Following a backlash over his comments that described the gang members as animals, the president seemed unwilling to dial back his rhetoric on MS13, describing them as cold, vicious killers.
"They shouldn't be allowed into the country. The laws are horrible," Trump said in the interview. "We are bringing them out by the thousands, as you know. We are setting records. This is a record that I don't even like talking about it because it's so ridiculous, they shouldn't even be in the country."
The president wants North Korea to denuclearize immediately, but a phase-in measure "may be a little bit necessary."
Speaking about the potential for a summit with North Korea, Trump would not commit to the meeting but said, "If that happens, it'll be a great thing for North Korea. Most importantly, it would be a great thing for the world."