'The Great' Starts on Hulu Tomorrow — 5 Moments From Catherine The Great's Life That Will Be Tricky to Televise
Hulu's comedic, history miniseries The Great will drop on the platform Friday. The series is a satirical drama about Catherine the Great's rise to power in Russia.
The 10-episode series stars Elle Fanning as Catherine and Nicholas Hoult as Peter III of Russia. Catherine the Great was Russia's longest-reigning female ruler, and while the series is sure to be exciting, there are plenty of moments from the empress' life that would surely be difficult to televise in a short series.
Here are five moments from Catherine The Great's life that would probably be difficult to get to air.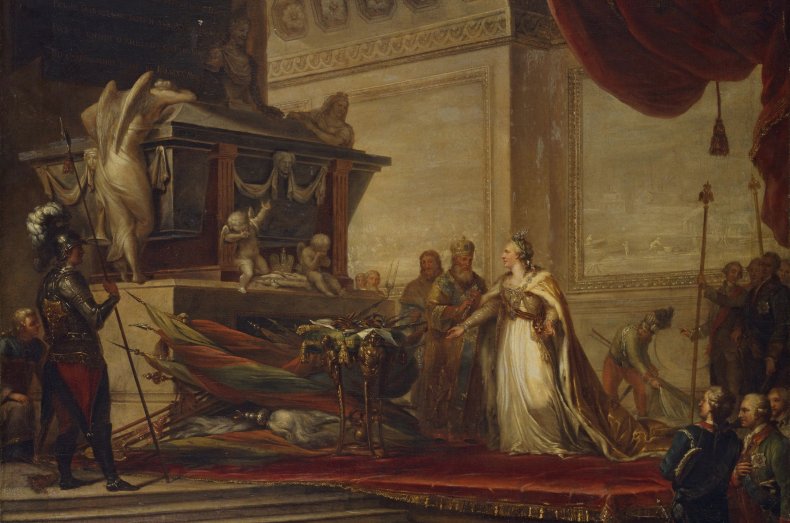 Her First Husband
According to Encyclopædia Brittanica, Catherine married a cousin, Peter von Holstein-Gottorp, at age 16, shortly after arriving in Russia and remained married to him for 18 years, but her husband was paranoid and headstrong and supported Prussia's ruler Frederick II. Catherine couldn't have been more different from her husband, passionately caring about Russia and thought about someday ascending to a position of power. She had at least three extra-marital affairs during her husband's life. Although her first marriage is riveting, the trailers for the show don't imply that the marriage is ever brought up.
Pugachev's Rebellion
After ascending to the throne and marrying Peter III, Catherine was dissatisfied with her new husband's rule. He relinquished the throne and was murdered days later, by Catherine's supporters, according to Brittanica. After Peter's death, Emelyan Pugachev claimed to be the dead emperor and rallied troops in an uprising against Catherine. After the Russian Army struck back against Pugachev's troops, the phony was captured and killed in 1775 by decapitation, according to the History Channel. While Pugachev's effort was an early, important battle during Catherine's reign, the leader claiming to be the dead emperor may be more confusing to the series if it kills off Peter III early on.
Strained Relationship With Her Son
Catherine's first son and heir to the Russian throne Paul, who Catherine claimed was born out of wedlock with a nobleman she had an affair with during her first marriage, according to the New York Sun, had a rivalrous relationship. Catherine had her son marry a German princess, but kept the couple far from her political reign. According to History Today, when the couple birthed a son, it was thought that Catherine may name him the heir to her throne, but died unexpectedly before she could. Paul was murdered later in his reign and his son ascended to the throne. If the series will tackle Catherine's relationships with her children is yet to be seen, especially since Paul was sent far from her palace.
The Horse Rumor
While Catherine the Great is long thought to have been a nymphomaniac, she was actually much more tame than historians have painted her, according to the History Channel. One of the most popular myths was that Catherine the Great died while trying to have sex with a horse. The myth has been proved false on Snopes, and Catherine actually died of a stroke. According to the Daily Beast, the Hulu series does not perpetuate the myth. While the series sticks to facts, it would certainly be amusing for the historical drama to drop allusions to the infamous rumor.
Lover's Rewards
Despite the stories of Catherine's sexual proclivities being highly exaggerated, there were plenty of rewards should the empress take you as a lover, according to The History Channel. She usually gave her partners serfs and titles in the monarchy. She also threw military support behind Stanislaw Poniatowski to help him become King of Poland, but the two had a falling out which led to Catherine forcing him from the throne with Russia's military. Even though she didn't have as many partners as people think, surely the series can't fit all of them in.