Memorial Day honors those who sacrificed themselves for our country. Parades, ceremonies and family gatherings are ways that we traditionally celebrate these brave men and women.
Even though the coronavirus pandemic prevents us from getting together to celebrate, there are still plenty of ways to pay tribute to the servicemen and women. Several events are available online to watch during the long weekend, from concerts to parades, and even a simulated flight over the beaches of Normandy.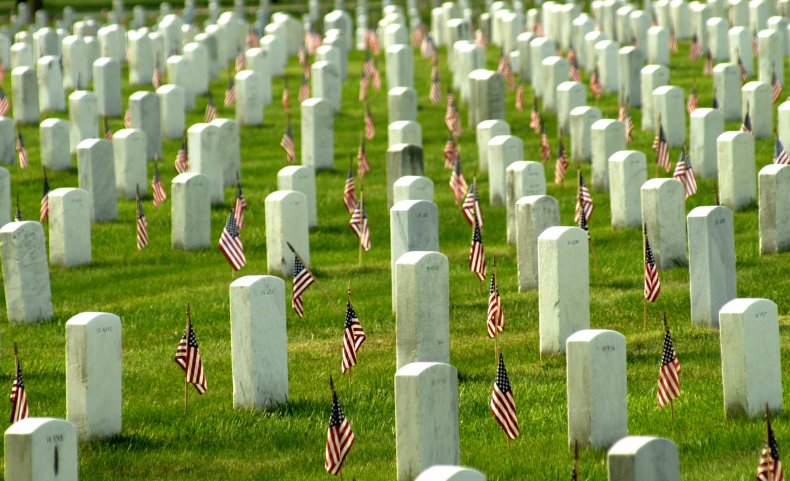 Here are some ways to celebrate Memorial Day via live stream.
Nashville's Grand Ole Opry "Salute the Troops"
The annual celebration honors the United States military and the sacrifices made for our country. This year, it will also recognize the essential workers fighting in the front lines of the coronavirus pandemic. It will be hosted by radio personality Bobby Bones, and feature performances by Craig Morgan, Steven Curtis Chapman and Kellie Pickler. The event airs on Saturday, May 23 at 8 p.m. Tune in on Circle and Gray TV stations along with ISH Studio Channel 102, Sling TV and other TV affiliates. The Salute the Troops event will also be streamable on the Circle All Access YouTube and Facebook channels.
National Memorial Day Concert on PBS
PBS' concert honors service men and women, their families, and veterans who served our country. "For over 30 years, this multi-award-winning television event, featuring uplifting musical performances, documentary footage and dramatic readings, has become an American tradition and is one of PBS' highest-rated programs," the special's website reads. "On the broadcast, celebrities share real-life stories spanning the broad history of our nation's military conflicts, award winning musicians perform songs in tribute to our country's true heroes and the finest performers from the United States premier military choirs and ensembles are featured." Performers include Christopher Jackson, Joe Mantegna, Cynthia Erivo, Sam Elliott, Laurence Fishburne and Kelli O'Hara, along with the U.S. Army Herald Trumpets, U.S. Air Force Singing Sergeants and the National Symphony Orchestra. This star-studded concert special will premiere on Sunday May 24 at 8 p.m., and then replay it at 9:30 p.m. for anyone who missed it.
Virtual Flight over the beaches of Normandy live-streamed by Aviation Museum of New Hampshire
At 10 a.m. on Monday, May 25, viewers can take a virtual flight from London to Caen, France, over World War II landmarks, including the White Cliffs of Dover, the Isle of Wight and the beaches of Normandy. The museum's website noted that the flight will take place in a vintage C-47 transport aircraft, which played a major role in supporting the D-Day invasion and the Allied push into Europe. "With so many parades and gatherings canceled this year due to coronavirus concerns and stay-at-home orders, we decided to live-stream our flight on Memorial Day to give people a way to remember what this solemn day is all about," Jeff Rapsis, the museum's executive director, said in a statement. Tune in at AviationMuseumOfNH.org. Access is free.
Parade of Heroes
Kathy Lee Gifford will host this online event that acknowledges the military men and women who served our country. Tori Kelly, the Lincoln Way Marching Band and Acapop! KIDS, a group of young a cappella performers, will be performing during the Parade of Heroes. Appearances from LL Cool J, Rob Lowe and Mario Lopez are also expected. The parade will live-stream on May 25 at 11 a.m. on the Ancestry Facebook page and YouTube channel. After the program, viewers are invited to share a picture or video on Instagram and Facebook with the hashtag #RememberAtHome to commemorate those they are remembering.
The National Memorial Day Parade: America Stands Tall
The annual National Memorial Day Parade was canceled due to the coronavirus pandemic. However, the spirit of the holiday will live on in this virtual celebration. The nationwide special will commemorate the "American sacrifice of every generation, and the spirit that binds us still." It will include "newly produced celebrity engagements and narrative pieces, along with memorable moments from the National Memorial Day Parade including historical re-enactors and active duty military personnel, musical performances and celebrity greetings," according to the Americans Veteran Center website. Anthony Anderson and Tamron Hall will host the virtual event. Celebrities, including Matthew McConaughey, Howie Mandel, Lester Holt, Kristen Chenoweth and others, are slated to appear. Tune in on May 25, at 2 p.m., to the American Forces Network, along with ABC, CBS, FOX and NBC affiliate stations nationwide.