'My Five-Year-Old Raised $1.6M Walking 6 Miles Using Prosthetic Legs'
My husband Mark and I were already foster carers when, in February 2015, we were asked whether we would foster a little boy who was in hospital.
I met Tony for the first time on February 7, 2015 at the Evelina London Children's Hospital. Meeting him was difficult as I hadn't been told the full story, just that his limbs had been broken. It was very different when I actually saw him— he was this tiny, broken little baby. His legs were still in plaster and the story emerged that he had been in the hospital's care for three months, and that they hadn't expected him to survive.
Tony had suffered absolutely horrific injuries—including fractures, limbs broken and blunt trauma to his face—at the hands of his birth parents. He was presented to hospital at just 41 days old.
I spent 48 hours in the hospital with Tony, and after that short time, I decided I was not going to leave him. When I brought him back to our home here in Kent, England, he looked so tiny in the car seat. I can remember thinking, "what have I done?" because Tony was this fragile, tiny baby and my house is really busy and boisterous—I had five children living at home at the time.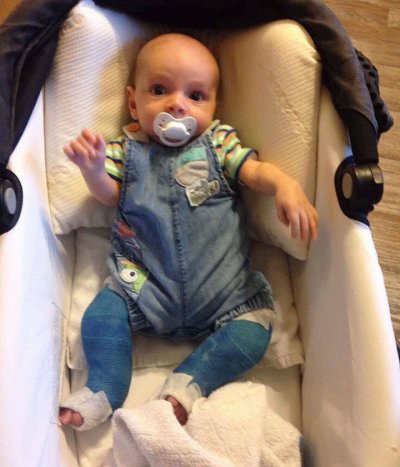 But, my husband and I made a decision from day one that we weren't going to wrap Tony up in cotton wool, and that we were going to help him achieve all the milestones that his doctors weren't sure he could make. Tony's medical team didn't know whether he would sit up, crawl or walk, or even speak as he is deaf in one ear, and had to take very strong drugs when he was little—just to survive.
Tony fitted into our family completely and so easily, and he became attached to us very quickly. So when the option arose, we officially adopted him on March 2, 2016.
Sadly, Tony's legs did not fully recover and he had both legs amputated in 2017. That was probably the hardest decision we've ever had to make.
After that operation, Tony did receive stump prosthetics, but he didn't really like using them as they weren't very comfortable. Then, at the end of 2019 the prosthetics department at Evelina London decided that they would try a pair of prosthetic legs with feet on the end. It meant Tony would be able walk and choose his first pair of shoes.
Tony became really excited because he realized he would be able to choose trainers, just like his big brothers.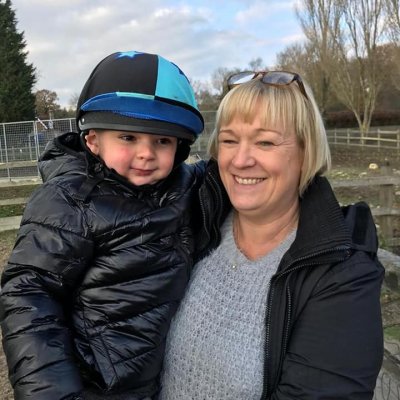 We got the new prosthetics fitted, but then the pandemic hit, and because of lockdown, we weren't able to go back for any further fittings or physiotherapy. We were practicing a little bit of walking at home, but then Tony started noticing Captain Sir Thomas Moore on TV. "Captain Tom" as he is affectionately known, is the 100-year-old war veteran who is now famous for raising $43million (£32.7million) for Britain's NHS after walking 100 lengths of his garden.
Tony has such a fascination with the older generation and he has so much time for them. If we're out in the park he'll always make a real effort to talk to older people, and he just became really captivated by Captain Tom.
At the time, Tony was using a frame similar to the one Captain Tom uses, and he kept saying that he could walk just like Captain Tom. He was really encouraged, so we started walking up and down the drive using the frame.
Tony then wanted to try crutches, and so on May 19 he started walking with crutches. To push the whole family, I suggested we set ourselves a challenge. I decided we would walk 300 meters with Tony every day for the month of June, completing 6 miles (10km) in total, and see how much he could improve his walking.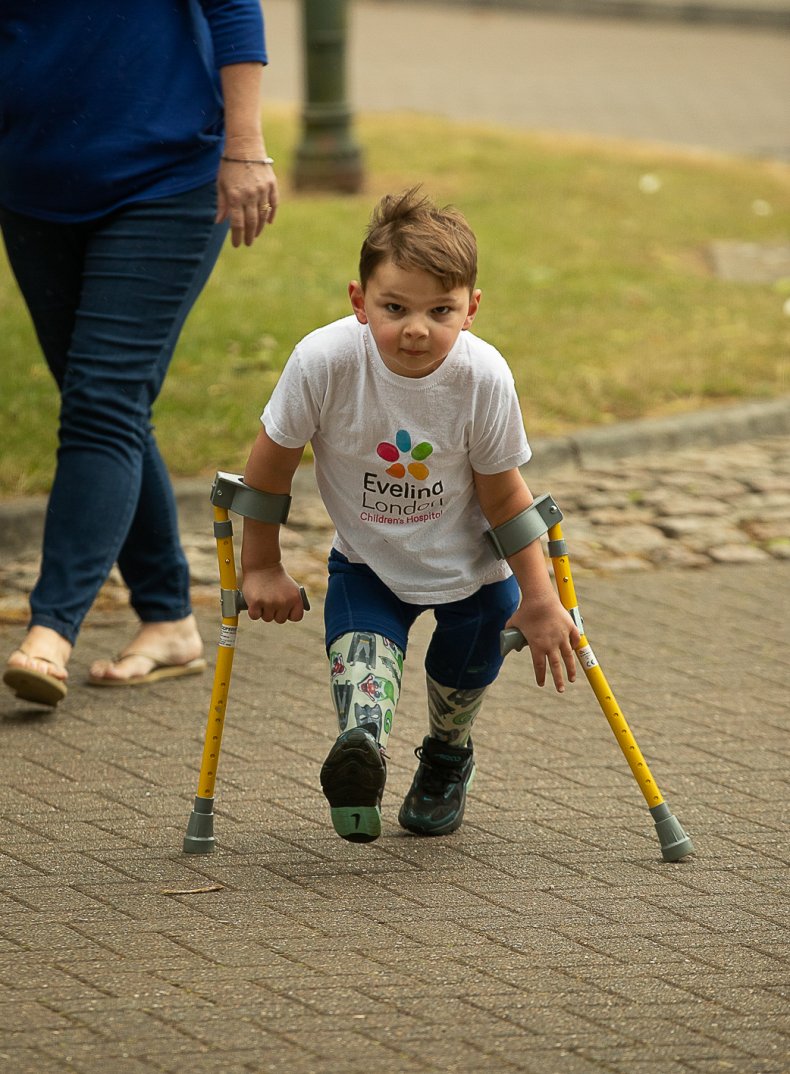 We decided at the same time that we'd set up a fundraiser online for Evelina London, as they did so much for Tony. But we were happy just to raise as much as we could within our community. Friends and family donated and sent words of encouragement—Tony knew he'd been sponsored and he had to keep going. We would jokingly tell him he would have to pay it all back if he gave up!
We have a lovely big green close by, and the distance from the start of the green to the local postbox is 300 meters—so we knew we could reach 10km over the 30 days of June. It was amazing to see that Tony's walking improved dramatically within the first week, and after a few days local people were coming out and cheering Tony on every day. He was so encouraged.
We started walking on Monday June 1, and on Friday June 5, a local TV reporter who is a friend of mine asked if they could run a story on Tony. At that point we had reached $4,000 (£3,000) which was already incredible, and we jumped up to $22,000 (£17,000) that night when Tony's story appeared on local TV.
The next morning we also appeared on national breakfast television, on the BBC. After that, our fundraising total jumped to something crazy like $131,000 (£100,000). At that point we still had another three weeks of walking to go, and the fundraising snowballed from there.
So many people were sharing Tony's story on social media, and then he ended up on a huge billboard for Evelina London at Piccadilly Circus in London. Tony's inspiration, Captain Tom, had also been featured on those billboards. It was absolutely incredible.
Since Tony completed his walk on June 30 we have continued to see donations pour in. We have now reached £1.26million ($1.6million)—which is just amazing.
We've received thousands of lovely messages, which just shows how special Tony is. He's even been receiving messages from celebrities. The Duke and Duchess of Cambridge tweeted out a message to say how proud they were of Tony. Lots of paralympic athletes have sent him messages, as did all the Chelsea players.
My family and I are immensely proud of Tony—his whole character and persona is infectious. Of course, our family and friends know why we fell in love with Tony, but now the whole of the U.K. and beyond is in love with him too.
Although he's lost his legs and has had some issues, he's just a normal five-year-old boy. He's cheeky and he can get into just as much mischief as anybody else! It's just been so great for us to see that while he is differently abled, he is really proud of who he is. He never moans, he's always cheeky and happy and his siblings adore him—they are so proud of him.
We didn't want his past to define his future and we didn't want him to be ashamed of how his past has affected him. Tony has shown that it doesn't matter how bad your start in life is, you can turn it around. He's an incredible little boy. He's actually just met a little girl with cerebral palsy who was inspired by him to do some walking. Little things like that show us how special he is.
Britain's Prime Minister, Boris Johnson happened to be in Tony's school recently with our local MP Tom Tugendhat. Two weeks before, Tony had been given the Prime Minister's Points of Light Award, so it was nice that he was able to meet Boris Johnson.
We have actually been working with MP Tom Tugendhat for a while on a campaign for tougher sentencing for child cruelty, which is Tony's Law.
Tony's Law has been passed by the House of Commons and we are waiting for it to have a second reading. Although Tony's biological parents were given the maximum sentence they could have received—10 years—we want to see sentencing that better protects children in the future. Tony knows quite a bit about our Tony's Law campaign and he wants to help other children.
Tony can achieve whatever he wants in life and we will always be there to support him. Whether he chooses to stack shelves in a supermarket or run a marathon, we will help him achieve it.
But Tony never sees anything as an obstacle anyway. If he sees something he wants to try, he'll tell us that he can still do it, he'll just do it "Tony's way." That's his mindset, so we know he can achieve whatever he wants in life.
I think it's incredible that Captain Tom, a 100-year-old man, can inspire a 5-year-old boy. They've both achieved amazing things—it really shows that age doesn't matter.
Paula Hudgell lives in Kent, England with her husband Mark and their children. Their five-year-old son Tony recently completed a 10km walk to raise money for Evelina London Children's Hospital. You can contribute to Tony's fundraiser for Evelina London here. Paula and Mark are also raising money to help Tony access the best possible equipment and therapy as he grows up—you can donate here.
All views expressed in this piece are the writer's own.
As told to Jenny Haward.