Five Years After Alan Kurdi, Refugees at Highest Number Since World War II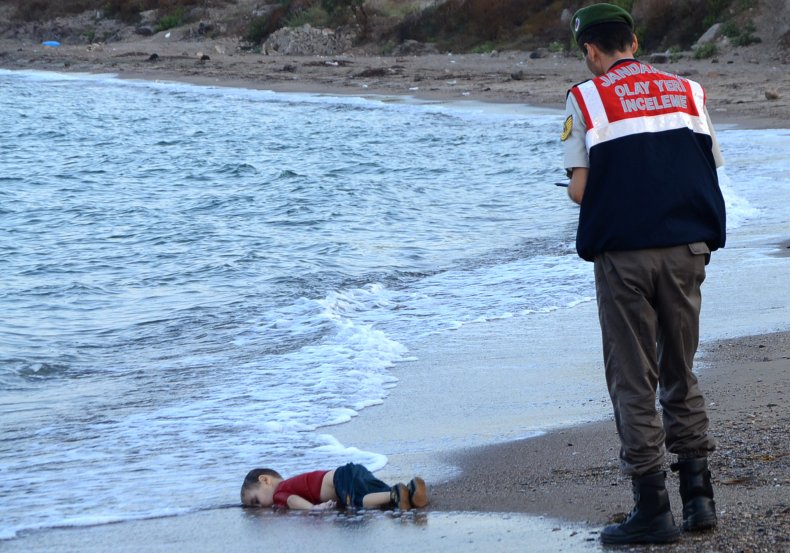 In late 2015, almost in a flash, those seeking asylum had moved from being called "swarms of people" by then-British Prime Minister David Cameron to being welcomed by a country full of "extra compassion."
A single photo that traveled the world was seen as being largely responsible for the change: The haunting image of dead toddler Alan Kurdi, lying face down after washing up on a Turkish beach on September 2, 2015.
In a small boat meant for a maximum of eight, 16 people including his family were attempting to reach Greece from Turkey, capsizing shortly after its departure. On that same boat journey, Alan's brother Ghalib and mother Rehanna died, along with nine other Syrians, but it was that picture that seemed to change everything.
Alan's aunt, Tima, who was living in Canada, told the BBC in 2015: "It was something about that picture, God put the light on that picture to wake up the world."
Many European countries moved quickly to rethink existing immigration policies and the whole language around refugees had changed. Germany welcomed 1 million refugees that year.
Now, on the fifth anniversary of his tragic death, has that "light" really woken up the world?
At least 300 people have died trying to cross from Libya to Europe on boats so far in 2020, with the real number thought to be much higher. Nearly 50 migrants and refugees, including five children, died in a single shipwreck close to the Libyan coast earlier in August, the United Nations High Commissioner for Refugees (UNHCR) reported.
There are around 80 million forcibly displaced people globally, one percent of the world's total population, a record high and up from around 70 million in 2018, a number that's almost doubled in the last decade, according to the UNHCR Global Trends report. This is the highest number of refugees on record since World War II, when millions fled the persecution of the Nazi regime.*
The majority are displaced within their own country but over 4 million are waiting for their asylum requests to be decided, while 30 million are refugees or others displaced outside their country, primarily originating from Syria, Venezuela, Afghanistan, South Sudan or Myanmar. There are also new displacements in the Democratic Republic of Congo, the Sahel and Yemen.
Even after leaving their homes, those traveling towards safety are "at risk of the ongoing conflict, severe human rights violations, and arbitrary detention post-disembarkation," the UNHCR says.
"Around 90 percent of those displaced are supported in neighboring countries, mostly developing countries," Mike Adamson, chief executive of the British Red Cross, tells Newsweek.
"While Britain should celebrate welcoming 5,000 refugees from Syria every year, one and a half million Syrian refugees are in Lebanon, a country of 5 million people. There's a difference in scale."
For comparison, New York's population is 8.4 million, the U.K.'s is around 67 million, Turkey's is around 84 million.
In the wake of the Kurdi photo, Cameron said: "We will continue to show the world that this country is a country of extra compassion, always standing up for our values and helping those in need."
He promised to accept an extra 20,000 Syrian migrants into the U.K. by 2020, a pledge met earlier this year.
But across Europe, countries appear to have changed their mind again about whether refugees are good to welcome and the language used to define those displaced.
The "light" that the Alan Kurdi photo shone on the world appears to be fading.
"Anyone who follows migration knew this moment would not last," Professor Myria Georgiou, research director at LSE's Department of Media and Communications, tells Newsweek.
"It changed things in policy making - many countries opened their borders but even in those positives of the time, there were still complexities.
"The public get fatigued with stories about suffering and it's a story we have seen many times before, in every global crisis before it.
"The image of a drowned child isn't necessarily effective, it becomes 'regular' so the media turns its attention elsewhere as a consequence."
Greek authorities have fired tear gas and used rubber bullets on migrants and refugees after Turkey opened its borders in March 2020, with around 4 million people from Syria currently in Turkey. After the humanitarian act of taking in over 1 million refugees from German Chancellor Angela Merkel in 2015, she has since described it as a "mistake" that will not be repeated and German officials have talked of a "resistance" to any opening of the borders this time around.
Viktor Orban, the right-wing Hungarian prime minister, said in March that his country being "subjected to insults for protecting our borders" would not happen anymore.
Three countries, Poland, Hungary and the Czech Republic, were found to violate a deal on EU quotas for migration but Czech Prime Minister Andrej Babis seemed happy with the result.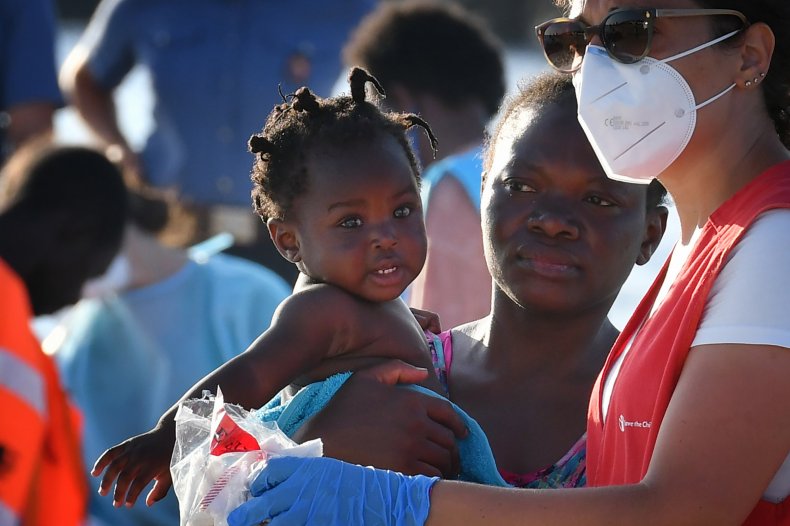 "It is essential that we will not accept any migrants and that, meanwhile, the quota system was canceled," he said. "And that is mainly thanks to us."
In the English Channel, an increase in crossing attempts by boat led to U.K. Home Secretary Priti Patel recruiting a "clandestine Channel threat commander."
Dan O'Mahoney, the man taking on this role, has the primary responsibility for closing off the Channel for small boat crossings and tightening British borders. He had previously been deployed in Kosovo and Iraq as a Royal Marine.
A week after this announcement, a Sundanese male drowned after his makeshift boat capsized while he was trying to travel to the U.K.
"[The] incident… served as a tragic reminder of the vital importance of the work the U.K. and France are engaged in to make this route completely unviable," O'Mahoney told Newsweek via email, calling for "increased surveillance, aerial support, further intelligence sharing and patrols in Northern France."
This idea of "completely unviable" routes is hotly debated and international law is both varied and complicated about exactly what is and is not allowed.
The United Nations says that "a refugee has the right to safe asylum" and a safe journey as part of that is championed by campaigners, something that would remove fatal crossings. But anti-migration voices say it would mean many more thousands of people would try and enter Europe "illegally."
"If we send the message that you will not succeed by trying to get to the U.K. in a dinghy illegally and get that across convincingly, the smugglers, traffickers will, frankly, give up," Alp Mehmet, chairman of lower migration campaign group Migration Watch U.K., tells Newsweek.
"It's their choice to come to the U.K. No one is making them risk their lives to come over. The only reason they're doing it is because they have seen that it's successful."
This idea of "choice" is a tricky thing to pin down. Those who support a more open migration policy believe that this "choice" is one that saves lives whereas those against higher migration, like Mehmet, see it not as a life or death decision but one that's a perfectly understandable, though illegal, attempt to get a better life.
Refugees, though they acknowledge that their life is better, say that the journey was one of necessity rather than any "choice."
"The main reason for me to leave was to save my life," Abra*, an Afgan refugee who left in 2007 and ended up in the U.K., tells Newsweek.
"No one wants to leave their loved ones behind, their family, their friends. I left when my uncle was killed. My dad told me that I had to leave the country for my own protection. I was 13 or 14 years old.
"Nothing will stop smugglers, they'll find a way to smuggle people. The main thing people forget is that these people are seeking protection, so either way you'll be dead—whether you go back to your own country and be killed or risk your life crossing. People would rather risk crossing the Channel to be in the U.K."
Public perception has historically relied on the difference between an economic migrant and a refugee, and when a migrant becomes "illegal" in the eyes of the law, with the media's rhetoric seen as integral to how public perception changes.
Refugees are seen as needing our assistance whereas migrants are seen to be coming to Europe to "steal jobs" and change the culture.
"I was in the Greek islands in December 2015 and the Afghani people arriving then were immediately recognized as refugees and everyone was referring to them as refugees," Prof Georgiou says.
"I went back three months later in March 2016, Afghanis were economic migrants because they redefined what they were and suddenly Afghanistan was a safe country.
"The way language is used shifts constantly in ways that make it very difficult for anyone to feel like they have the authority to say this person is a refugee or an economic migrant.
"Is it possible to classify people? It's a futile attempt to try to define the worthy from the not worthy, the good migrant from the bad migrant. The shifting meanings of words are played with, because [anti-migrant campaigners] know that a Sudanese boy recognized one day as a refugee will be considered an economic migrant the next so their death takes on an entirely different meaning for these people who justify shutting the borders."
The mood across Europe has varied about what a "good" or "bad" refugee might be, or even what the difference between an "illegal alien," an "irregular," "economic" or "illegal" migrant or a "refugee" really is.
"In 2015, there was a debate if people were migrants or refugees," Georgiou says.
"If they were refugees, it was ok but everyone else could drown. Now, even the concept of a refugee has a very negative connotation among a section of the public because there's a cynicism in the politics of migration. 'Why is it our problem?' 'Why do they all have to come here?'"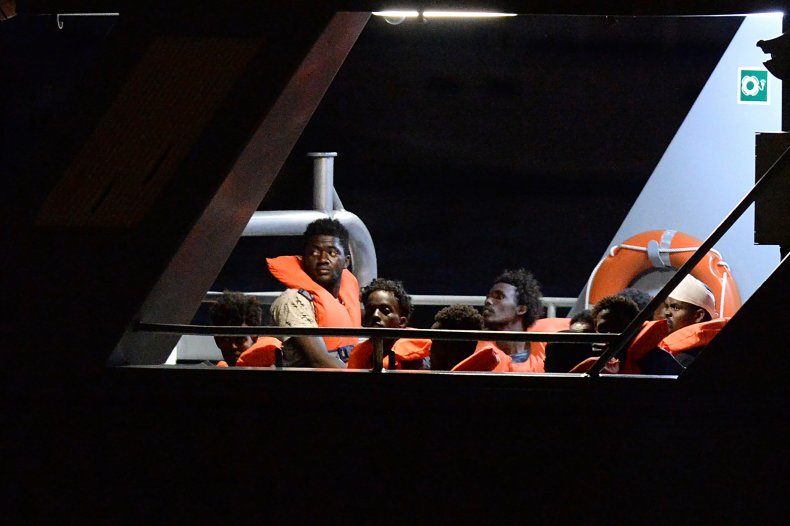 Then how do authorities decide without clear signifiers or identification and how do the public differentiate? Is a refugee wanting better opportunities an economic migrant, even if their life is in danger?
"If you have genuine fears of being persecuted, then you will be granted asylum," Mehmet says.
"Where the friction comes between a refugee and an economic migrant is where you have someone leaving the country, life is hard, they want a job, a home, but they're not refugees in terms of the 1951 convention on refugees. A lot of those of who arrive in northern France on flimsy dinghies, they're not all from war-torn parts. These are not the sort of refugees you get when war breaks out and a group is being persecuted.
"When you're fleeing poverty, you're looking for a way of life more tolerable than the one you're fleeing from, you can understand that but it's not really a refugee. Whatever you want to call them—irregular migrants or whatever label—they are here illegally.
"We estimate over a million are here [in the U.K.] illegally. The number coming across the Channel are serious. They weren't a couple of years ago but now it is significant.
"Two-thirds to three-quarters of people have concerns about this and a vast majority do not want asylum to be even considered for those who come across in this fashion. That's how most people see it."
This "1 million" figure is widely questioned and is said to rely on "estimates of estimates" and includes a number of people who may have already left the U.K.
"We don't have a robust figure," Rob McNeil, deputy director of Oxford University's Migration Laboratory, tells Newsweek.
"It could be a million, it could be considerably less. It could even be more. Who knows? We don't have any reasonable way of estimating it.
"There is categorical evidence that the number of boat arrivals has increased because more boats have turned up, been seen and picked up. There's no solid evidence to suggest that the flow of irregular migration into the U.K. has gone up.
"The government does not have any data on how many irregular migrants there are in the U.K. or, if it does, it does not publish it and there is no way of estimating it, either flows in or flows out."
This focus on migrants is not something that came up extensively in the British elections in 2019, it is thought mainly because it was a "solved" issue now Brexit was being finalized so the government could "take back control" of its borders, a slogan widely used by the ruling Conservative Party and supporters of leaving the European Union.
It has started making headlines again across Europe as boat crossings increased. While numbers cannot be verified, it is thought that more than 4,000 people have crossed the Channel in small boats so far in 2020.
There were around 620,000 first-time asylum applications in the EU in 2019, so these boat crossings would account for 0.6 percent of refugees.
"We're talking about a minor issue in terms of numbers and implications," Georgiou says.
"Migration remains a card politicians, particularly in this populist narrative, pick up whenever it's convenient to shift the narrative.
"While I'm not one for conspiracy theories, everything else is collapsing in politics so it's suddenly the few hundred migrants crossing the Channel that are the major threat?"
If all this sounds familiar then that's probably because it is.
European countries have been found to be less positive towards immigration during the global economic crisis of 2008 and in the years since. The research, published in the journal Comparative Migration Studies, showed that the worse the economy performed, broadly speaking, the less welcoming a country's residents were of migrants.
Now Europe, along with the developed world as a whole, faces a steep recession without a clear solution before a coronavirus vaccine is developed, and the anti-migration rhetoric and action has been stepped up once more.
"So much is lost when we turn it [a refugee's journey] into a story of statistics, of fear, of threat and pulling up a drawbridge," Adamson says.
"Every country has the right to control its borders and manage its migration. That's the responsibility of the government but people have the right to claim asylum in any country. That is an important right, as is to seek a safe haven and sanctuary. That's an important moral duty. All of this is systemic and there are no quick fixes."
Hearing a refugee's story is something that charities and campaign groups are keen to prioritize, to show the human side rather than statistics.
"I had no idea what was going on," former refugee Abra says.
"When I was handed over by my dad to a smuggler, I didn't even know what a smuggler was. We left late at night, 1 a.m. or 2 a.m. They came to the house and my dad told me 'whatever they say to do, do it.' I had no idea what was happening. I was very scared but I was put in a car through Pakistan, Iran, Turkey, traveled through seven or eight countries. It took me two months but it depends on how much money you give to the smugglers."
"I'd left my dad, I was with a stranger and wearing girl's clothes and I started crying. From that moment, I was never scared, I got used to hiding in places nobody could find you. It was very dangerous."
When I first arrived, I thought it was America, then it took the translator to tell me I was in the U.K. I only knew the word 'London.' I was actually in Manchester. I've been here since 2007.
"The U.K. is my home country now. I left Afghanistan when I was very young, I'd never been to loads of places, I'd never really been out of my own village. I was given more freedom and more support in the U.K. than anywhere else and I feel my home is now more here than in Afghanistan.
"If I go back to Afghanistan, people will recognize me very easily, find me and shoot me on the spot."
Even those wanting to lower migration understand that individual stories are emotive.
"It's never a bad thing to act in a humane and generous way," Mehmet says.
"We are doing exactly that. Any human being faced with someone needing help is going to help but encouraging them to get to the position where there's no alternative is not a kindness. That's just encouraging more and more people to risk their lives. That's a recipe for total chaos."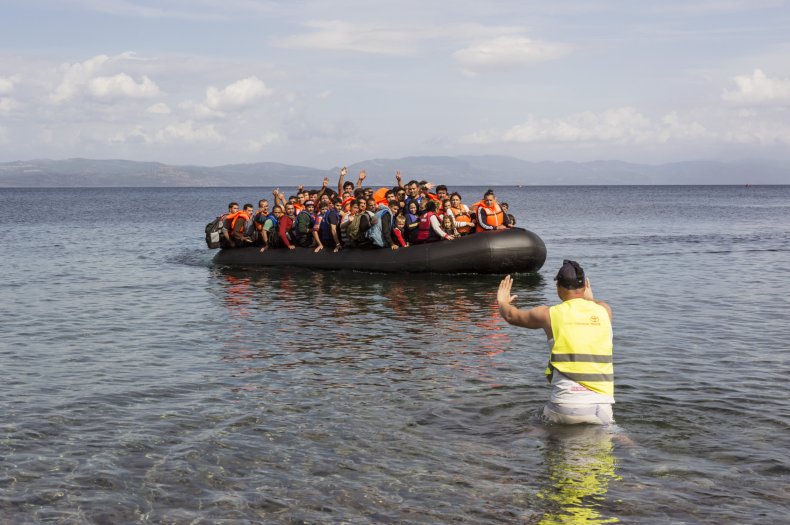 Nearly half of Brits say they have little or no sympathy for those crossing the Channel, a YouGov poll found.*
"The number of illegal small boat crossings is appalling and unacceptably high. The figures are shameful," Patel tweeted.
"France and other EU states are safe countries. Genuine refugees should claim asylum there, not risk their lives and break the law by coming to the U.K.
"I know that when the British people say they want to take back control of our borders—this is exactly what they mean."
Those skeptical about migrant crossings are keen to say that Britain is pulling its weight.
"The U.K. is resettling more people in 2017 and 2018 in this country than any other EU country," Mehmet says.
This is technically correct, as fact-checker FullFact points out, but four EU countries granted asylum to more refugees than the U.K. in 2017, and three did in 2018.
"We granted asylum to 20,000 or so in 2019 and we have been doing so for many years," Mehmet says.
"To suggest that Britain isn't doing anything is absurd. We are not turning our backs on people who have genuine claims for refugee status but there must be some order to it or else we end up with millions of people from all over the world making their way over for no other reason than they know they'll succeed in making it into the U.K."
In 2018, the U.K. had the sixth-highest number of applications for asylum in the EU, according to Eurostat, not taking total populations into account. This amounts to around 6 percent of the applications in the EU. Per 1,000 population, the U.K. is 17th out of the 28 (now 27 following the U.K's departure) European Union countries.
So what would it take to change the headlines from "illegal smugglers" back to the same outpouring of humanitatian goodwill?
"Spectacle is at the core of this discussion when we talk about the Kurdi photo and the impact that had," McNeil says.
"It was arresting. Other photos of children had been out there before, choices made by the media to turn it into a spectacle were both controversial and unprecedented.
"Spectacle is one of the factors that makes a great deal of difference to policy responses generated. When the media make a lot of noise about something, people respond."
This "spectacle" is one of a dead child washing up onshore. This clinical discussion about migration is a policy debate in governments across the world but, for the people involved, it is less a "spectacle" or a PR concern than a matter of life and death.
But that doesn't speak to what those refugees actually want. What would the one percent of the world's population forcibly displaced like to happen?
"I met a Syrian refugee in Turkey, a female dentist from Aleppo, and I asked her 'Do you want to go to Germany? Where do you want to go?'" Mike Adamson, of British Red Cross, says.
"She just looked at me and said: 'All of us carry the keys to our homes in Aleppo.' They want to stay close to home and to get home. It's a myth that there's this tide of people desperate to come to Europe.
"It can be a loss of hope [why people venture further away from their borders]. The average length of time someone is a refugee is now over 10 years. That was not always the case. If you're expecting to be a refugee for 10 years, it changes your perspective on whether you'll be able to get home."
One in 97 people are now forcibly displaced, with 13.2 million Syrians alone unable to go home safely. Around 6.6 million of these are refugees.
With such a huge issue, is there any real chance of a solution?
"One placard I saw recently at a protest said 'If you have a problem with refugees, stop creating them,'" Georgiou says.
"The role of the media is crucial because we have such a disconnect between coverage of war and conflict, of history and coverage of migrants and refugees, so it's impossible to understand why people move.
"If Western governments take no measures to reverse the environmental disasters, no measures to protect populations from being bombed, directly or indirectly, take no measures to take accountability for their historic actions which might fuel conflict, then, firstly, it becomes impossible to stop mass migration, second, impossible for any kind of ethical policy around migration that recognizes that people are now here because we were there."
*Notes and survey methodology
Abra's name has been changed for his own security.
The statement about "most refugees since World War II" comes from the UNHCR's annual Global Trends report. It acknowledges there has been criticism over the number but says its new systems have greatly reduced the margin of error. It stands behind its figures and the explanation can be read in full here.
YouGov surveyed 3,163 adults in Britain on Aug 11, 2020 and the results can be viewed in full here
Correction 08/26/20: This article previously incorrectly said Abra the refugee had travelled from Syria when it was in fact Afghanistan. This has been corrected and we regret the error