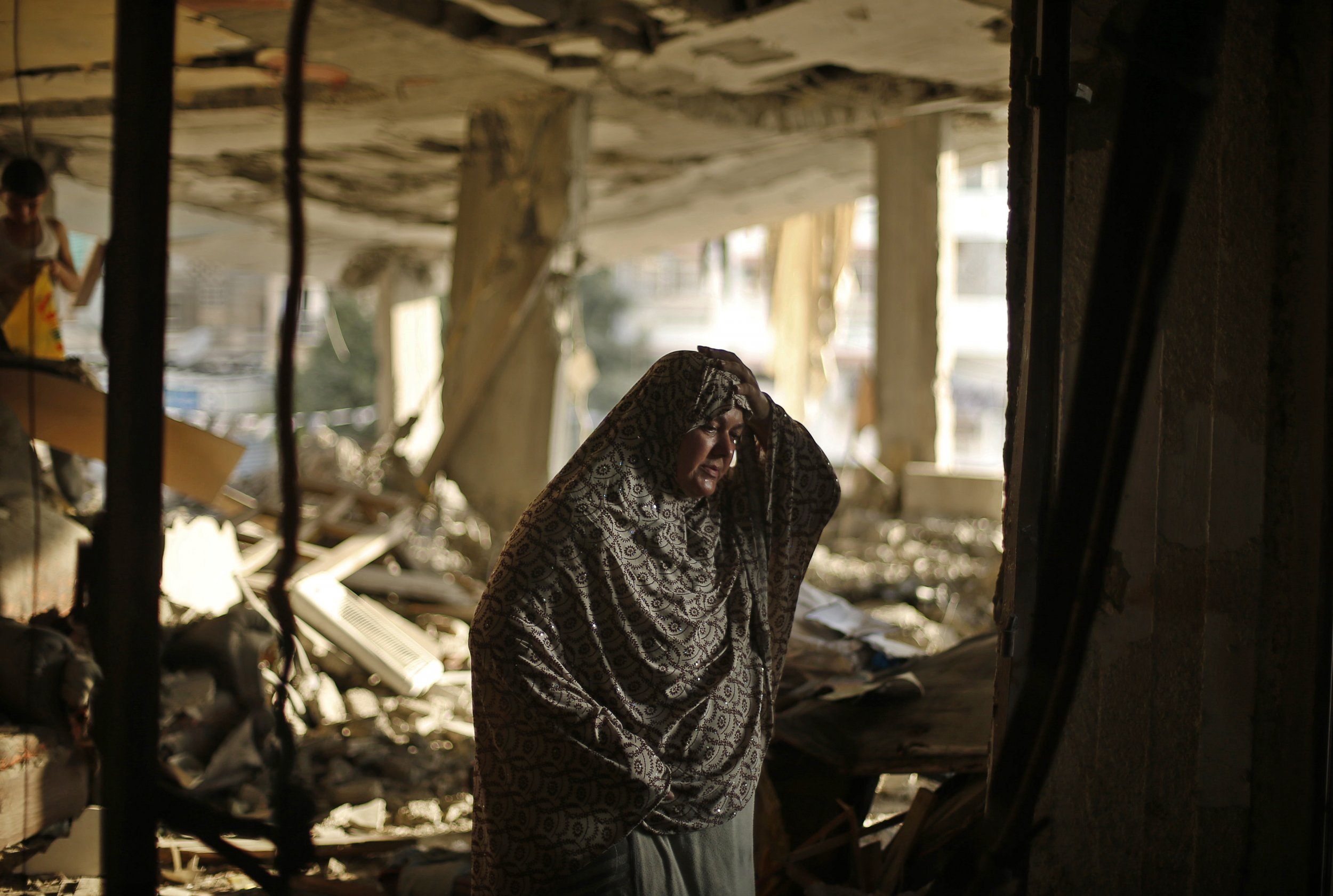 GAZA/JERUSALEM (Reuters) - Palestinians rushed to shops and banks on Thursday during a five-hour humanitarian ceasefire that largely held, and an Israeli official said Egypt had proposed a permanent truce that would start on Friday.
But there was uncertainty about prospects for a full cessation of violence after the temporary truce lapsed.
The official said senior Israeli negotiators in Cairo had approved a full truce to end 10 days of warfare but a final decision lay with Prime Minister Benjamin Netanyahu's security cabinet. Foreign Minister Avigdor Lieberman said he had spoken with Netanyahu and added: "We are not familiar with the matter".
A spokesman for the Islamist Hamas rulers of Gaza denied initial comments by the Israeli official that a full ceasefire was slated to start at 6 a.m. (0300 GMT) on Friday.
Sirens sounded in southern Israel at 3 p.m. (1200 GMT), at the end of the five-hour ceasefire, and the military said a rocket had been fired at the cities of Ashkelon and Beersheba.
During Thursday's period of relative calm, the Israeli military said three mortar bombs were launched into Israel from the Gaza Strip, landing in open areas.
Israeli forces, the military added, fired mortar rounds into the Palestinian territory during the truce period after a soldier was slightly wounded by a blast near the frontier.
Hours before the humanitarian ceasefire began, about a dozen Palestinian fighters tunnelled under the border, emerging near an Israeli community. At least one was killed when Israeli aircraft bombed the group, the military said.
The break in 10 days of fighting was requested by the United Nations to allow residents of the tiny, densely populated and impoverished Gaza Strip to gather supplies and repair damage to infrastructure such as water mains and power lines.
Gaza health officials say at least 224 Palestinians, mostly civilians, have been killed. In Israel, one civilian has been killed by fire from Gaza, where the Israeli military says more than 1,300 rockets have been launched into the Jewish state.
The rocket salvoes have made a race to shelters a daily routine for hundreds of thousands of people.
Israel's military, which government officials said was poised to expand its air and naval bombardments into possible ground operations, had said it would respond "firmly and decisively" if militants launched attacks during the truce.
In Gaza City, hundreds of Palestinian lined up outside banks to collect salaries paid directly into their accounts, while others went food shopping. Gaza roads almost deserted over days of conflict were filled again with traffic.
"We are here to get paid. Thank God for the calm and we hope it lasts," said Zakaria Ahmed, 35. "We hope Egypt brings a good truce, we hope the killing will stop and (Gaza's border) crossings will open."
There was also relief in Israel. In Ashkelon, which has been under frequent rocket fire, families strolled through the streets after remaining at home for the past week.
"They finally decided, for at least a short time, on a ceasefire ... so we can have some fun now during summer break," youngster Netanel Moshe Popesmedo said on Channel 10 television.
After the early morning clash over the tunnel, and before the five-hour ceasefire began, sirens sounded across Israel, including in the Tel Aviv area, the country's heartland, warning of a heavy barrage of incoming rockets.
The military said at least one rocket was intercepted by the Iron Dome anti-missile system and another fell in a town near Tel Aviv. There were no reports of casualties.
Also before the pause in fighting, an Israeli aircraft bombed a structure in Rafah in southern Gaza, killing three militants, medical officials said.
CEASEFIRE EFFORTS
President Barack Obama said on Wednesday he supported Egyptian efforts to agree a ceasefire that would end the worst flare-up of Israeli-Palestinian hostilities in two years. U.S. officials would use their diplomatic resources over the next 24 hours to pursue closing a deal, he said.
Egypt had proposed a permanent ceasefire plan on Tuesday, which Israel accepted. But Hamas, saying its terms had been ignored, rejected it.
Hamas wants Israel and Egypt, whose military-backed government is at odds with the Islamist group, to lift border restrictions that have deepened economic hardship among Gaza's 1.8 million populace and caused a cash crunch in the movement, which has been unable to pay its employees for months.
On Wednesday, an Israeli gunboat off Gaza's Mediterranean coast shelled a beach, killing four boys - two aged 10 and the others 9 and 11 - from one family and critically wounding another youngster, witnesses and Ashraf al-Qidra of the Gaza Health Ministry said.
The Israeli military said the reported civilian casualties were unintended and tragic and it was investigating what happened. "Based on preliminary results, the target of this strike was Hamas terrorist operatives," it said in a statement.
The current conflict was largely triggered by the killing of three Israeli teens in the occupied West Bank last month and the death on July 2 of a Palestinian youth in a suspected revenge murder.
Israel indicted on Thursday three Israelis suspected of having killed the 16-year-old Palestinian in Jerusalem. A lawyer for a legal aide group representing the adult and two minors said they would enter a plea at a later date.