'F**k Black Lives': Man Holds BLM Sign in KKK Headquarters City
A video is going viral after a white man traveled to what he called "America's most racist town" to document local residents' reactions to a "Black Lives Matter" sign.
The video begins with a still shot of the man holding the sign on the side of a road in Harrison, Arkansas. Behind him is a billboard advertising WhitePrideRadio.com and AltRightTV.com, both of which, the advertisement says, are "For the Family," a note that appears beside a cross.
The man, who posted his content as Rob Bliss, identified Harrison as the headquarters city of the Ku Klux Klan. According to the Southern Poverty Law Center, the current national director of the Knights of the KKK, Thomas Robb, moved the headquarters of the organization to Harrison in the 1990s.
No hooded individuals appear in Bliss' video, but he is repeatedly threatened, cursed at and questioned as people drive and walk past. The entire video, which is two minutes and 18 seconds long, records the interactions from Bliss' perspective and cuts together more than 20 exchanges with passersby at Bliss' first spot near the billboard and later in front of a Walmart, where he is eventually asked to leave.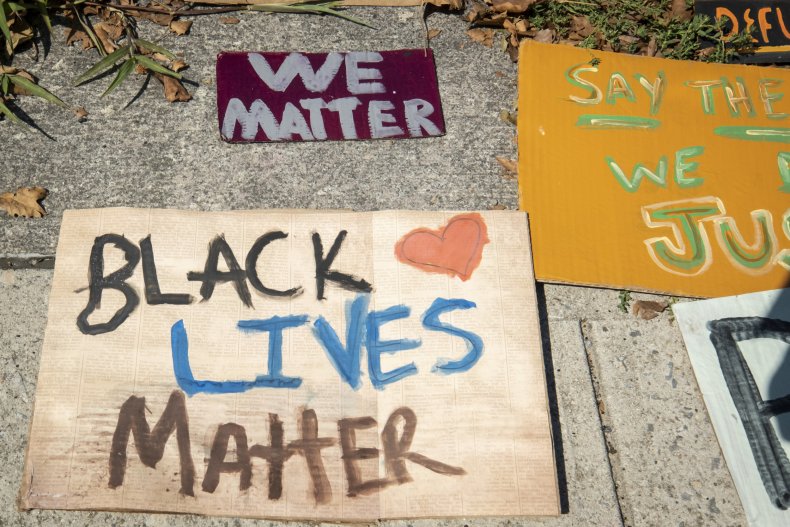 Some people driving past make rude gestures through their windows and call him a "domestic terrorist" and a "Communist." Others curse at him and remind Bliss that he's white before asking him why he is holding the sign.
"Have a little pride in your race, brother. White pride worldwide," one man yells from his truck. "I'd be ashamed to be a white boy carrying that stupid sign," another man says.
One woman asks Bliss from the passenger seat of a passing SUV, "What about white lives? We matter too." Another woman asks Bliss, "Why don't you take it to Chicago or New York and hold it up, where they're shooting each other?" A third woman later yells, "F**k Black lives" from inside her vehicle, adding, "And I have Black friends."
A handful of the interactions captured on the video show people threatening Bliss with physical harm. One man warns him, "I wouldn't stay after dark, man," and another driving past in a sedan circles past Bliss twice and threatens to return again if Bliss does not leave.
About halfway through the video, Bliss moves to stand outside a Walmart and shows an interaction between two men debating the "hoax" of the Black Lives Matter movement and comparing it to the Islamic State militant group (ISIS). Later in the video, Bliss puts a statement from Walmart's corporate arm about embracing diversity on one side of the screen as employees on the other tell him to leave.
"I'm asking you to leave," an employee tells Bliss. "Exactly what I'm saying is exactly what [Walmart] would ask me to do."
In a statement to Newsweek, a Walmart spokesperson said the company supports the Black community and said Bliss was asked to leave because he was protesting on Walmart property.
"As a company committed to racial equity, we stand in solidarity with the Black community and are appalled some chose to express themselves in such a hurtful way," the spokesperson said. "The individual represented in this video was asked to leave the premises because we have a policy prohibiting solicitation and demonstrations on Walmart property for both individuals and organizations.
The statement continued, "It's important we come together during these difficult times and display kindness and understanding while respecting our differences. Respect for the individual is a core value at Walmart, and we will continue to demonstrate that principle in how we operate our business."
At the end of the video, Bliss shows an individual approaching to hand him a note. Bliss blurs the individual's face but shares the content of the note, which encourages him to "ignore your haters" and "don't give up hope."
Bliss told Newsweek he picked Harrison after first visiting a conservative town in rural Nevada. Harrison residents' reactions to his sign were much stronger than he'd experienced anywhere else, Bliss said.
"I think there is a need to be starting these conversations in places where people don't expect them," Bliss said. "People don't realize how large of a gap there is between what we think of as 'red America' and 'blue America.' There is a divide that is several degrees of separation between the two.
"Also, people don't realize that outright, blatant racism is still very, very real in America. People have this sense that we're past that, we elected [Barack] Obama," he said. "[Racism is] still very active in many places in the United States."
Though the bulk of Bliss' interactions in Harrison were negative, he said he did encounter some supporters along the way. Bliss told Newsweek he encouraged any Harrison resident who does not believe his video accurately depicts their community's values to unite and take down the billboard that promotes "white pride."
"If you don't, everyone in the town is complicit and accepting of that messaging," Bliss said.
In a description Bliss posted on YouTube to accompany the video on Monday, he said he is seeking financial assistance in case he needs legal help to keep the video online. Bliss uploaded his video about two months after the resurgence of Black Lives Matter protests began in response to the death of George Floyd, a Black man who died while in police custody in Minneapolis. Protests across the country and around the world drew support from thousands of people, but counterprotesters soon began mounting movements of their own.
"Throughout filming I received threats of legal action by racists who don't want to be exposed and want to see this video removed," Bliss wrote on YouTube. On a GoFundMe page, he said any money he raised would go toward his legal defense, if needed, and to "protect my activist work."
Updated 5:24 p.m. ET on July 28: This article has been updated to include responses from Walmart and Rob Bliss.