FL Hospital Moves to 'Red Zone' Due to Delta Variant, 90 Percent of Patients Unvaccinated
Central Florida's largest hospital chain is moving into the "red zone" due to a surge in coronavirus cases caused by the highly transmissible Delta variant.
On Monday, AdventHealth announced its ICU was moving to red status, just four days after it elevated its status to "yellow."
According to the latest update, 862 COVID-19 patients are hospitalized across the Central Florida division, which indicates that inpatient totals are nearing January's record of 900 patients.
"We are approaching an all-time high, in terms of our inpatient, number of COVID-19 cases, which is a stretch in our capacity," AdventHealth Chief Medical Officer Dr. Victor Herrera said at a Monday news briefing.
Under red status, hospitals will begin rescheduling non-urgent elective outpatient surgeries in order to increase capacity on Tuesday. AdventHealth's ICU is currently full.
"When we are in a situation like this one where our capacity is a stretch, we may have to reschedule care, that is not urgent. So as a reminder that is what level red means, we do a systematic review of all procedures that are scheduled for patients, and if there is something that can wait," Herrera said. "Then we make that decision, in collaboration with a doctor taking care of that patient, so we can increase our capacity."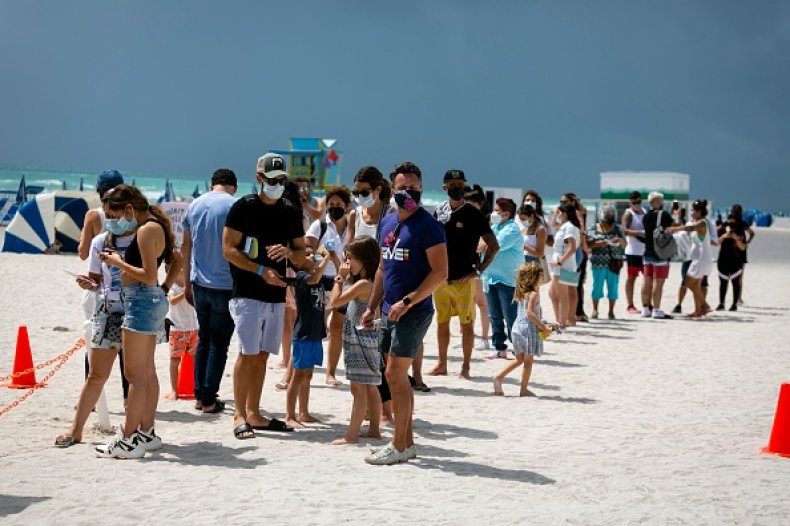 The hospital had been "green" since mid-February as vaccinations increased, but now that vaccines have begun to lag and the Delta variant overtakes the U.S. as the dominant strain, COVID-19 hospitalizations and deaths in Florida are once again on the rise.
Herrera noted that 94 percent of the hospital system's patients are unvaccinated.
"Clearly the vaccine is a personal choice, but it is hard to see, frustrating to see people dying in the hospital from a disease that at this point can be prevented," he said. "Clearly, the risk from COVID can be much higher [than the vaccine]."
Although the influx of patients has caused AdventHealth to suspend certain medical care, Herrera reassured that the hospital system has the necessary equipment and staff to continue to care for both COVID and non-COVID patients, even if the cases continue to rise.
AdventHealth has locations across Orange, Osceola, Seminole, Lake, Polk, Volusia and Flagler counties.
On Monday, Orange County Mayor Jerry Demings said the county is seeing roughly 1,000 new daily cases. The 14-day rolling positivity rate is now more than three times what it was a month ago and this weekend alone, increased from 14 percent on Friday to 20 percent on Sunday.
"We are now in crisis mode," Demings said. "The time really is now, like no other time in our community, for you to step up to the plate and get vaccinated. We have loved ones who depend on us."
Herrera added, "If somebody gets a COVID-19 vaccine, based on what we've seen their chances of get being hospitalized, are very low, or probably way less than 1 percent."
Herrera said the latest coronavirus surge has also led to an increase in hospitalizations of pregnant woman with the virus—a demographic he didn't see intubated in previous waves.
"This is a reminder to our community, and pregnant women to consider the COVID-19 vaccine, and to have that conversation with their doctors. We want to encourage pregnant women to think about vaccination," he said. "Again, we don't know yet if this is related to the Delta variant, but clearly, there is a higher number of pregnant women very sick with COVID-19 right now compared to before."
As of July 23, 60 percent of Floridians over the age of 12 have received at least one dose of a COVID-19 vaccine, data from the state department of health shows.
Newsweek, in partnership with NewsGuard, is dedicated to providing accurate and verifiable vaccine and health information. With NewsGuard's HealthGuard browser extension, users can verify if a website is a trustworthy source of health information. Visit the Newsweek VaxFacts website to learn more and to download the HealthGuard browser extension.