'Flack' Season 2: Everything You Should Know About the New Series
Anna Paquin returns to fix the unique problems celebrities face in the second season of dark comedy Flack. The British-based show is available to watch on Amazon Prime.
The show peels back a cynical curtain on what life is like for celebrity PRs dealing with the frivolous demands of their hapless and selfish clients.
Who stars in Flack?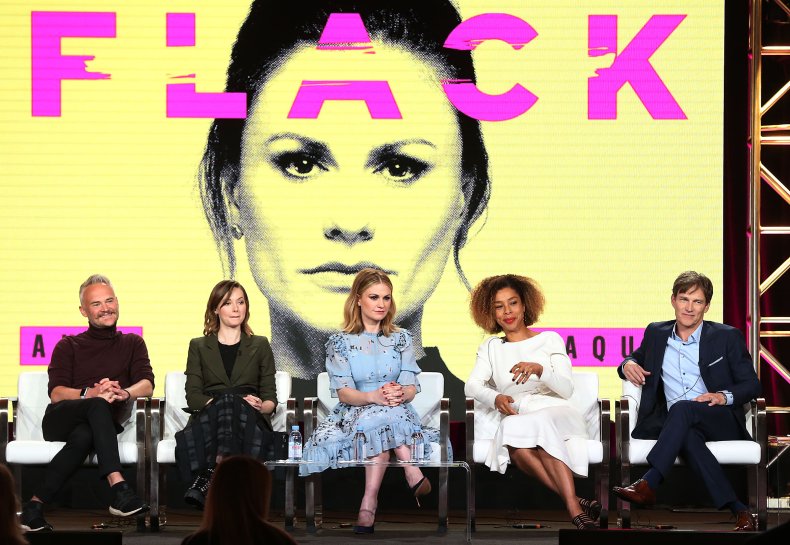 Flack stars Academy Award-winner Paquin as an American PR executive living in London. Throughout Season 1 Flack featured a number of big-name cameos with the likes of Bradley Whitford (The West Wing), Amanda Abbington (Sherlock) and Max Beesley (The Outsider) appearing.
Regular co-stars include Sophie Okonedo (Hotel Rwanda), Lydia Wilson (About Time) and Marc Warren (Wanted).
In Season 2, Daniel Dae Kim (Lost) joined the cast as Gabriel Cole, a tech titan who becomes a love interest, and Sam Neill (Jurassic Park) as Duncan Paulson, who has a complicated history with one of the main characters.
The series centered around women in the world of celebrity PR was created by Oliver Lansley. He explained in a press statement why Paquin was the perfect actress to play the lead role of Robyn. He said: "She has that movie star quality. When you put a camera on her, she doesn't have to do anything, and immediately you see layers of depth to her, which for a character like this is so important."
Lansley said he wanted to include a group of complex female protagonists as a counter to shows like Mad Men, The Sopranos or Breaking Bad. He said: "No one watched Mad Men and said, 'but is Don Draper likable enough?' I wanted to write something about messy, complicated women."
Will there be a Season 3?
There's good news for Flack fans after initial fears the show could be gone for good. ViacomCBS's cable network Pop TV dropped the series before the second season was due to air but it might still be saved by Amazon.
Deadline reports that Amazon's deal, which gave it broadcasting rights to Flack in the U.S. and Canada, also gives it the option of making a third season, which is produced in conjunction with British broadcaster UKTV.
How can I watch Flack Season 2?
Both the first and second seasons of Flack are now available to watch for free for Amazon Prime subscribers.
Each seasons contains six episodes meaning there are 12 slices of Flack for you to start binging now.
You can get an Amazon Prime membership for $12.99 a month or $119 a year. A Prime Video-only account, giving you access to all of the movies and TV shows on Amazon Prime, costs $8.99 a month