The charred remains of nearly two dozen American flags burned on Independence Day were discovered in a South Carolina cemetery.
On July 5, employees at Forest Lawn Memorial Park in Anderson, South Carolina, discovered 21 American flags had been uprooted, set on fire and then left in a pile. The flags were meant to line the driveway to the Veteran's Mausoleum at Forest Lawn.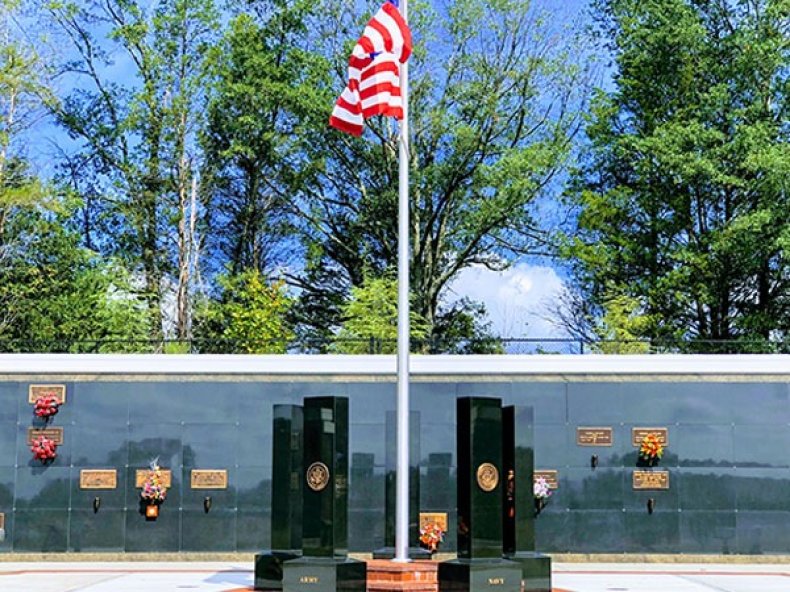 "On the night of July 4th, someone pulled up 21 American Flags that lined the roadway to our Veteran's Mausoleum and had the nerve to burn them—yes burn them—on the lawn in the cemetery right in front of where our veterans and their families rest in peace," McDougald Funeral Home's Todd Capps wrote in a Facebook post.
In all 30 flags had been planted for the Independence Day holiday, according to the funeral home. Each measured four feet by six feet and sat atop an eight-foot pole.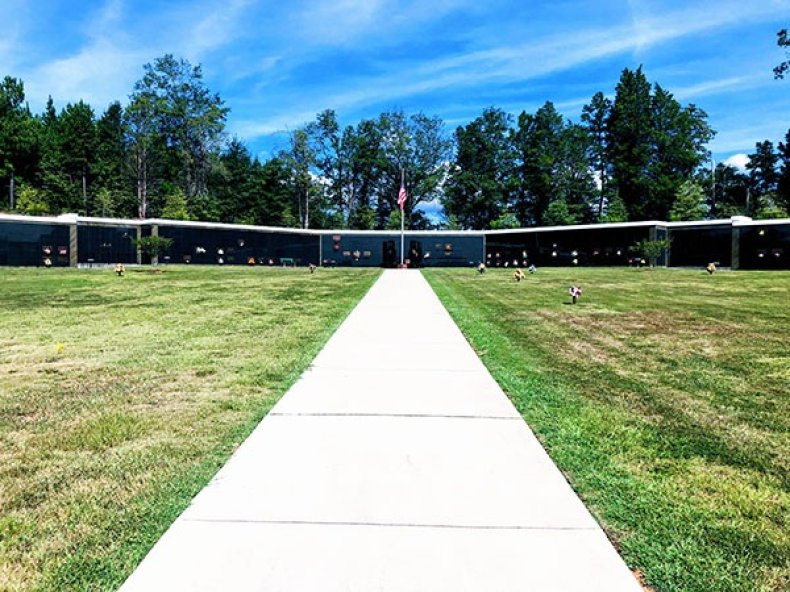 Funeral director Douglas McDougald said nothing like this has ever happened at his funeral home, which has been operated by the same family for three generations.
"We've put flags out for as long as I can remember," McDougald told CNN. "We've never had a problem."
Anderson County deputies are investigating the incident, although there was no surveillance video from the cemetery. Forest Lawn filed a report claiming $1,260 in damages for the flags, according to WYFF. None of the gravesites were damaged.
Independence Day saw other flag-burning incidents, including one outside the White House: Members of the Revolutionary Communist Party set fire to a flag before classing with Trump supporters shortly before the president's "Salute to America" address.
The Secret Service quickly extinguished the flames.
While flag-burning itself is protected under the First Amendment, flag-burners can be charged with other crimes: After setting fire to the stars and stripes in a Walmart parking lot on July 4, a Virginia man was charged with burning an object in a public place with the intent to intimidate, a Class 6 felony..
Police said onlookers were made extremely nervous by the act.
"The burning of our great American flag is very offensive to most people including me," York-Poquoson Police Sheriff J.D. Diggs said in the statement. "That being said, the courts have ruled that act alone is an expression of free speech and not per se illegal."
If convicted of the parking-lot arson, 22-year-old Michael Stauffer faces a $2,500 fine and up to five years in prison.