World's Worst Interview: Colin Cowherd and Jim Harbaugh Have Nothing to Talk About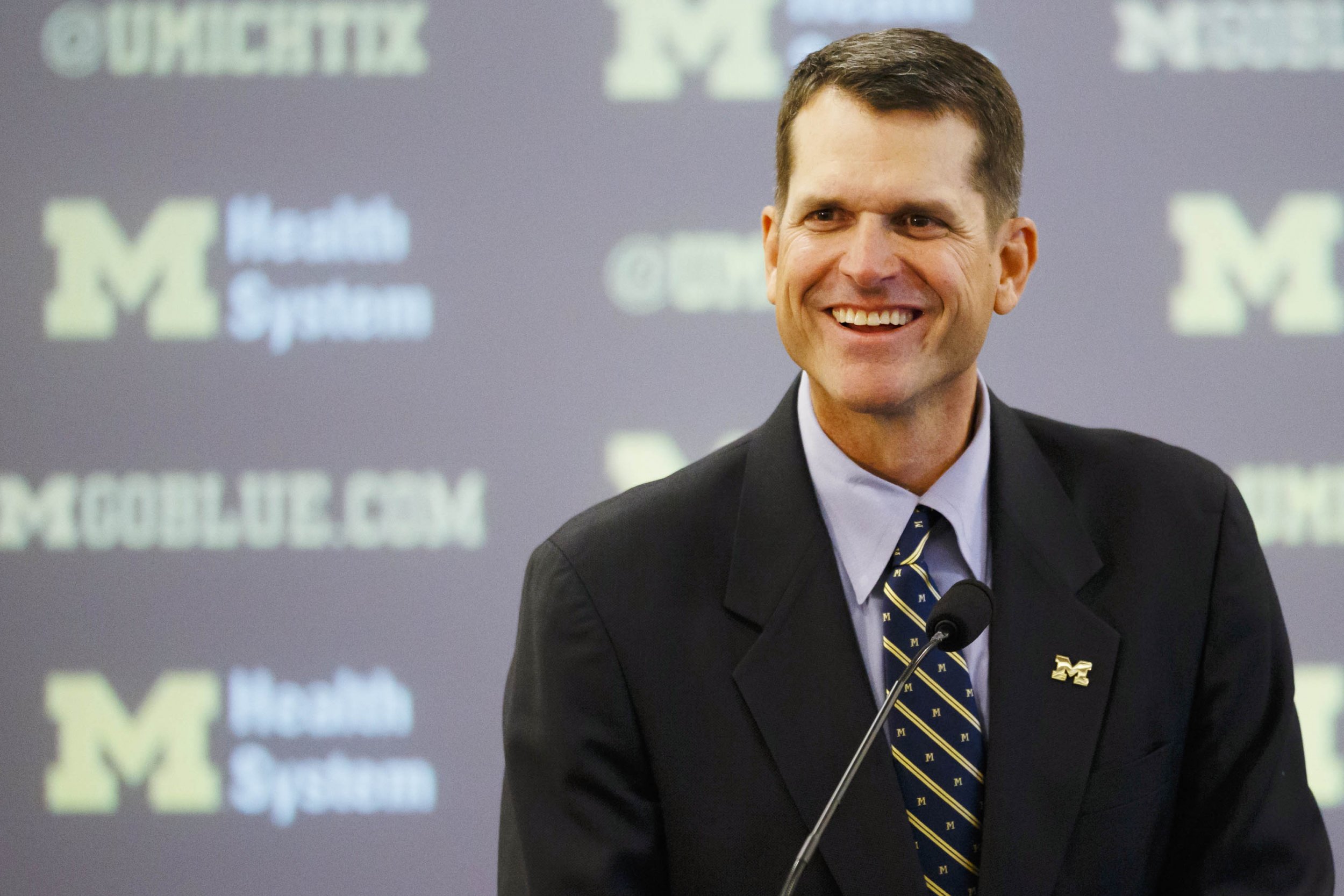 It is not unusual for a sports talk radio host to abruptly drop a caller, but it is quite unusual when the person on the other end of the line is A) a guest and B) the highest-compensated government employee in the state of Michigan.
On Wednesday afternoon, Colin Cowherd, the nationally syndicated host of "The Herd" on ESPN radio, welcomed University of Michigan football coach Jim Harbaugh to his program. Less than six minutes later, Cowherd pulled the plug on a most awkward conversation, yanking Harbaugh from his airwaves as if the Wolverine coach had just thrown a pick-six into single coverage. "I love you, it's not working," an exasperated Cowherd said. "I appreciate you stopping by, Jim Harbaugh."
Cowherd then told his listening (and viewing) audience, "I've been in the business 10 years, folks. That was a clunker. There's not much I can do about that."
To be fair to the first-year Michigan coach, who starred in Ann Arbor as an All-Big Ten quarterback in the mid-'80s before having a respectable NFL career as a player and then a spectacular career as coach of the San Francisco 49ers, the interview had a bumpy takeoff. Cowherd led with a weird, Barbara Walters-esque inquiry before even extending a customary, albeit trite, greeting to the 51-year-old coach.
"When are you at your least intense?" asked Cowherd. "Because you are a pretty intense guy."
"Well, good morning, Colin," Harbaugh replied. "How are you?"
What followed was a discourse that was no more comfortable than most first dates arranged via Tinder. The first two questions Cowherd asked, the one above and then a follow-up about what was the first thing Harbaugh changed upon his arrival at Michigan last winter, were met with "I don't know."
Cowherd then tacked in another direction. "You're very much into the [Michigan] community," Cowherd opined. "You really seem to be all-in."
That comment was the verbal equivalent of what cleanup hitters would call a "grooved pitch." Did Harbaugh swing for the fences? Nope. "Yeah, I would agree," said Harbaugh, whose previous head coaching stints, all highly successful and brief, include stops at the University of San Diego and Stanford, and most recently with the 49ers. "Can't disagree with that."
While Harbaugh was not exactly a hostile witness, he sounded yet again like the aloof and abrasive soul who once prompted coaching nemesis Pete Carroll to ask during a postgame handshake, "What's your deal?"
Granted, that was after Harbaugh's Stanford team had throttled Carroll's University of Southern California team 55-21, by far the worst defeat in Carroll's nine seasons with the Trojans.
When Cowherd attempted to pay Harbaugh yet another compliment by describing the Big Ten as a "buy," i.e. a stock on the rise, Harbaugh interpreted it as "bye," as in a doormat. While it was easy to understand Harbaugh's confusion, that misunderstanding signaled the beginning of the end of the stilted chat.
Two open-ended questions later, Harbaugh interrupted Cowherd to say, "This feels like one of those where you ask like 50 questions on a--"
"Well, you're giving me slow—you're not giving me a ton to work with, Coach," Cowherd answered, before peremptorily ending the interview moments later.
While Harbaugh's gruff reputation, both with the media and his coaching counterparts, certainly preceded him into this interview, the first-year Wolverine coach is not to blame. Cowherd is a professional communicator while Harbaugh is a professional football coach. The ESPN host's inquiries were ponderous at best and New Age psychobabble at worst. The buy/bye miscommunication is an error that Cowherd should have red-flagged, but instead it was Harbaugh who realized something had been lost in translation.
Harbaugh, whose NFL nom de guerre was Captain Comeback, could have been more garrulous with his verbal comebacks, but he did at least seem to be trying.
"What could I do to make your interview better?" Harbaugh asked, the last words we would hear him speak.
"You can't," Cowherd said. "I'm just asking open-ended questions and you have not much to say."
Neither of them did.