Which GOP Senators Would Vote to Impeach Trump? Jeff Flake Says There Are 35
Former Senator Jeff Flake caused a stir Saturday when he amended Republican consultant Mike Murphy's comment that 30 GOP senators would vote to impeach President Donald Trump if they could keep their votes secret. "That's not true," the former Arizona senator told Slate's Mary Harris. "There would be at least 35."
Until his retirement from the Senate earlier this year, Flake was among the small but notable cohort of Republican senators who remained vocal in their opposition to Trump after the election.
While most of the Senate's 53 Republican members have stuck to the White House's talking points since the House of Representatives officially launched its impeachment inquiry Tuesday, some have stopped short of towing the party's "witch hunt" line, while others have previously voiced opposition to the president that may come back to bite him.
Flake puts the number of Republicans willing to secretly oppose Trump at 35, well above the 20 who would have to publicly denounce him in order to reach the two-thirds supermajority of 67 senators, assuming all 45 Senate Democrats and both independent senators also voted to impeach. Here are 12 possibilities.
The most obvious contingent are the sitting Republican senators who publicly acknowledged voting for opposition candidates in 2016. These include Senators Susan Collins (R-ME), Cory Gardner (R-CO), Mike Lee (R-UT), Lisa Murkowski (R-AK), Dan Sullivan (R-AK), Rob Portman (R-OH) and Ben Sasse (R-NE) for a likely seven votes to impeach.
Senator Lindsey Graham, (R-SC) poses a notable exception. He voted against Trump in 2016 after losing the Republican nomination, and the two feuded after then-candidate Trump gave out Graham's phone number at a rally "to mock the South Carolina senator" as CNN put it in 2018. But Graham quickly came around after the election. The two golfed together Saturday, with Graham tweeting in the president's defense.
Marco Rubio (R-FL) called Trump a "con artist" as competitor in the 2016 primary race, but similarly to Graham, transformed into Trump's "fan-boy," according to The Washington Post, after the election. Rubio garnered scorn on Twitter after posting a Bible quote asking for "salvation in time of trouble" following House Speaker Nancy Pelosi's announcement of the inquiry.
Rubio has stopped short of denouncing the inquiry outright. He also criticized the president's tweet urging four congresswomen of color to "go back to to the totally broken places they came from" in June, telling the Miami Herald that the president's identity politics "damages the country."
Similarly to Rubio, Senator Tim Scott (R-SC) demonstrated a will to oppose the president in July, vocally countering fellow South Carolinian Graham to dub Trump's Baltimore comments "racially offensive," and warning the president that "no matter our political disagreements, aiming for the lowest common denominator will only divide our nation further." Scott might have fallen back in line, however, as he told CNN the whistleblower complaint was based on "hearsay."
Roy Blunt (R-MO) made a similar point, telling CNN, "We're committed to gather the information before we reach conclusions. Other people who don't have this responsibility can reach conclusions right away." He added, "In my case I'm not ready to make any conclusions yet and still ready to gather more information."
Martha McSally (R-AZ), a political appointee who occupies the Senate seat vacated by vocal Trump opponent John McCain, side-stepped questions about Trump's conduct Tuesday in a Politico interview, saying that "voters can make up their minds on Trump next year" according to AZ Central. While the quote seems to support re-election, the political legacy behind McSally's seat and her evasion may signal otherwise.
McCain's 2012 opponent, Senator Mitt Romney (R-UT), has remained stalwartly dubious of the president since first coming out against candidate Trump in March 2016 during a speech in which he warned his party, "If we Republicans choose Donald Trump as our nominee, the prospects for a safe and prosperous future are greatly diminished." Romney has said he was "deeply troubled" by the phone call at the heart of the impeachment inquiry.
Perhaps Flake himself summed up the situation the Republican Party faces best in his farewell address earlier this year. "I believe that we all know well that this is not a normal time," he said, "that the threats to our democracy from within and without are real, and none of us can say with confidence how the situation that we now find ourselves in will turn out."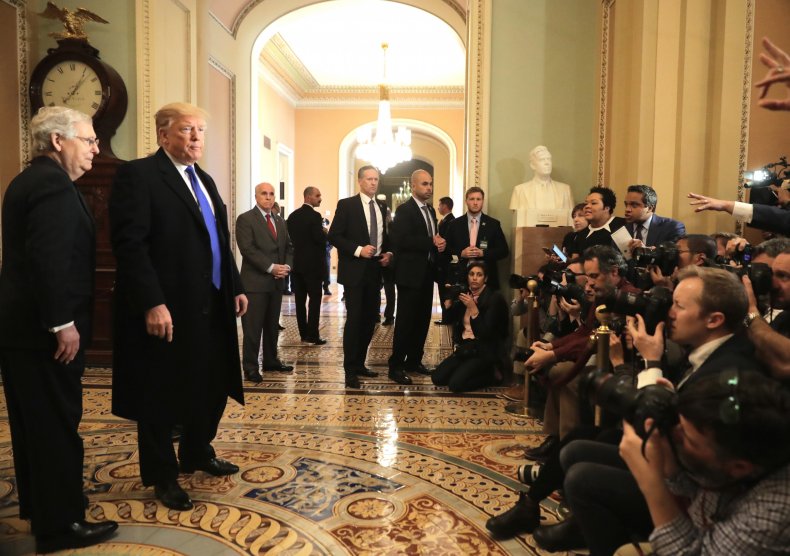 This article has been updated to include a clip from Flake's interview on Slate's "What Next" podcast recorded at the Texas Tribune Festival.