Flake Says There Is 'Not a Chance' He Would Have Called for Kavanaugh FBI Investigation if He Were Up for Re-Election
Republican Senator Jeff Flake admitted on Sunday that there was "not a chance" he would have joined calls for an FBI investigation into allegations of sexual misconduct against Supreme Court nominee Brett Kavanaugh if he had planned to run for re-election.
After facing blowblack from protesters over his decision to confirm Kavanaugh, Flake joined Democrats in demanding an FBI investigation into the allegations against Kavanaugh, calling for a week-long probe.
But in an interview with CBS's 60 Minutes, the Arizona senator said he would not have made the decision if he had been up for re-election.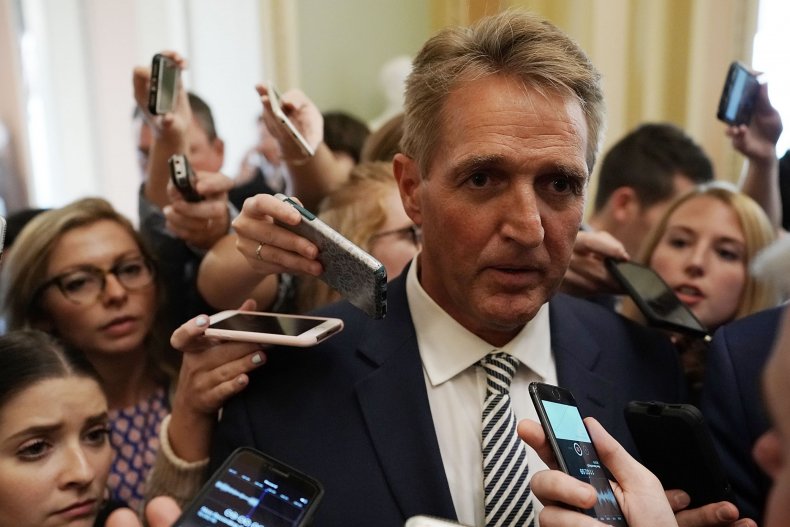 "Not a chance," Flake said. "There's no value to reaching across the aisle.
"There's no currency for that anymore," he continued. "There's no incentive."
Flake's decision to call for an investigation on Friday may have been, at least in part, spurred by an encounter with two protesters, who confronted the senator in an elevator.
One protester told Flake of her own sexual assault and how no one believed her, accusing Flake of "telling all women that they don't matter" with his vote for Kavanaugh.
The protesters' words may have had an impact on the Republican, with Flake telling CBS that the altercation left him feeling as if the controversy around the allegations was "tearing the country apart.
"People felt very strongly about the hearings and what was going on," Flake said. "They were clearly passionate and determined that I hear them."
Both Kavanaugh and Christine Blasey Ford, the first woman to come forward to accuse the Supreme Court nominee of sexual assault, testified before the Senate Judiciary Committee on Thursday.
Ford, a psychology professor at Palo Alto University, detailed her allegation that Kavanaugh had sexually assaulted her at a house party in 1982, when both were in high school.
As Ford delivered her testimony, Flake told CBS that he had a "palpable feeling that this was history."
"She was compelling. Just extremely compelling and I think everybody said that on both sides," he said.
Asked whether he believed Ford's testimony, Flake said: "Well, how could you not? She certainly believes she experienced something. Was it Brett Kavanaugh? He said: 'I'm sure she experienced something, but it wasn't me.'"
Read more: Lindsey Graham plans to go after Democrats over Brett Kavanaugh confirmation hearing
In addition to Ford's allegations, two other women have come forward to publicly accuse Kavanaugh of sexual assault.
Last Sunday, Deborah Ramirez accused the judge of having thrust his genitals in her face at a party in college, when both were attending Yale University.
Not long after, Attorney Michael Avenatti brought forward allegations from Julie Swetnick, who claimed that Kavanaugh was part of a group of teenage boys who spiked the drinks of their female peers so they could incapacitate them.
Kavanaugh has vehemently denied all allegations against him.
The FBI's investigation into the allegations began on Friday, with President Donald Trump tweeting: "Just started, tonight, our seventh FBI investigation of Judge Brett Kavanaugh.
"He will someday be recognized as a truly great Justice of the United States Supreme Court," Trump wrote.
Flake said Sunday that if the FBI's investigation into the allegations against Kavanaugh found that he lied to the Senate Judiciary Committee on Thursday, his nomination would not likely move forward.