Trump Has Destroyed the Republican Party, Exiting Senator Jeff Flake Says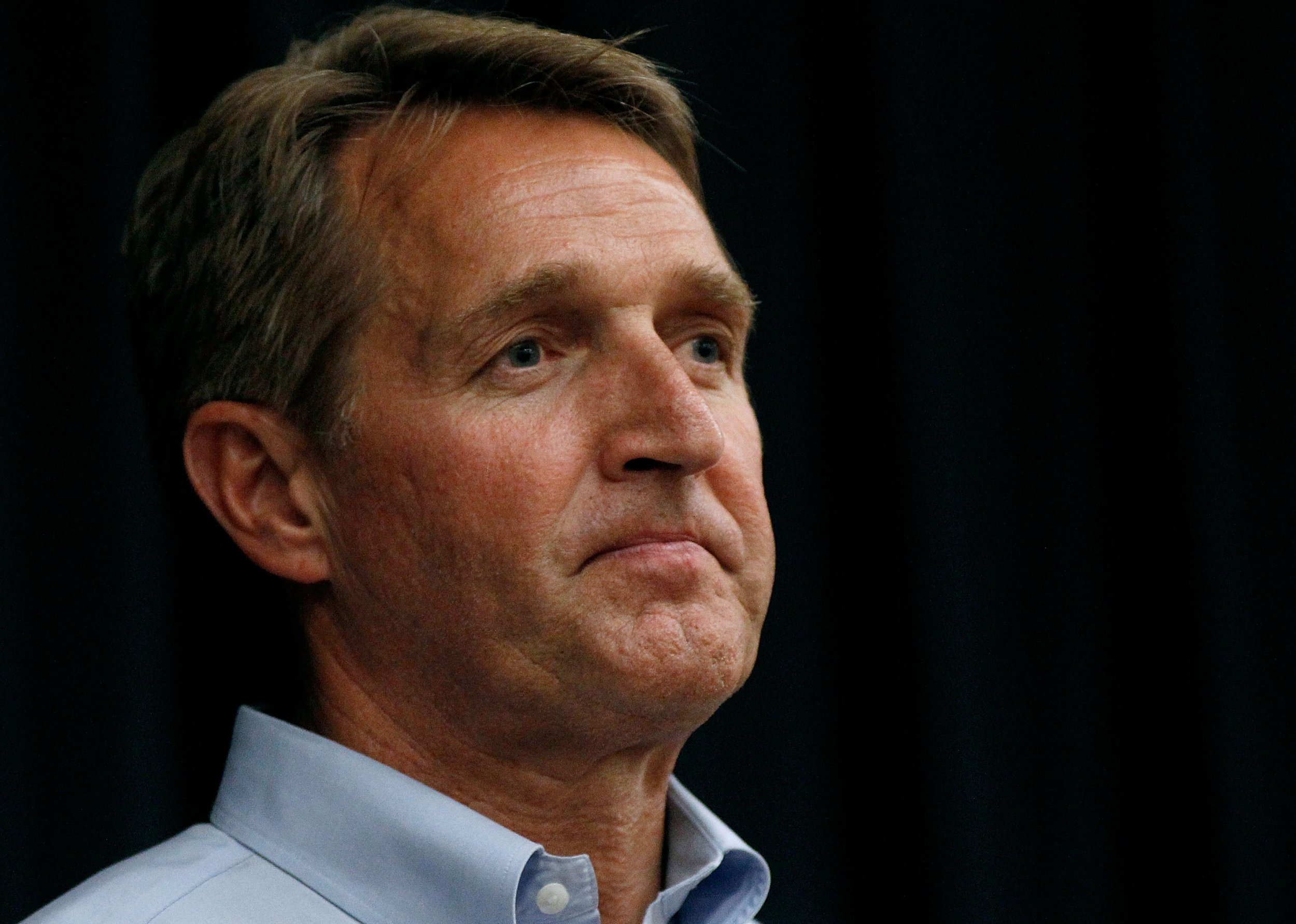 Citing a seismic shift within the Republican Party caused by President Donald Trump, Arizona Senator Jeff Flake announced Tuesday he will not to seek re-election next year.
"There may not be a place for a Republican like me in the current Republican climate or the current Republican Party," Flake, who has been one of Trump's staunchest critics, said on the Senate floor.
Flake faced what would have been a difficult primary race against a Steve Bannon-backed anti-establishment Republican. If he survived that fight, he faced the prospect of a Democrat challenger emboldened by the very public squabbling among Republicans and Trump.
"Here's the bottom line: The path that I would have to travel to get the Republican nomination is a path I'm not willing to take, and that I can't in good conscience take," Flake told The Arizona Republic before took the floor. "It would require me to believe in positions I don't hold on such issues as trade and immigration and it would require me to condone behavior that I cannot condone."
Flake also said Republican primary voters are essentially picking a candidate based on whether they support Trump and his policies.
Senate Majority Leader Mitch McConnell (R-Kentucky), who has recently tried to bridge the gap between Trump and his restive conference, praised Flake for his speech and decision.
"We've just witnessed a speech from a very fine man, a man who clearly brings high principles to the office every day and does what he believes is in the interest of Arizona and the country," McConnell said.
White House Press Secretary Sarah Huckabee Sanders called Flake's speech "petty."
As of the third quarter, Flake had raised some $3.4 million for his re-election bid—a low number even with the election more than a year away—and had a potentially difficult foe in former Arizona state Senator Kelli Ward, among others.
Ward has received backing from Bannon, the former Trump chief political strategist who told The New York Times last month that unless Flake's weak poll numbers improved, he would be forced by the GOP establishment to exit or bounce on his own accord.
Bannon's preferred candidate in Alabama, Roy Moore, recently defeated Trump's pick in a GOP primary for the seat vacated by former Senator Jeff Sessions. who is now attorney general.
In this case, Trump was clearly in Bannon's camp, taking to Twitter to call Flake "toxic" and practically endorsing Ward this summer.
Following a campaign-style rally in Phoenix in August, Trump was quick to burn Flake for his positions on crime and immigration.
"Phoenix crowd last night was amazing - a packed house. I love the Great State of Arizona. Not a fan of Jeff Flake, weak on crime & border!" Trump tweeted on August 23.
Republicans, who have otherwise fared well in special elections this year, could lose their narrow 52-seat majority in the Senate with the Arizona seat now more in play. Another vulnerable GOP senator is Dean Heller of Nevada, though some Democratic seats are also in play, according to CNN.