Pittsburgh Power Outage: Flash Floods, Heavy Rain Leave Thousands Without Electricity
An estimated 10,000 Pittsburgh homes remain without power after two days of flooding, according to a Thursday morning update from Duquesne Light Co. The rain, which brought down trees and took down power lines, is expected to delay a full restoration of the power system until at least Friday morning. Pittsburgh, the state's second-largest city, is estimated to have 306,500 residents.
A flash flood warning, which was in effect until 10 a.m. Thursday, was released by the National Weather Service. Allegheny County, which is at risk of being affected, includes 18 schools and a population of approximately 67,000 people. Duquesne Light has four service stations in the area.
Roads continued to be closed due to flooding Thursday morning. Reports from local WPXI said a Greyhound bus was taking on water in the Babcock area, and firefighters brought rafts to assist at around 8 a.m. Thursday.
One resident in the affected area tweeted reports of elderly residents sleeping in cars in Highland Park as a result of losing access to air conditioning during the storm. Highland Park has 730 people over 65, according to the Statistical Atlas.
Following 2 inches of rainfall Wednesday night, when approximately 2,000 people lost power, the Pittsburgh Water and Sewer Authority warned customers online to expect low water pressure in three areas for the next 12 to 24 hours. A Wednesday report from the Pittsburgh Tribune-Review included a statement from Pittsburgh Mayor Bill Peduto expressing gratitude to the light company for its immediate response.
On Monday, the Tribune-Review quoted officials who said that "more than 15,000 people were without power and swift-water rescuers raced to get to stranded cars and people—including as many as 100 cars stuck in floodwaters on Route 28."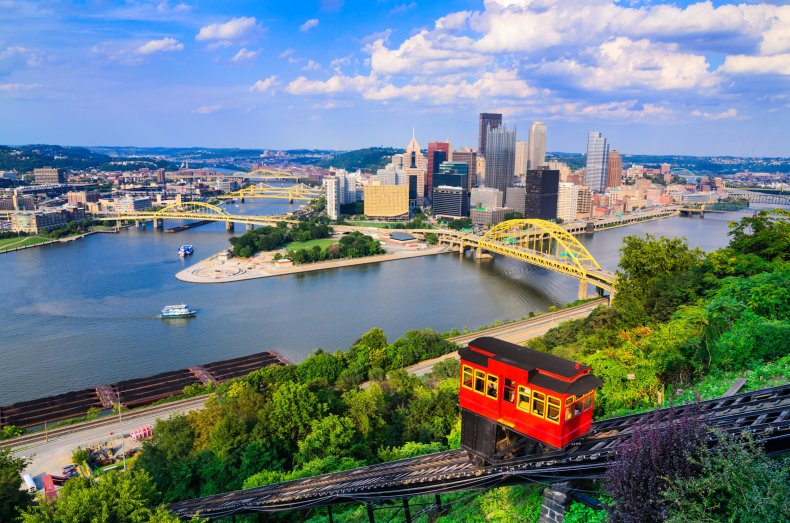 A weather report from WPXI predicts slower-moving storms and fog on Thursday afternoon, in addition to possible wind damage.
Pittsburgh Power Outage: Flash Floods, Heavy Rain Leave Thousands Without Electricity | U.S.