Flash Floods Crush Buildings in Europe, 1,300 Missing in One District
Over 60 people were confirmed dead in Germany, Belgium and Luxembourg on Thursday after massive floods hit Europe.
At least 58 people were killed in Germany, with another nine confirmed deaths in Belgium, according to state-owned German media outlet Deutsche Welle. Another 1,300 people were unaccounted for in Germany's Ahrweiler region, which the outlet said might be explained by communication difficulties due to mobile networks being down in the area.
Heavy rain across the region has also caused serious flooding in the Netherlands and Luxembourg. At least six houses in Germany reportedly collapsed amid the downpour, while another 25 buildings were being monitored due to an immediate risk of collapsing.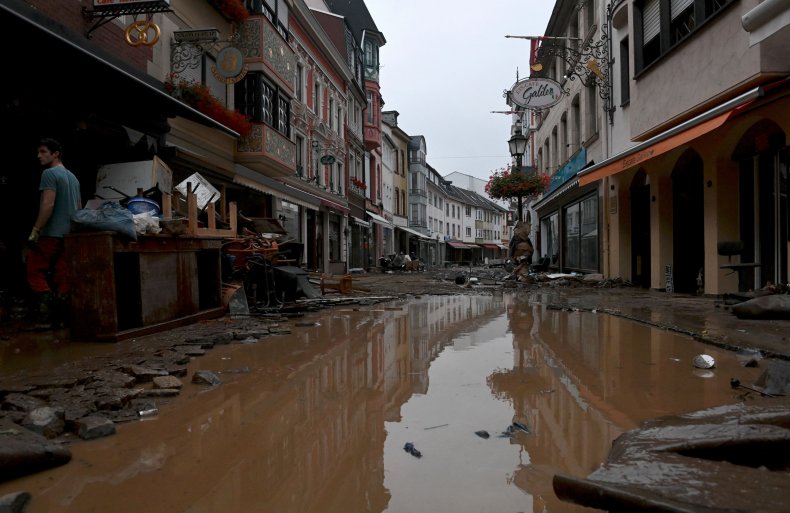 A majority of the confirmed deaths in Germany have occurred in the states of North Rhine-Westphalia and Rhineland-Palatinate, the state where the Ahrweiler district is located. More rain was forecast in the area for Friday.
"[It is] a day that is characterized by fear, by despair, by suffering," German Chancellor Angela Merkel said during a joint press conference with President Joe Biden at the White House. "Hundreds of thousands of people, all of a sudden, were faced with catastrophe. Their houses were literally death traps."
"I must say that my empathy and my heart goes out to all of those who, in this catastrophe, lost their loved ones or who are still worrying about the fate of people still missing," added Merkel. "And I include Belgium, Luxembourg, and the Netherlands who've also suffered from floodings."
Biden expressed his "sincere condolences and the condolences of the American people for the devastating loss of life and the destruction due to the flooding over the past 24 hours in Germany and neighboring countries."
"It's a tragedy, and our heart goes out — our hearts go out to the families who've lost loved ones," the president said.
At least 10 homes in Belgium collapsed, while residents were forced to evacuate over 1,000 additional homes. Liege, Belgium's fourth populous city, has been hit particularly hard. Residents living near the overflowing Meuse River were ordered to leave the area.
A spokeswoman for the Ahrweiler district told Deutsche Well that she hopes the situation "will be clarified" regarding the 1,300 unaccounted for residents, who may only be unable to communicate due to the mobile network outage.
The Ahrweiler spokeswoman confirmed that the death toll in the district had risen without giving a specific number, although 18 deaths had been previously confirmed. Local residents expressed shock at the devastation caused by the heavy rains.
"I was totally surprised. I had thought that water would come in here one day, but nothing like this," Ahrweiler resident Michael Ahrend told Reuters. "This isn't a war - it's simply nature hitting out. Finally, we should start paying attention to it."
Newsweek reached out to the German embassy in Washington, D.C. for comment.