Original 'Flash Gordon' Comic, Major Influence on 'Star Wars,' Is Hitting the Auction Block
The auction house Profiles in History has announced that it will soon be auctioning off the original artwork for the influential Flash Gordon comic strip.
On March 31, bidders will have the chance to take home the pencil-and-ink piece drawn by creator Alex Raymond. Originally published in January 1934, the strip introduced readers to the character of Flash Gordon, space adventurer. The popular sci-fi series spawned radio serials, television series both animated and live-action and a 1980 movie.
Its most noteworthy contribution to pop culture, though, might be the impression it left on filmmaker George Lucas and his vision for the Star Wars saga. In a video interview with critic Leonard Maltin, Lucas mentioned that he was inspired by Flash Gordon as a boy. When he couldn't get the rights to adapt Flash Gordon, the Star Wars mastermind decided to come up with his own original sci-fi adventure.
The upcoming auction marks the first time ever that the original Flash Gordon artwork is available for purchase, per the Associated Press. And it's not the only Raymond original destined for the auction block: Alongside the Flash Gordon art, Profiles in History is also offering Raymond's art for the first Jungle Jim strip, which debuted above the very first installment of Flash Gordon. Conceived as a competitor to Tarzan, Jungle Jim followed the adventures of a hunter based in Asia, as he battled with slave traders, pirates and other enemies.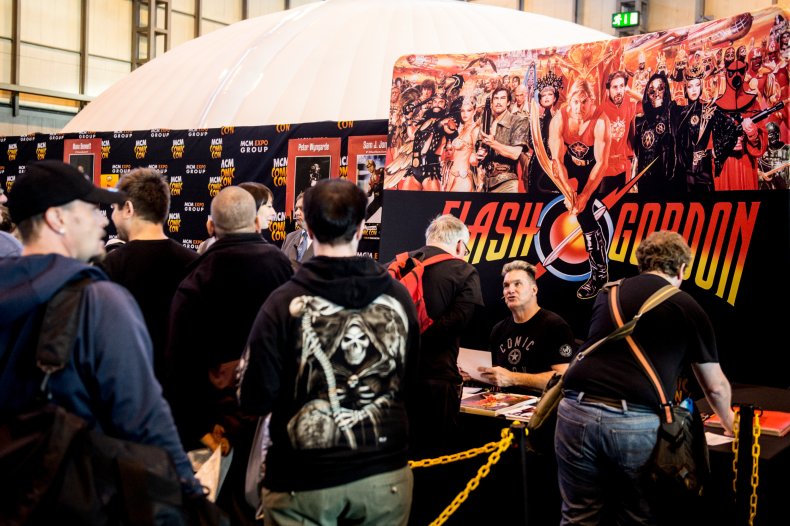 In its debut strip, Flash Gordon drops in on the titular hero as he's a passenger on a plane. The exposition reads, "Aboard an eastbound transcontinental plane, we have Flash Gordon, Yale graduate and world-renowned polo player, and Dale Arden, a passenger."
Soon enough, Gordon's parachuting out of the plane with Arden in his arms, and then the two are taken hostage onto a rocket. True to the spirit of comic strips, the story ends with a cliffhanger: The rocket is launched to deflect an alien planet that's expected to crash into Earth.
Flash Gordon was expected to make something of a comeback, via an animated reboot for the big screen, but it remains to be seen if the project will ever get off the ground.